While it's possible to slice an egg with a sharp knife, it's very difficult to produce the same even results you can with the best egg slicer. The problem is, there are so many options to choose from, making it tough to decide – so here are our top picks to help you make up your mind.
1. OXO Good Grips Egg Slicer
Although an egg cutter might seem like such a simple and basic item, there are good ones and bad ones – and this is a good one. It is designed to allow you to place your eggs in either direction in the cradle, so you can cut them lengthways or sideways.
We also like the thoughtful touches like the raised handle that makes it easier to use and the non-slip feet that stop it moving around when you use it. Furthermore, it's even dishwasher friendly so you can place it on the top shelf rather than washing it by hand.
One problem is the price since some people might baulk at paying quite so much for just an egg cutter – however, it does its job excellently, and it isn't really so expensive. Also, you can't use it for anything else like mushrooms or fruit, so its use is quite restricted.
If all you need is something to cut eggs and you want a tool that does it to perfection, this could be an option worth considering, especially if you don't mind paying a few extra bucks for quality.
Pros
Cuts in both directions – place egg lengthways or sideways on cradle
Raised handle – easy and comfortable to use
Non-slip base – won't move about as you use it
Dishwasher safe – can be placed on the top shelf
Perfect slices each time – with an even 5mm width
Cons
Only suitable for eggs – shouldn't be used for mushrooms, fruit etc.
Expensive option – although a quality product
2. Westmark Germany Multipurpose Stainless Steel Wire Egg Slicer
If you like to own products of the very highest quality and don't mind paying extra to get your hands on them, this egg slicer from Westmark is the kind of item that should appeal to you.
It features top-end construction with stainless-steel components – it is made in Germany and is an egg slicer you can trust.
We like the ergonomic handle that makes it comfortable to operate, and we also appreciate the fact that it can be used to cut soft fruit, mushrooms and more, making it a versatile kitchen tool to own.
As with the Oxo cutter above, the biggest drawback is the price, and this one costs even more. However, it is a high-quality, versatile tool that should last many years, so this shouldn't put you off.
Otherwise, the only other issue is the size, since it is a little small for cutting extra-large eggs.
These minor gripes aside, this is an exceptional egg cutter that does its job perfectly and is built to last, and as long as you are willing to meet the price tag, this could be an excellent option. A recommended pick.
Pros
High-quality construction – stainless-steel parts
Suitable for cutting fruit, mushrooms etc. – a versatile tool
Dishwasher safe – no need to wash manually
High-end craftsmanship – made in Germany
5-year warranty – for extra peace of mind
Cons
Pricy item – but you expect to pay extra for the best products
XL eggs don't fit well – best suited to regular eggs
3. BIBURY Egg Slicer with 3 Slicing Styles
With most egg slicers, you only have one option – to cut an egg into slices. Not so with this one, however – here, you also have the possibility of cutting eggs into perfect wedges too, and we love this extra level of versatility.
That's not the only thing we like, though. We also appreciate the way this slicer feels. It's a sturdy and solid tool that is easy to hold and use. Another bonus is the fact that it's dishwasher safe, meaning you don't need to wash it manually.
The only negatives are very minor. First, it doesn't have rubber feet, which means it can move about a little as you work, and second, pieces of an egg can sometimes get stuck, although it's never a problem getting it clean.
This is a great option if you want a versatile tool that allows you to cut eggs into more than one shape. If that sounds like the kind of thing you need, this is an option that should be of interest.
Pros
Two cutting modes – cut slices or wedges
Dishwasher safe – makes cleaning up more convenient
Stainless-steel wires – should last a long time
Good size – can be used to cut larger eggs
Feels solid – not a flimsy egg slicer
Cons
Slips a little on the work surface – could do with non-slip feet
Pieces of egg sometimes get stuck – but easy enough to clean
4. ZYLISS Egg Slicer
If you are looking for a solid and durable egg slicer, this is a product that could be worth considering. It's made of ABS plastic and stainless steel, meaning it should last a long time, and it's also dishwasher safe, making cleaning it a breeze.
Like the model above, this one also has the capability of producing wedges as well as regular slices, something we love. This model also has an egg piercer to help you achieve perfect results when boiling your eggs. It has a five-year warranty, too, for extra peace of mind.
There aren't any major negatives to mention. We could complain that egg can get stuck in it occasionally when you use it, but it's easy enough to clean out. Also, it doesn't perform as well with other food – but if you stick to just eggs, it's a winner.
In short, another solid option if you're looking for a reliable egg slicer with the option of cutting wedges as well as slices. A good quality, reasonably priced product and another slicer that could be worth a look.
Pros
Solid and durable design – made of ABS plastic and stainless steel
Cuts wedges as well as slices – for more serving options
Shell-piercing tool – for perfect boiled eggs
Non-slip base – for extra convenience
5-year warranty – in case anything goes wrong
Cons
Egg gets stuck in the cutter – but easy to clean out after
Doesn't work well with other foods – tends to mush them up
5. FAVIA Hard Boiled Egg Slicer
This egg slicer from Favia is the kind of tool that will appeal to people who don't like to overcomplicate things. The big advantage of this slicer is that it boasts serrated blades, so it will make short work of eggs or a range of other soft fruit and vegetables.
Many people will be pleased to hear that it's free of BPA. It comes with a special cleaning brush, which is a handy extra, and it's also dishwasher safe, so you don't even have to wash it by hand if you're feeling lazy.
One slight issue is that, since it has serrated blades, food can get stuck – but this is why you get a brush with it, and cleaning food out isn't so hard. Another small negative is that it doesn't always line up perfectly – you need to line it up by eye for the best results.
Other than these small drawbacks, this is a great tool for cutting up eggs and more. If you want a simple egg and fruit slicer and don't need any extra bells and whistles, this is a product that should make your shortlist.
Pros
Serrated blades – cut through eggs, fruit and more with ease
Uncomplicated tool – super-easy to use
BPA-free – don't need to worry about ingesting harmful chemicals
Comes with cleaning brush – a useful addition
Dishwasher safe – no need to clean by hand
Cons
Food gets stuck in the serrated blade – but included brush helps with this
Doesn't line up perfectly – you need to line it up when you slice
6. Prepworks by Progressive Compact Egg Slicer
This is a cute egg cutter that can also be used to take care of a range of softer fruits. When cutting eggs, you can opt for halves, wedges or slices – this gives you plenty of options, and it's great if you want to make deviled eggs, for example.
We like the way it has non-slip rubber feet – this makes it more practical to work with. The thin wires also give you a nice sharp and clean cut, helping to improve the appearance of your food.
On the downside, food can get stuck inside, and you may need to clean it out before washing it. Also, it can struggle a bit with harder fruits, especially those with skin – but if you stick to things like eggs or strawberries, it does a great job.
All in all, another great option if you're looking for a versatile tool that will help you with a range of cutting jobs. It's reasonably priced and does the job it was made for well, making this another egg slicer that could be worth investigating further.
Pros
Several possible uses – cut slices, wedges or halves
Suitable for eggs, strawberries or mushrooms – extra versatility
Non-slip feet – for easier use on the counter
Thin wire – makes a clean, sharp cut
Reasonably priced – budget-friendly option
Cons
Food can get stuck in the joints – needs to be cleaned before washing
Struggles a little on harder foods
7. Miles Kimball 3 in 1 Egg Slicer
Many egg slicers feature the same basic design, but this one is slightly different. It has a different section for each kind of slicing, so you can slice an egg, cut it into wedges or dice it for egg salads with ease.
We particularly like the snap-on bowl that's designed to catch the pieces of diced egg as they pass through the grille, and since it's also suitable for other soft fruit, you can use it to dice things like strawberries too. Furthermore, it's easy to clean, so no worries about stuck food.
That said, you can only wash it by hand – it isn't safe to wash in the dishwasher. Also, although you can use it for soft fruit, you won't have much luck with it if you try anything a bit tougher – dicing onions is a big no-no, for example.
In sum, an innovative device that will make slicing or dicing eggs and other similar soft foods quick, easy and hassle-free. If that sounds like a tool you could use, it could make a great addition to your kitchen.
Pros
Original design – 3 separate sections for different cutting operations
Snap-on bowl – to catch pieces of chopped egg
Sturdy construction – made of stainless steel and tough plastic
Easy to clean – no trouble with stuck food
Reasonable price – most people won't mind paying this much
Cons
Hand wash only – can't put it in the dishwasher
Struggles with harder foods – you won't get far trying to dice an onion
8. Mainstay Egg Slicer with Stainless Steel Wires
While several of the egg slicers we've looked at can cut other shapes or be used for other foods, this is an egg slicer, plain and simple. You put an egg in it and it cuts the egg into even slices – and for anyone who appreciates this kind of simplicity, it could be ideal.
With its stainless-steel wire blades and its durable ABS plastic construction, this little gadget is likely to last a good amount of time. We also like the way it is small and compact, making ideal for a range of uses including camping and RV trips.
That said, we do find it a little expensive for what it is. However, you won't break the bank buying this either, and paying a few extra dollars is not such a big deal if it gets the job done. Also, it isn't as versatile as some other options, which is something to bear in mind.
Overall, this is the kind of item that will appeal to someone who likes to keep things simple and who doesn't need fancy gadgets. If you just want an egg slicer to slice eggs – and that's it – this one could be an ideal pick.
Pros
No-nonsense item – it's a simple tool for slicing eggs
Stainless-steel blades – durable and resistant to rust
Durable ABS plastic – should last a good while
Small and compact – ideal for camping or RV trips
Attractive color – won't get lost easily in your drawer
Cons
Expensive for what it is – but still won't break the bank
Not particularly versatile – just slices eggs
9. Ikea Egg Slicer
If you are looking for a simple egg slicer at the bottom of the price range, this version from Ikea fits the bill. It couldn't be easier to use – you place the egg on it, bring the top part down and the wires cut through the egg. There's nothing more complicated than that.
This egg slicer does the job as expected, and it's easy to clean up afterward too – there's nowhere for food to get stuck. It's made of BPA-free plastic, and it also has that distinct Ikea yellow that will make it hard to lose.
For some reason, it seems to cut more cleanly when the egg is placed sideways rather than lengthwise, although this probably won't be a deal-breaker for most people. Also, don't expect a high-quality item – this is a budget-friendly slicer and nothing more.
If you like the simplicity of most of the stuff that comes from Ikea, you'll probably enjoy owning this slicer. It does the job you need it to do and nothing more – and if you don't need anything else, it could be a great pick.
Pros
Budget option – as cheap as it gets
Simple and effective – all you need to slice eggs
Bright yellow color – will brighten up your kitchen
BPA-free plastic – won't damage your health
Easy to clean – nowhere for food to get stuck
Cons
Cuts more cleanly in one direction than the other – but still slices egg effectively
Not high quality – but this is a simple, inexpensive product
10. Mevis Line Hard Boiled Egg Slicer
This is an egg slicer and boiled egg timer combo, and both parts of the pack are functional and useful kitchen tools. The egg slicer does its job well, and we like the way the metal part with the blades comes out, making it easier to clean.
The egg timer is a great bonus to have, too. It takes all the guesswork or precision timing out of making boiled eggs – you simply pop it in the water with the eggs and it tells you exactly when they're ready, cooked just the way you want them every time.
There's not much to dislike here. We might suggest that this is an item with very limited use – it just slices eggs, and you can't use it for other foods. However, if that's what you want, it does the job perfectly.
Also, it's a little larger than some other egg slicers, but again, this is hardly a major issue.
For anyone looking for a basic egg slicer that sells for a reasonable price, this could be a great pick – and the egg timer makes it an even more interesting prospect. Well worth checking out.
Pros
Reasonable price – great bang for your buck
Includes egg timer – a handy extra to have
Rugged and sturdy – doesn't feel cheap or flimsy
Metal part comes out – for easy cleaning
Attractive color – looks great!
Cons
Only for slicing eggs – won't work well with other foods
A little bulky – but plenty of capacity for slicing larger eggs
How To Choose A Egg Slicer: A Buyer's Guide
If you're in the market for a new egg slicer, you'll probably be wondering about the kind of factors you should consider when choosing – so let's have a look at some of the most important ones now.
Ease of use
First, you should look at how easy it is to use – it's an egg slicer so it shouldn't be too complicated. Does it hold the egg firmly in place? Is there anything else that makes it more difficult to use than it needs to be?
Clean cut
You should also look for an egg slicer that cuts cleanly. The whole point of an egg slicer is that it gives you perfectly even slices of egg – otherwise you might as well do it with a knife. Are the pieces even? Do they fall apart or do they stay together as they should?
Can it cut fruit etc.?
Some egg slicers can cut mushrooms, strawberries, kiwis and other soft foods – but not all of them can.
This means If you want one that will cut more than just boiled eggs, make sure you choose one with the necessary capabilities.
Can it cut wedges and more?
The most basic egg slicers just cut eggs into fine slices. However, others can cut eggs in half – ideal for deviled eggs – and some can also cut eggs into wedges.
If you think these options sound interesting, make sure you choose a cutter than can do everything you want it to beyond simply cutting eggs into slices.
Non-slip base
Having rubber feet on the bottom will stop an egg slicer from moving around as you use it. This is not essential, but it is something worth having, so check if an egg slicer you're interested in has non-slip feet.
Easy to clean
Some egg slicers can be a pain to clean since pieces of egg can get stuck in awkward places. This means you should check how easy it is to clean.
Related to this is whether an egg slicer is dishwasher safe. This might be important if you don't enjoy washing things by hand.
Materials
Check what the egg slicer is made of. The blades should be stainless steel since this will be resistant to corrosion and last a long time.
You might also want to check if any plastic parts are free of BPA if you don't want harmful chemicals leaching into your food.
Lots of great options to choose from
As you can see, there are lots of different egg slicers to choose from in a range of different styles. If you've decided you need one for your kitchen but are having trouble making up your mind, any of the options in our review would be a great place to start your search.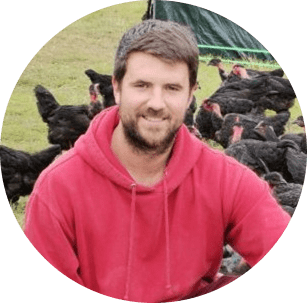 Joseph Hudson has been raising chickens for over 15 years. In 2018, he completed the Agriculture & Natural Resources program at Mt. San Antonio College. He currently raises over 1400 chickens on his 7.5-hectare farm. He keeps sharing his experience on raising healthy and happy chickens on Chicken Scratch The Foundry.