Smoking meat is a time-honored way of preserving food. It started before we had invented fridges and electricity and is still a common technique. But apart from helping your food last longer, smoking gives food a richer taste, color, and flavor. But not all smoking wood is equal.
Some types of wood have stronger scents that can drown the natural flavor of your food. So it helps to find timber that suits the dish you plan to prepare. So let's begin by reviewing a few popular brands and options as we seek the best wood for smoking chicken.
1. Weber Apple Wood Chips for Smoking Chicken
In many parts of the world (but mostly Australia), Weber Grills are so popular that people say 'Weber' when they mean grill. It has become a generic term for that entire category of barbeque appliances. So if this brand is so good at roasting, you're safe buying smoking wood from them. This particular model of Apple Wood is cut into chips and packed in a 2-pound bag.
This seems too small, but if you use the wood exclusively for smoking chicken, it can last a year or more because you don't need much to impart sufficient flavoring. Some people are against wood chips because they burn up too quickly. But chicken cooks faster than beef or game meat, so this isn't necessarily a flaw. Plus, wood chips are small and compact – 1 inch by half an inch.
Meaning you can place the chips on your stove-top or barbeque grate – but only if you're cooking outdoors otherwise the smoke is a hazard. You can even use them over an electric cooker. But if you're concerned about the origin of your wood chips, they come from trees that are grown in Mexico and the USA. The chips are processed and packed within the US.
Weber Wood Chips are a great addition to your smoking arsenal. They work well on chicken, but you can also use apple wood to smoke fish fillets, seafood, grilled vegetables, or pork ribs.
Pros:
They're packaged as wood chips so they catch fire quickly.
The mild, light flavor of Apple Wood is ideal for chicken.
You can use it both on a stove-top or charcoal grill.
Con:
It has some wood dust on it, so you may have a challenge shipping it to California given their P65 restrictions.
2. Montana Grilling Gear Sugar Maple Chunks
Sugar maple ranks high on the list of best wood for smoking chicken. It's a moderate middle-range type of wood that enriches any latent sweetness in your dish. Montana Grilling Gear gets their sugar maple wood from trees that are 100% organic. These trees have zero pesticides, toxins, or environmentally harmful additives. They're grown using sustainable farming tactics.
The smoking wood is cut into chunks to provide that desirable slow-burn. The chunks can be lit as a primary flame source. Meaning you can use them to cook your chicken and any accompanying meals from scratch. But as smoking wood, these sugar maple chunks work best as an indirect heat source, allowing its embers to gently and efficiently flavor your poultry.
The wood chunks are packaged as a 10-pound bag though its shipping weight is 9.94 pounds. The bag measures 13 inches by 17.5 inches and is about 5 inches wide when full. You can load these chips onto a charcoal grate, wood hearth, or a dedicated smoking grill (the cylindrical type). Montana Grilling Gear products are cleaned to keep them low on dust and sparks.
This brand of smoking wood chunks is made right here in the USA. It has no toxins, pesticides, or harmful chemicals. It works best as an indirect heat source because this maximizes flavor.
Pros:
These chunks are ideal both for cooking and smoking.
They're fully organic with no pesticides or chemicals.
The chunks are pre-cleaned so they're dust-free.
Con:
The chunks have sharp edges that may slice the bag open during shipping.
3. Western Premium BBQ Wood for Smoking Chicken
Some home chefs swear by oak wood, and in Europe, oak-flavored chicken is a favorite. But oak wood is a medium wood with a moderately strong flavor, so approach with caution. If you've tried it in the past and you like it, then Western Premium is a good source. The wood is packaged in chunks, so it burns slower and can double as a primary heat source.
This pack isn't European Oak though. It's Post Oak, a tree that's native to North America. It's sometimes called Iron Oak, and Western Premium only harvests smoking wood from trees that are 100% organic and pesticide-free. The chunks come in a 5.74-pound package that's a foot high and half a foot wide, so ensure you have enough storage space for your bag of wood.
These chunks are heat-treated to remove excess moisture, so you won't have any waste-wood from evaporating fluids. All the smoke will be intensely flavored and compact. Heat treatment also prevents your smoking wood from attracting pests and developing mold or mildew in storage. The pack has clear cooking instructions for various chicken smoking methods.
Post Oak wood is locally sourced and appreciated, so Western Premium is among the best wood for smoking chicken. The chunks burn gradually, providing a rich bodied flavor.
Pros:
You can burn the chunks solo or combine them with charcoal.
Oak is good for chicken, but it's moderate so it works on beef and mutton too.
Chunks burn longer and slower for better smoking results.
Con:
Oak chicken is an acquired taste so prime your palate before you buy a huge bag.
4. Camerons Maple Wood Chips for Smoking Chicken
The human eye is drawn to symmetry. But when it comes to the best wood for smoking chicken, rough cuts work better. They provide larger, more uneven surface areas for the flames to lick, and this results in better smoking. The cuts on Camerons wood chips also make it easier to lay them on your grilling grate or arrange them on your cooktop, leading to more even smoking.
The coarse cut wood chips are taken from a maple tree. It's a medium wood that gives chicken a sweet subtle taste. Maple is good for pork and cheese as well. The wood is grown, cut, and packed within the US. The trees have zero pesticides, chemicals, or additives, and the chips are thoroughly dried in a kiln to remove excess moisture that might harbor pests or cause wood rot.
If you want to properly smoke your chicken, consider buying Camerons Smoker Box to go with your coarse maple chips. You can put the smoker box on top of your regular barbeque grill or gas grate. If you have an indoor smoker, you can augment your flavoring by placing Camerons maple chips at the bottom of the smoker grill, allowing the smoke to circulate and swirl.
Camerons maple wood chips are roughly cut and densely packed for effective chicken smoking. If you'd like to get the best effect, buy a matching smoker box from the same brand.
Pros:
The wood is dried in a kiln to kill pests and prevent mold.
It's packaged in chip form for thorough smoking.
This wood comes from 100% organic trees.
Con:
For an average chicken smoker, 2 pounds is fine, but if you barbeque regularly you may need a bigger bag.
5. Big Green Egg Apple-Hickory Wood Chips for Smoking Chicken
Do you like green eggs and ham? Chances are nobody does, but you can still enjoy Big Green Egg chips. For chicken smoking, apple is popular for its light, sweet flavor while hickory is heavier and preferred for turkey. Some people do enjoy hickory on chicken though, so this product evens out the intensity of hickory by blending it with applewood. Hickory has bacon-like undertones.
That's why it's a good choice for pork, but it can also give your chicken a nice ham-like flavor that is heightened by mild apple. This specific pack is plain apple, but it's a small 1.5-pound bag. So most buyers will buy a small hickory and a small apple then mix them, but you can pick either one and use it solo. These US-made chips are best used with a Big Green Egg Grill.
Big Green Egg makes a mean grill, and if you buy their line of smoking wood, you can enhance your barbeque repertoire. It's a small bag though, so buy enough volumes.
Pros:
It comes in apple and hickory, to be used separately or jointly.
The product has a memorable name and distinctive packaging so you'll never buy the wrong one.
These chips come from trees that are 100% organic.
Con:
At a mere 1.5 pounds, the bags are on the smaller side.
6. Traeger Grills Hardwood Pellets to Smoking Chicken
All the products we've looked at so far have been chips and chunks. Now let's explore wood pellets. These come from cherry wood so they give off a light, mild flavor. Cherry wood doesn't just add sweetness to your chicken – it also adds some color to the meat. For smoking, this 20-pound bag provides up to 40 hours of use at roughly 5 pounds per hour.
But if you're using the pellets without any other heat source, your usage time slides down to 10 hours. 20 if you're using a 300°F cooktop. Pellets are small and narrow though, so they're best used in a smoker box or cylindrical smoking grill. If you put them on a regular barbeque grate or cooktop they might slip through the gaps and burn out too quickly, leading to wasted wood.
Traeger pellets have no additive, bonding agents, or fillers. They're 100% pure organic cherry wood. They're harvested from sustainable American hardwood forests, so they're environmentally friendly. These pellets give off beautiful blue smoke to enhance the flavor of your chicken. You can also use them for pork, beef, mutton, and bread.
Wood pellets from Traeger are good sources of cooking fuel and smoking flavors. But if you want to stretch them further, combine them with a primary heat source so they can focus on smoke.
Pros:
They come in an extra-large 20-pound bag.
The pellets are 100% organic blends and produce minimal ash.
They're derived from existing sawdust in their mills so they don't kill extra trees.
Con:
The pellets aren't completely dried, so they sometimes go stale and musty in storage.
7. Western Apple Wood Chips for Smoking Chicken
What happens when you can't decide what flavor you want in your chicken? Well, you could try buying a bundled pack so you can identify the best wood for smoking chicken. Western Premium has several bundled, but this one has applewood, cherry wood, and pecan wood. These are all fruitwoods that work great with chicken, either alone or in combination.
Apple and cherry are mild, light woods while pecan is a nutty medium wood. Few palates enjoy the taste of plain pecan smoke, so you should try mixing it with one of the other woods for a more palate-friendly result. Each of the wood bags in this bundle is 180 cubic centimeters, so it's the ideal size for experimentation. Once you pick your preference you can scale up.
Flavor-wise, cherry is sweet and tangy, apple is sweet and light, and pecan is nutty and a touch heavier than the other two. All Western Premium wood chips are fully organic with no toxic additives or pesticides. You can soak them before use but it's not necessary. These are chips though, so if you want to smoke for several hours per session, look for wood chunks.
This variety pack of Western Premium Fruitwood chips is the perfect tool for your barbeque adventures. Try them solo or in different combinations for flavorfully smoked chicken.
Pros:
With a three-pack, you can explore various flavors.
They're all derived from 100% organic trees.
You can use them on both charcoal grills and electric cookers.
Con:
Wood chips burn quicker so if you need to slow-cook, buy logs or chunks.
8. Weber Pecan Wood Chips for Smoking Chicken
Mesquite is the strongest smoking wood, and it's not recommended for chicken. But even moderate woods like oak, pecan, and hickory require a practiced palate. So if you haven't tried it (and liked it) before, don't buy a big bag of pecan wood. Of course 'big' is relative. 2 pounds don't seem like a lot, but some households can stretch that load for an entire year.
Weber's pecan wood chips cone in 192-cubic-centimeter packs. They work with chicken, turkey, lamb, pork, and beef, especially if you have nuts in the recipe. Pecan wood chips are strong smokers, so this product shouldn't be used indoors. Not even with a chimney. You can place them on a Weber Kettle grill though, or any other brand of gas grill – the chips are a good size.
However, this product is for the global market, so they don't tailor it to environmental state specifications. So – for instance – Weber wood chips contain wood dust, and that contravenes P65 so you may be unable to ship your Weber wood to California. You may want to get a cleaner brand in that case, like Western Premium or Montana Grilling Gear.
Pros:
It comes in a 2-pound bag.
The wood is packed by Weber, a trusted barbequing brand.
It gives chicken a rich, sweet, nutty flavor.
Con:
Few people enjoy the taste of pure pecan wood so you may need a blend.
9. Char-Broil Tabasco Wood Chips for Smoking Chicken
On all the lists we've looked at, chili wood hasn't come up. But it's a curious way to get a bit of pep in your smoked chicken. You may be aware chili doesn't come from a tree. Tabasco wood is actually the wood from white oak barrels. These barrels are used to age tabasco sauce, then the barrels are processed into wood chips for smoking chicken and other kinds of meats.
Ordinarily, Tabasco is kept in these barrels for three years to properly ferment. And each barrel is used for 10 to 15 cycles before it 'retires' into wood chips, so the pepper flavor accumulates over time and gets quite concentrated. Tabasco wood 'tastes' a little like hickory. It's shouldn't be the main wood, because all you want is a little kick. Toss a handful over your grill.
This way, your chicken gets infused with peppery white oak smoke. You can use a home-made aluminum foil pocket or you can put the tabasco wood directly in a smoker box. The wood chips come in a 2-pound bag that's about 40m tall. And since tabasco isn't the primary fuel source or flavoring, you can use this bag as a smoking supplement for up to a year.
If you like a bit of pep in your chicken, get yourself some tabasco wood chips. They'll give your chicken a peppery scent and taste that will warm up your insides as you bite your favorite bit.
Pros:
The wood chips come from aging oak barrels for extra favor.
The resulting flavor is heavier than apple but lighter than hickory.
The chips come from recycled fermenting barrels so they're environmentally appropriate.
Con:
If you don't like oak chicken, you'll probably dislike smoked tabasco.
10. Peach Wood 10-Inch Chunks for Smoking Chicken
Peachwood doesn't get much attention because it's overshadowed by its cousin, the apple. But it's a good smoking wood for chicken because it's sweet and mild. And because it's not as common, you won't find it among bigger smoking brands. You're more likely to get them shipped from a private unbranded individual packer, so there's no assurance of quality.
The other tricky thing about peach wood is it loses flavor soon after being cut. This means you have to use it fresh because if you season it like other fruitwoods, it may go 'flat'. But the downside to undried wood is it produces low-rate smoke since most of the smoke is moisture, not flavor. That said, peach wood imbues food with a light, sweet flavor that works with chicken.
Peachwood is popular for southern recipes and this batch of chunks ships from Michigan. The pack says the sizes are random, but their average length is 10 inches, so be sure your grill or cooktop can accommodate chunks that large. The logs are generously packed so you get a good number of pieces per box, but fitting them into your smoker is a whole other story.
Most people believe the best wood for smoking chicken is applewood. But because peaches have a similar texture and flavor to apples, their wood chunks make a passable substitute while fresh.
Pros:
The chunks come in large packs of 5 to 7 pounds.
Each piece is roughly 10 inches.
Peachwood has similar taste and texture qualities to apple wood.
Con:
Without a brand name, you can't be sure of quality control or tree sustainability. For example, the product is marketed as 10-inch but is also described as 'randomized sizing'.
How To Choose A Wood for Smoking Chicken: A Buyer's Guide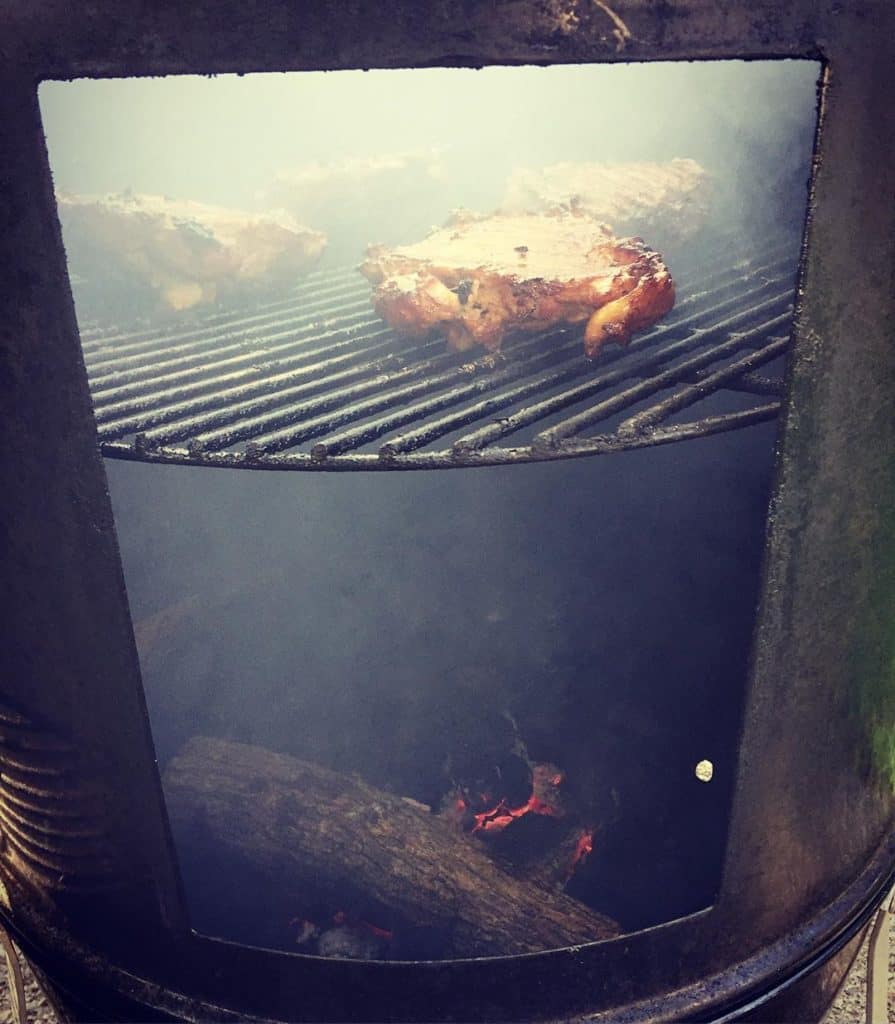 Gathering firewood is an art. You can't just pick random sticks. The same applies when you're hunting down the best wood for smoking chicken. It has to be seasoned – meaning it's dried out under careful conditions for a year or more. Let's see what other features you should consider.
Note that hardwood is best for smoking poultry while softwoods (like cedar) are better for fish. This is because softwoods burn quickly and emit lots of sparks, which will ruin your chicken. But for quick-cooking dishes like fish, veggies, or super-slim cuts of meat, softwood can work.
Type of Tree
Every tree has a unique scent and taste. And these aromatic flavors are passed into your chicken. The most common types of wood for smoking chicken include maple, hickory, apple, oak, pecan, peach, and cherry. Fruitwoods are preferred because they enhance your chicken flavor and color without overpowering its intrinsic taste. Europeans prefer the taste of oak-smoked chicken.
But most American palates find oaken chicken a bit too much. Maple lends a sweet taste to your meat while hickory is beloved among southern frying states. Some find hickory too strong for chicken, but if you prefer that heavy taste, hickory works. But traditionally, hickory is saved for turkey. The nutty flavor of pecan wood is perfect for cashew chicken or any nutty recipe.
And you can combine it with fruitwood. Apple is a good choice, but only for short smoking sessions. If you burn it too long, the applewood can overwhelm your chicken. Less popular ones include mesquite, alder, and pimento. Mesquite is sharp, so it's best for open-air grilling – it's too strong for smoking. Pimento is great for chicken jerky, but it's a tough type of timber to find.
Wood Configuration
You want your wood to release smoke slowly and at low temperatures, so you don't have to start a roasting wood fire. You can place your wood on a gas grill, electric cooker, or barbeque grate rather than lighting a live hearth. It all depends on the space and cooktop you have available.
For smoking purposes, you want smaller pieces of timber. This provides a larger surface area for smoke production. So – for example – wood chips do a better job of smoking than, say, uncut driftwood logs. But if you're smoking on an outdoor grill, chips may slip through the grate.
So you might prefer larger chunks that won't pass through the gaps in your grill. On the other hand, if you lean towards tradition, you may want a designated smoker grill. These are often cylindrical, so you need the right type of wood to fit the smoking chamber. These smoking woods come in the form of wood pellets, charcoal briquettes, splints, pouches, or caked chips.
Smoke and Sizzle!
When you want the best wood for smoking chicken, buy Weber Apple Wood, Here's why:
It comes in a 2-pound bag that's about a foot long
The wood is chipped, so it's easy to use on a gas grill or stove-top.
Applewood is ideal for giving the chicken a sweet flavor.
It's a mild fruitwood so it won't overpower your chicken.
Applewood also works on fish and pork.
The wood chips are fitted for Weber Grills but can work on any other cooktop.
What type of smoking wood are you currently using? Show us a sample in the comments!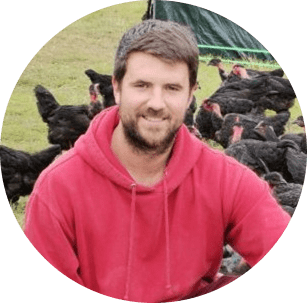 Joseph Hudson has been raising chickens for over 15 years. In 2018, he completed the Agriculture & Natural Resources program at Mt. San Antonio College. He currently raises over 1400 chickens on his 7.5-hectare farm. He keeps sharing his experience on raising healthy and happy chickens on Chicken Scratch.