Are you making a coop for your chickens? Doing another coop floor repair? Upgrading the coop floor? Well, whatever it is, you have come to the right place!
Here are 5 chicken coop floor materials. Scroll on ahead, and let us find you and your chickens the perfect coop flooring!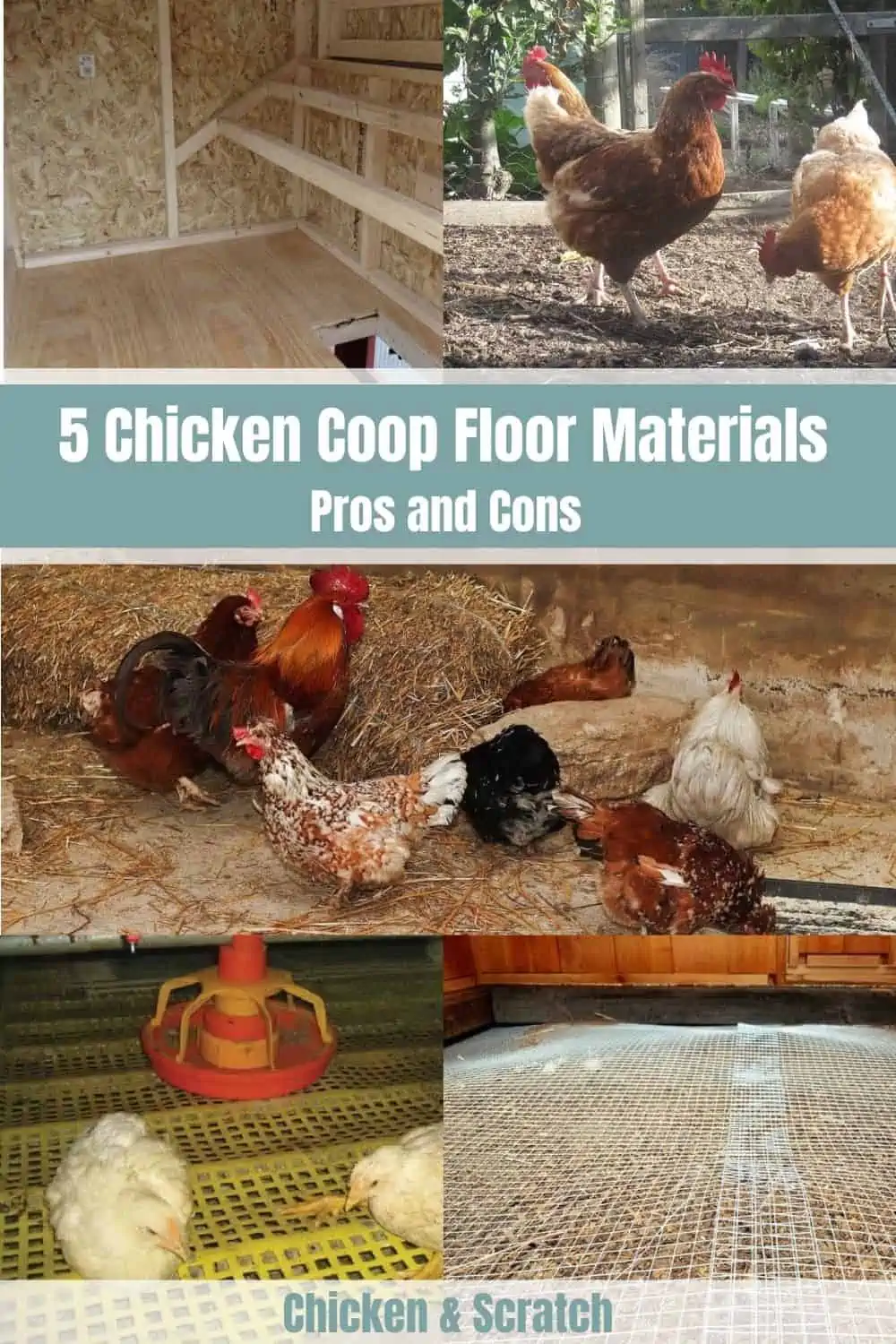 The Search for the Best Chicken Coop Floor Material
Any flooring material could hold up for some time. In the long run, the wrong type will be trouble. There will be problems here and there. You will get tired of all the repairs.
Let us try to prevent that.
Unfortunately, no chicken coop floor material that will work for all. The best floor material differs from one handler to another. Searching for the best chicken coop flooring is not easy.
To help you search for the best one for you, we will list down 5 of the most common options. We will be listing the pros and cons of each material to give you an idea. Also, we will be adding in a few tips here and there.
1. Dirt
Let us start with something almost everyone already has – dirt.
Are you interested in making chicken poo fertilizer? This one might be the best option for you.
Lay some bedding in there. Let your chickens drop their black gold. Soon, you will have some chicken manure! We recently talked about how to make chicken poo fertilizer. If you are interested, then you might want to check that out.
Dirt flooring could be a great option, but it will not work for everyone. Do you have predators who like to dig? You might want to cross this one off of your list.
Pros:
Easy to Find

– Wherever you are, there would most probably be dirt.

Easy to Make

– You do not really have to make any flooring if you are using dirt. You might want to take out a few rocks, and maybe flatten the area, but you will not be doing much building.

Budget-friendly

– You will not have to buy materials or pay workers.
Cons:
Hard to Clean

– If you do not add some beddings, cleaning would be challenging.

Does Not Keep the Predators Out

– If you have predators in the area, your chickens are in danger with this one!
2. Wood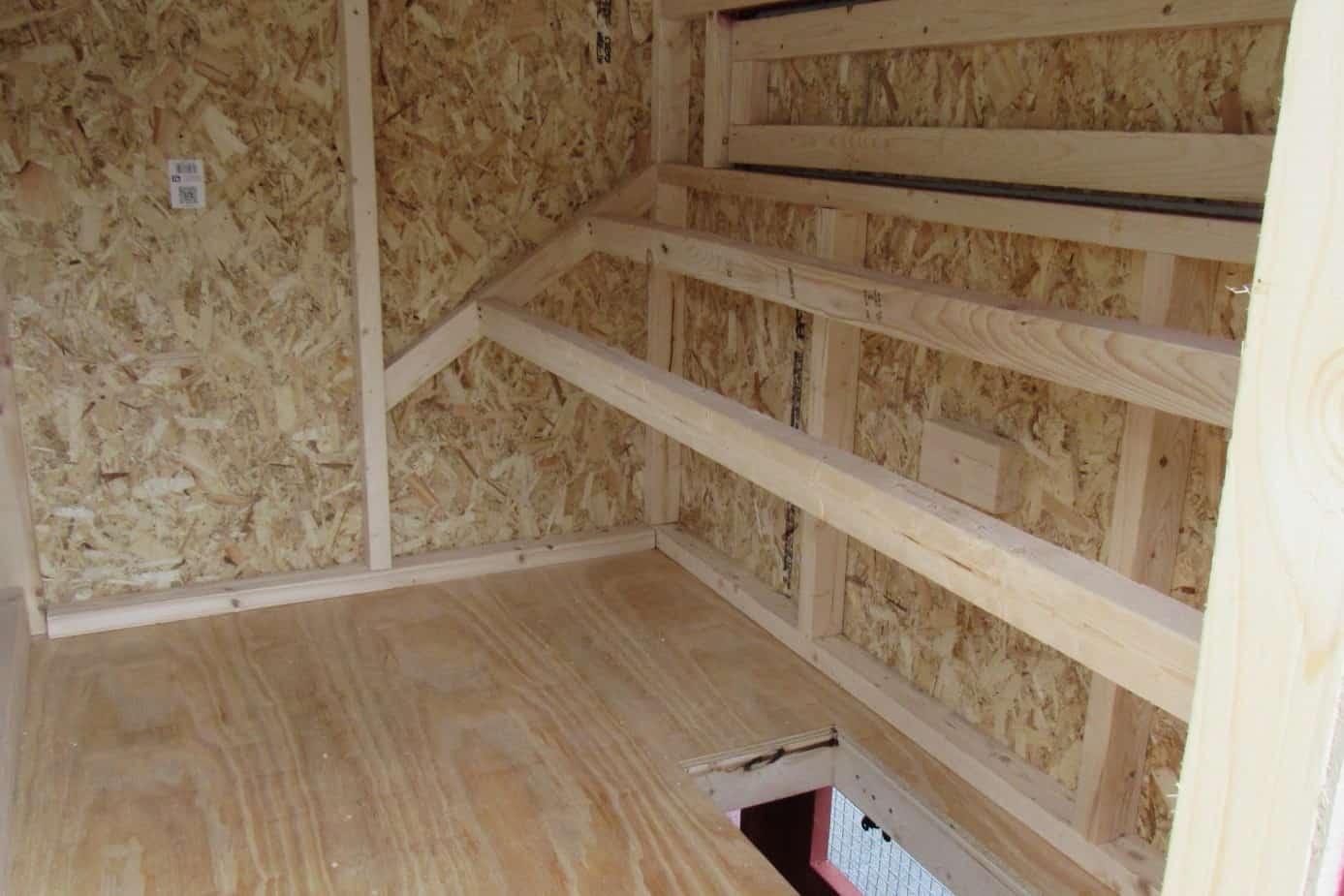 Next, we have a crowd favorite.
There are many types of wood, and you can choose what would work best for you.
One thing you would want to consider is to choose outdoor wood. Indoor wood would break down much easier and earlier.
Depending on the wood you choose and the weather in your area, there would be different pros and cons. Here are the general things to consider.
Pros:
Easy to Find

– The most common type of wood is readily available almost everywhere.

Easy to Make

– Wood is easy to handle and build.

Keeps the Predators Out

– Built in the right way, it will keep out the predators.
Cons:
Hard to Clean

– Almost every type of wood would pose some struggle with cleaning.

Rotting

– Wood rots over time.

Repairs

– Almost any type of wood would need repairing now and then. Either to make things easier for you or safer for the chickens.

Stink

– Over time, the stink from all the chicken poo will stick to wooden flooring.
3. Wire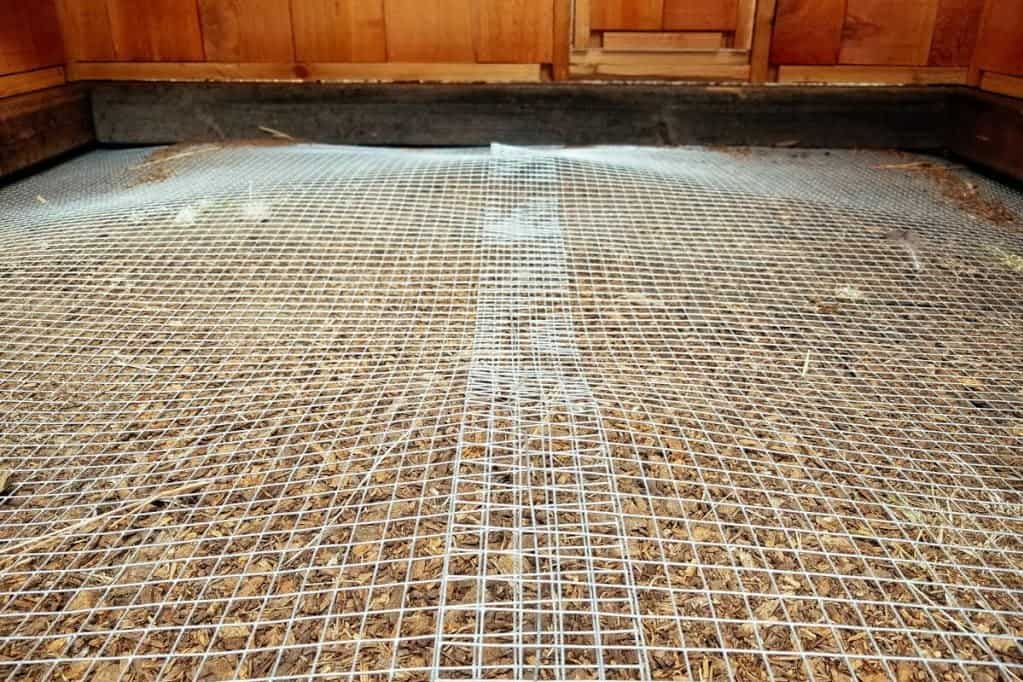 Wire flooring is one of the popular options.
There are many different types of wire. You cannot use just any of them.
For one, you cannot use chicken wire as it will not protect your birds. Additionally, you have to take note of the gaps. If you happen to use one with wide openings, then the feet of your chickens might slip down!
Pros:
Ventilation

– Because all wires have gaps, it would be more breathable inside.

Keeps the Big Predators Out

– Most wires would be able to keep the big predators out.
Cons:
Does Not Keep the Small Predators Out

– Got small rodents and snakes? They would most probably be able to squeeze their way in the coop.

Injuries

– This type of flooring poses tons of possibilities to you and your chickens.

Hard to Clean

– Many think wires are easy to clean because the chicken poo will fall right through. That is not the case. Their poop would get stuck on the wire, and it would be harder to get out.

Not for the Cold Seasons

– The wire flooring is one of the bests for the hot seasons. It is one of the worst when the cold seasons arrive.
4. Concrete
Concrete flooring is probably one of the best options – if not the best. It is a sure way to solve many of the problems of chicken handlers and keepers.
Pros:
· Keeps the Predators Out – Do you have all sorts of predators trying to find a way in below the coop? Concrete flooring will make them all give up! They may not give up, but hey, they are not getting in!
Easy to Clean

– Most of the flooring we have talked about so far poses some problems when it comes to cleaning. Not the concrete flooring! It is easy to clean!

Stink

– Because of its texture, the smell of chicken poo will not stick to concrete flooring.

Repairs

– Concrete flooring is long-lasting. You will not have to do that many repairs often.
Cons:
Injuries

– Concrete flooring is hard. It could injure your chickens when they come down from a high roost.

Not for the Cold Seasons

– As you might already know, concrete could get really cold. Because of that, it may become uncomfortable for the chickens.

Not Budget-friendly

– Concrete flooring is probably the most expensive choice on this list.

Hard to Move

– A concrete flooring would either be hard to move or even permanent.
5. Plastic
Finally, we have the plastic mats. This type of flooring is similar to wire flooring as it has gaps as well.
Like all the other floorings, this one is not for everyone.
Pros:
Budget-friendly

– Plastic mats are not expensive compared to some of the other floorings here.

Keeps the Predators Out

– Most plastic mats only have narrow or small gaps. Predators will not just get in a plastic flooring if it is built right.
Cons:
Hard to Clean

– Like with the wire flooring, plastic mats would also be hard to clean.

Repairs and Replacements

– If you go for the low-cost plastic mats, you can expect that they would need lots of repairs and replacements.
4 Floor Coverings to Help Preserve Your Chicken Coop Floor
In this section, let us talk about several things you can add to your coop floor to make it more effective and long-lasting.
Beddings
Many chicken handlers use some bedding in their coop. It helps with several things, such as making the place more comfortable for chickens. For example, adding beddings to a concrete flooring will help lessen possible injuries.
Another reason many handlers use beddings in their coop? It can make cleaning easier. Also, it helps with keeping the stink to a minimum.
All the other floor coverings would work best if used along with a type of bedding.
Find the best type of bedding for you and your chickens here.
Linoleum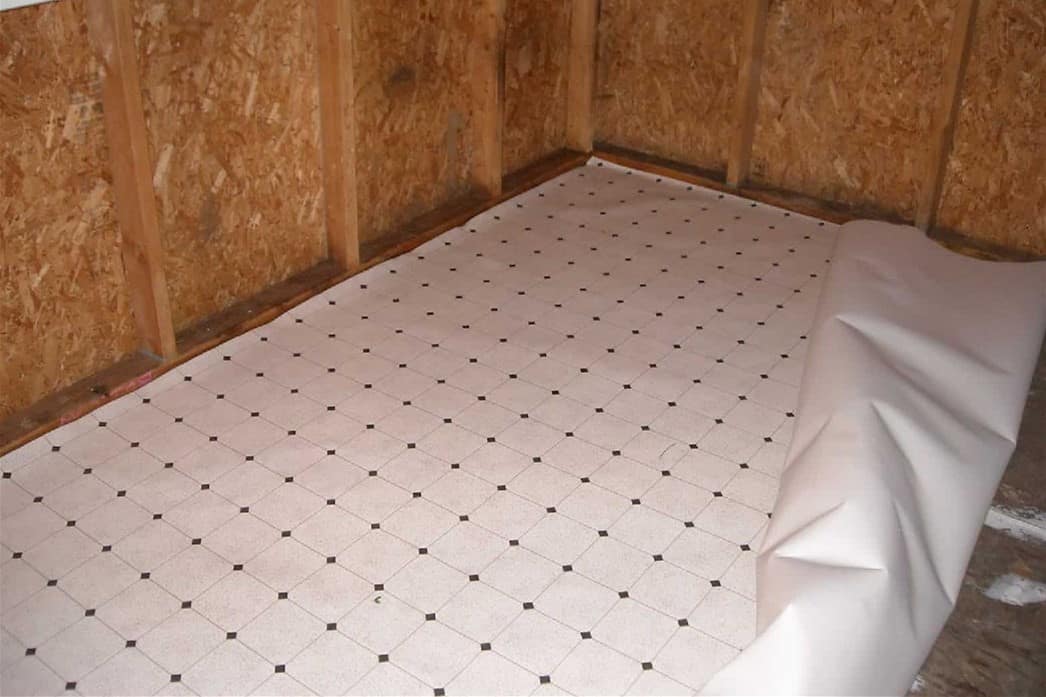 Adding a linoleum to your coop flooring will help preserve the floor itself. It is a great addition, especially when you are using wood. It helps prevent rotting and makes cleaning easier.
Linoleum comes at different types and prices. If you opt for a low-cost linoleum, then it might not help much. That is because there is a possibility it will easily break.
Plastic
A plastic lining is good if you choose a high-quality one.
Using a low-cost plastic lining might provide more work. Your chickens might accidentally tear it.
Additionally, they might accidentally eat the torn parts, which could be dangerous. The low-cost plastic lining is not advisable.
If you do use a high-grade plastic lining, then it would be able to help with cleaning. It will also help keep the smell to a minimum.
Rubber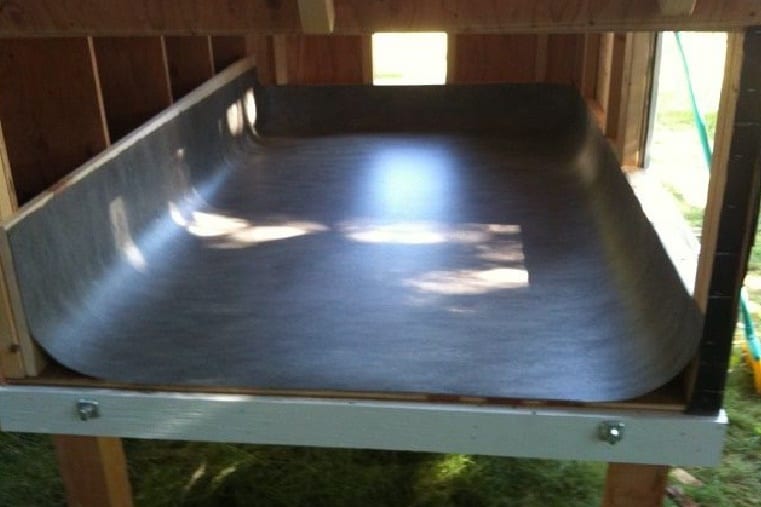 Rubber mats are a great addition to most of the floorings. But they might be best partnered with a concrete flooring.
It's good with concrete flooring because it adds some padding. This padding would lessen the chance of an injury. Additionally, it could also decrease the cold made by a concrete floor.
Summary
That's 5 chicken coop floor materials and their pros and cons! You're now ready to start making, repairing, or upgrading that chicken coop floor.
Finding the best coop floor material is not an easy task. The best flooring material is not the same for everybody, after all. It's not a one size fits all type of thing. If a flooring could work for you, it might not work for another.
That does not mean you can't ask other handlers for their opinion!
The truth is, you can make do with any material. But finding the best coop floor material will save you time and money. Additionally, it will also help in keeping your little chooks happy and healthy.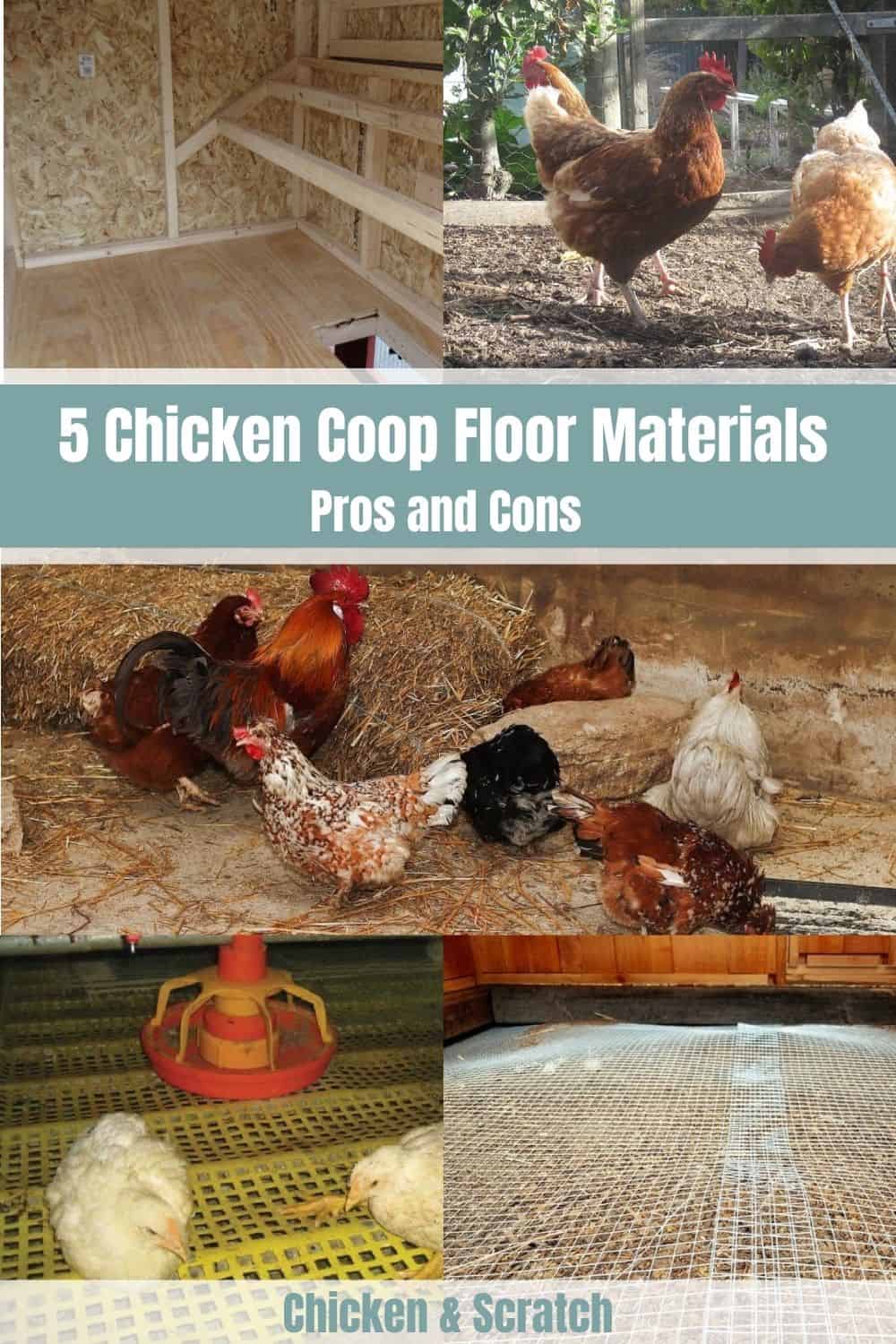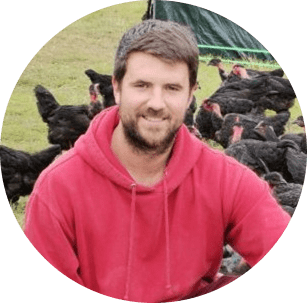 Joseph Hudson has been raising chickens for over 15 years. In 2018, he completed the Agriculture & Natural Resources program at Mt. San Antonio College. He currently raises over 1400 chickens on his 7.5-hectare farm. He keeps sharing his experience on raising healthy and happy chickens on Chicken Scratch The Foundry.