If you live in California, you can raise the best chicken breeds in your backyard. These breeds are available in the hatcheries. To help you, we listed the best hatcheries in California. We also add essential information. Each review includes the available chickens, prices and shipping, and NPIP certification status.
Top 8 Chicken Hatcheries in California
The Mill Valley Chickens is a family-owned hatchery. As part of its policy, the hatchery does not refund chicks that are sexed incorrectly.
They raise heritage chickens. Some of these are Buff Orpington, Buff Brahma, Rhode Island Red, and Speckled Sussex. But their most sought-after breed is Easter Egger.
Customers can reserve up to chicks before hatching:
4 chicks for $10
5 to 6 chicks for $15
7 to 8 chicks for $19
They offer mail-order shipping to selected places. They also allow local pick-up.
As of now, their NPIP certification remains unverified.
Location: 106 Lomita Dr, Mill Valley, CA 94941
Contact: 415-389-8216
After leaving their corporate lives, owners Megan and Jeremy Raff built the hatchery. The keys to their success are the four farming foundations. These are local, natural, sustainable, and humane.
Some of the chickens that are available in the hatchery are:
Black Australorps
Golden Sexlinks.
Coop-ready chickens are sold for $20, while started pullet chickens are $30.
The hatchery delivers in selected areas. Pick-up is permitted but by appointment only.
The hatchery is not yet NPIP certified. But it assures that NPIP certified hatcheries hatch all their chickens.
Location: 890 Lasalle Canyon Rd, Lompoc, CA 93436
Contact: 805-735-3233
AV Bird Hatchery started with a few poultry birds. But now, it offers a wide variety of poultry and exotic bids. It remains true to its commitment to providing the healthiest and freshest poultry.
Here are the prices of the female chicks:
Cornish Rock Broiler – 24 chicks at $1.89 each
Black Australorp- 15 chicks at $2.99 each
Ameraucana– 12 pullets at $48
Rhode Island Red- 12 chicks at $43.20
Buff Orpington– 12 chicks at $43.08
They also offer other egg-laying chickens and broilers.
For online orders, the hatchery offers free shipping. It is NPIP certified.
Location: 15035 E Ave G, Lancaster, CA 93535
Contact: 661-350-6555
Amber Waves Silkies is a hatchery that specializes in DNA-sexed female silkies. It has been operating for over 38 years.
It specializes in raising Bearded Bantam Silkie Chickens. These Silkies are intended for breeding, joining shows, and as family pets.
The prices of the chicks may vary. However, the starting price for a silkie chick is $80.
The hatchery ships out chicks that are at least one month old. But there are some restrictions. Customers who ordered chicks that are younger than one month can pick them up in the hatchery.
The hatchery is NPIP Certified.
Location: 1320 Mountain Ave, Norco, CA 92860
Contact: 951-736-1076
Belt Hatchery is a wholesale poultry hatchery in the western part of California. It is known for providing high-quality day old-poultry.
Available chickens in the hatchery are standard, heavy, specialty, and rare breeds. Here are the prices for a minimum order of 25 chicks:
| | | | | |
| --- | --- | --- | --- | --- |
| | Standard Breeds | Heavy Breeds | Specialty Breeds | Rare Breeds |
| Straight Run | $2.31 | $2.46 | $2.57 | $3.05 |
| Pullets | $2.87 | $ 2.97 | $3.22 | $3.95 |
| Cockerels | $1.74 | $1.76 | $1.87 | $2.40 |
They ship every Wednesday. Shipping is free for more than 300 orders.
The hatchery is NPIP certified.
Location: 7272 S West Ave, Fresno, CA 93706
Contact: 559-264-2090
Running on renewable clean energy, Alchemist Farm and Garden is a family-owned hatchery. It is committed to humane breeding and hatching practices.
The hatchery focuses on raising rare breeds that lay colorful and unique eggs. Some of the available chickens are the following:
Alchemist Blue
German Bielefelder
Azure Eggers
Sage Eggers
French Black Copper Marans
Heritage Welsummer
The price of the chicks starts at $5.
For shipping, the minimum order is 6. Shipping is every Tuesday morning. The hatchery ships all over the United States, except Hawaii.
Since January 2016, the hatchery has been NPIP Certified.
Location: 8341 Appian Way, Sebastopol, CA 95472
Contact: 707-336-2202
The founders of Sunny-Side Up Ranch started raising Brahmas. Their love for chickens grew until they began to tend more chickens that are ideal as family pets.
The friendly breeds available are:
Most of the chicks are sold at $35. However, the price may vary depending on the breed, color, and age.
You can book an appointment with them by sending an email or message to their phone number.
To date, the hatchery is not yet NPIP certified.
Location: 34700 Borchard Rd, Lake Elsinore, CA 92530
Contact: 949-939-9947
Metzer Farms has been in business since 1972. Although it specializes in waterfowl, the hatchery also started breeding chickens. It began with three strains of meat chickens, including Cornish Cross, Rolin S, and Big Sur. The management applies an environmental-friendly approach to the farm.
The only breed available is the 500 Cobb Cornish Cross.
For 1 to 24 chicks, the selling price is $3.49 each. The more chicks you buy, the lower price they offer. The minimum order is 6 Cornish Cross chicks.
They offer free mail-order shipping for 2021.
The hatchery is NPIP certified.
Location: 26000 Old Stage Rd, Gonzales, CA 93926
Contact: 800-424-7755
What to Look For When Buying Chickens in California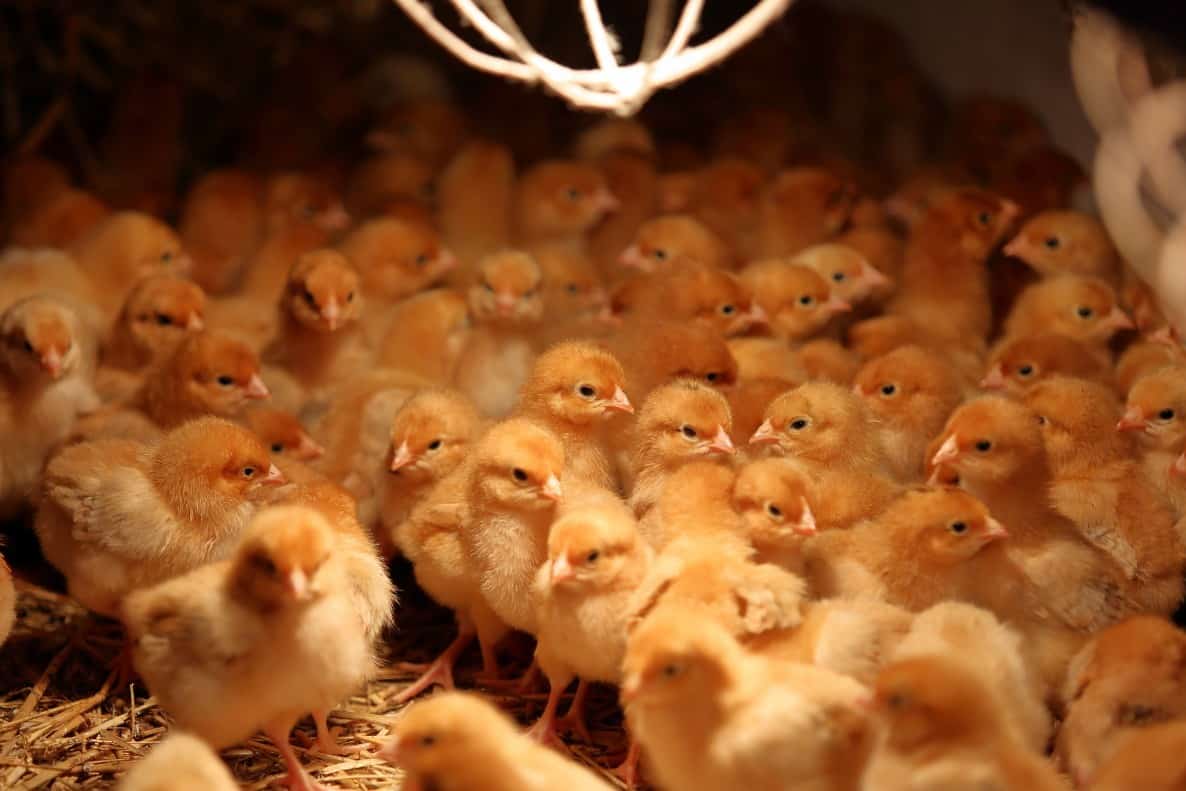 California is one of the states where raising chickens is easy. But there are things that you need to consider first when buying and raising chickens in this place. Here is a list to guide on what to look for when purchasing chickens in California.
Know the local laws about keeping chickens in California
You must know the local laws in California related to raising chickens. Some counties and cities will allow, restrict, or prohibit chickens. Breaking the local laws will result in penalties. To learn more about the basic rules and regulations for chicken keepers, look at this list.
Check first if you are living in a place where you are allowed to raise chickens. If yes, identify the number of chickens allowed in your backyard. After that, find what other rules you must follow. Other areas will not require any permits but have zoning laws. Some jurisdictions prohibit roosters.
To give you an idea, here are the places in California where keeping poultry is prohibited:
Beverly Hills
Durham
Cerritos
Gilroy
La Palma
Hawaiian Gardens
New Castle
Riverbank
Rohnert Park
San Gabriel
San Clemente
San Jacinto
West Hollywood
Consider your location and the climate
The next thing you need to do is to consider your location. Are you near your neighbors? If yes, you don't want to raise noisy chickens. The disturbance may cause a rift between you and your neighbors. If you don't want to disturb them, you can choose the quietest breeds like Australorps and Wyandottes.
You also need to check the size of your backyard. Is it spacious enough for free-range chickens? If you have a wide area, select the best free-range chicken breeds that you can raise.
Limited space should not stop you from raising chickens. Fortunately, some breeds can adapt to confinement quickly. But you must provide them with a well-ventilated cage. Aside from that, give them a break and let them roam in your backyard for a while.
Aside from checking your location, you also want to consider the climate in your area. Most of the places in California have Mediterranean-like temperatures. They have dry summers and wet, mild winters. If this is the kind of climate you have, raise heat-tolerant chickens breeds.
Locate the hatchery that will suit you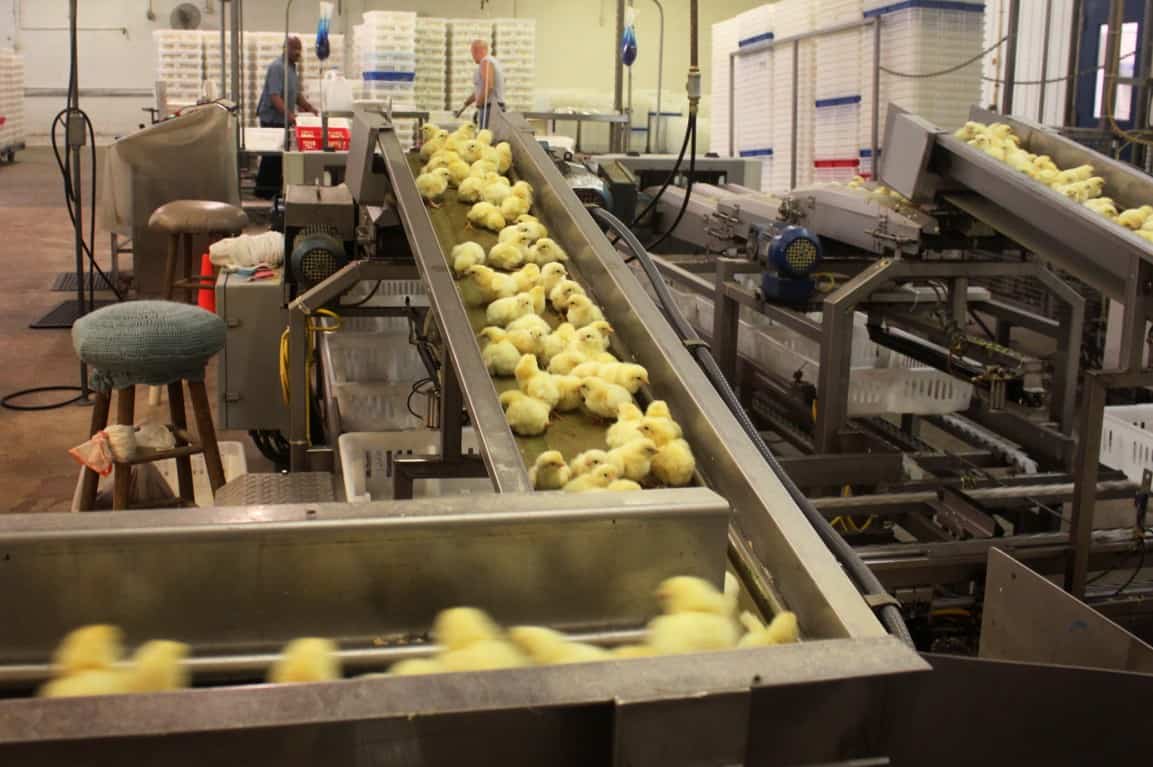 The last step you need to do is to locate the hatchery that will suit you. The hatcheries have their ways of raising the chickens. Aside from that, some of them focus on specific breeds. Look for a hatchery that has a good reputation and offers healthy chickens.
Before you visit a hatchery:
Check first if it has a good reputation.
Do your research by looking for reviews online. You can read the experiences of other chicken keepers.
If you have friends who also raise chickens, ask them about the incubator.
Through this, you don't have to waste your time visiting the area.
On the health of the chickens, consider buying from NPIP certified hatcheries. The chickens they sell are monitored and tested for diseases to ensure that they are healthy and fit. The hatcheries are also required to maintain standards for biosecurity. If you want to know more about NPIP, you can check here.
If the hatchery is not NPIP certified, it is best if you visit the place. Check the health conditions of the chickens. Healthy chickens have clear and bright eyes. Their feet have no wounds. If you intend to buy chicks, they must have dry and fluffy feathers. Learn more about the tips on choosing healthy chickens:
Summary
With its climate and geography, California is a suitable place to raise chickens. If you want to have the healthiest breeds, get the chickens on the best hatcheries listed above. Also, don't forget to follow the tips on raising chickens. It will result in a worthwhile and satisfying breeding experience.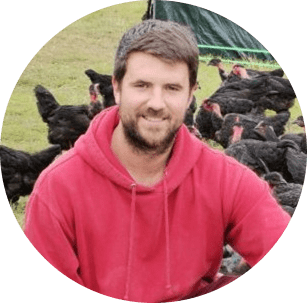 Joseph Hudson has been raising chickens for over 15 years. In 2018, he completed the Agriculture & Natural Resources program at Mt. San Antonio College. He currently raises over 1400 chickens on his 7.5-hectare farm. He keeps sharing his experience on raising healthy and happy chickens on Chicken Scratch.