Today, we will be talking about the 7 best chicken hatcheries in Georgia.
Did you know that Georgia is one of the top poultry producers in the US?
It is not only the big poultry companies that contribute to this ranking. Even the little poultry businesses help maintain Georgia's status when it comes to commercial poultry.
Whether you want to help in the state's contribution to the poultry industry or you want to cater to your own chicken needs, then we are here to help you!
One of these hatcheries will undoubtedly be able to help you start your chicken-raising journey. So, without further delay, let us examine them one by one.
As their business name suggests, this hatchery is a mad hatcher!
They have a variety of poultry for sale. From chickens to turkeys, they have it!
When it comes to chickens, they currently do not have that many options. Still, it would be a good idea to check them out from time to time. Their selection is still growing, after all!
They are a little on the pricier side, but they claim to give you happy and healthy chicks in return.
You can view their breed selection on their website, but they do not ship. You would have to pick up your order.
| | |
| --- | --- |
| | |
| | |
| | |
| Ameraucana/Blue Egg Layers | |
| | |
| | |
| | |
| | |
| | |
| | |
| | |
| | |
| TX A&M White Coturnix Quail | |
| Georgia Giant Bobwhite Quail | |
Location: 109 Fuller Rd, Hawkinsville, GA 31036
Phone: 478-636-0388
Next up, we have Bob's Biddies Hatchery, LLC. Take it from us. They are an option to be considered!
They have a great selection when it comes to chicken breeds. Their pricing is also great, especially if you consider the quality of the chicks they have.
Lastly, they also ship. There is now no reason not to check this hatchery out!
Location: Weaver Drive, Ray City, GA 31645
Phone: 229-375-1991
Here, we have M&B Farm & Hatchery.
Like most hatcheries, you would have to get in touch with them to know what chickens are available at what price. It seems they do not ship. You would have to drive by their farm if ever you decide to buy some chicks from them. They do have a lovely place. We believe the drive would be worth it!
Breeds & Pricing
Location: 630 Sloan Hill Rd, Hortense, GA 31543
Phone: 912-506-4095
Blackberry Creek Mini Farm sells many kinds of farm animals. Additionally, they also have a great variety of chicken breeds. You can check out their website for available birds. If what you are looking for is not on the list, you can also try contacting them.
A little pricier than average, but still a great price considering you will be getting lovely little critters.
If you do not want to go down the farm, then you do not have to worry. They do shipping.
Location: 173 Blackberry Ln, Augusta, GA 30906
Phone: 706-833-5535
Here, we have Meadow Farms.
They have a few breeds to choose from but note that not all birds are always available. However, they are worth checking out from time to time. They have quality chicks at fair prices.
You can see their available birds on their site. They also do shipping, so once you find your bird, then you can check it out!
Location: Kelly Farm Rd, Newnan, GA 30265
Phone: 470-723-3116
So far, we have listed down hatcheries that could help you with your backyard chicken-raising journey.
However, do you want to go big into commercial poultry? In that case, you will need to do business with big poultry hatcheries and suppliers.
You might want to consider Hy-Line North America. They are one of the oldest and most reliable poultry suppliers out there. They have a wide variety of quality layers. You will undoubtedly find the chicken you need.
For pricing and shipping, you would have to get in touch with them.
Location: 4432 County Rd 213, Mansfield, GA 30055
Phone: 770-786-0987
On the other hand, you might want to consider Aviagen Inc if you are looking for quality broiler chickens. They have different types of boilers to suit your needs.
Like with Hy-Line North America, you would have to contact them directly for pricing and shipping.
Note that business with large poultry hatcheries and suppliers like Aviagen Inc is almost nothing like doing business with small poultrymen. With that said, it is likely they would only do transactions if you are buying a big batch.
Location: 391 Beasley St, Blairsville, GA 30512
Phone: 706-745-2125
What to Look for When Buying Chickens in Georgia
You now have an idea where to look for chicks in Georgia. Next, let us talk about what you need to look for before taking your chicks home.
1. A Good Hatchery
As you might have guessed, finding a good hatchery is essential when buying chicks and chickens.
So, how do you find the perfect hatchery for you? There is no guaranteed way, but good research will do wonders.
Websites
One of the easiest ways to gather information about a hatchery is through the internet.
Many hatcheries already have a website today. It would be a good idea to browse through their website to see if they have the birds you want. It could save you time. Also, it is a little disheartening to find a great hatchery only to find out that they do not have the chicks you need.
Reviews
If they do have the breed that you need, then you can browse around a little more. However, you have to be on your guard! They are trying to sell some birds, after all. They will likely present themselves in a good light.
After browsing through their website, you can also check out their review from different platforms.
Here, you will see them through the eye of their past customers.
You would be surprised! Reviews could tell you many things!
However, it is good to remember that one bad review should not be enough to put a hatchery in a bad light. On the other hand, if there are dozens and dozens of bad reviews, then you might want to do a little more digging.
Asking Around
It would be hard to ask follow-up questions from the customers that left reviews. Also, it might be unreliable if the comment is from years ago. People can change, so you can expect hatcheries to change too.
With that said, the next thing you want to do, if possible, is to ask around about that hatchery. If they have regulars, then that is a good sign.
Getting in Touch
So far, the data you have gathered are second-hand. Now, it is time to get a first-hand experience with the place you are eyeing.
Contact them to catch a glimpse of their customer service.
If everything has been going well so far, then you might want to visit them. Inspect the hatchery or farm. The place could tell you things the sellers might be refusing to say to you.
Here, it is already a good sign if the seller is allowing you inside. Some places are adamant you stay outside and only pick up your orders. Allowing visits is a sign they have nothing to hide.
Once inside, one of the first things you want to observe is how clean the place is. If they are not taking care of the area, then there is a possibility they are not taking good care of their chicks as well.
There is usually no excuse for a messy place. Many busy hatcheries boast of clean, safe, and fun lands.
Next, you want to see if they are overcrowded. Good hatcheries should provide enough room for their animals. Also, if the place is packed, there is a possibility you could end up with stressed-out chicks and chickens. Stress is extremely bad for chicks and chickens.
2. Good Chicks/Chickens
We have already talked about some good hatcheries. We have also discussed how to find the perfect hatchery for you. Now, let us talk about the chicks and chickens you are eyeing.
Of course, you want to go for healthy chicks and chickens. So, how do you know you have a healthy bird on your hands?
First, you want to look at the eyes as it usually tells how healthy the bird is. There is a big chance you have a sick bird if it has sleepy eyes. You want a bright-eyed chicken.
Next, look at its body. A healthy chicken usually has unruffled feathers and smooth legs. Additionally, it is not underweight or overweight, and its right and left sides are even.
Look at how it moves as well. It should also be able to run or walk properly. Additionally, a healthy chicken should be able to go from one place to another without running out of breath all the time.
Lastly, take a good look at the other chicks and chickens. Some illnesses and diseases are easy to transfer from one bird to another.
Summary
There you have it! The 7 best chicken hatcheries in Georgia and the things you should know when buying chickens in this lovely place.
You are now ready to buy your first set of chicks and chickens!
Raising chickens is not the easiest thing to do, but we have little doubt that it would be a fun and rewarding experience.
Have other chicken concerns? Run into some chicken trouble? Well, you can check out our other chicken tips and discussions. We will be happy to help with your chicken problems! As you might have already noticed, we love chickens around here.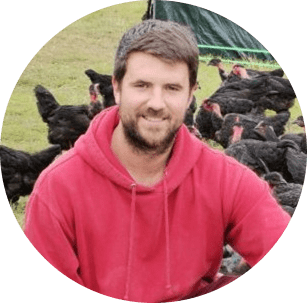 Joseph Hudson has been raising chickens for over 15 years. In 2018, he completed the Agriculture & Natural Resources program at Mt. San Antonio College. He currently raises over 1400 chickens on his 7.5-hectare farm. He keeps sharing his experience on raising healthy and happy chickens on Chicken Scratch.