Tennessee is generally an excellent place to raise chickens. There are steps to follow before starting your flock-raising journey. It's best to find the closer and the better hatchery so you can take the first. It should be a journey of finding a hatchery that you could trust as well as provide you good quality services. Here are the nine best chicken hatcheries in Tennessee.
Poultry Hollow Hatchery provides a wide variety of chickens like different types of Wyandottes, including Silver and Gold Laced, Autralorp, Cuckoo Maran, Barred Rock, various types of Cochin, including Blue Standard, Partridge Standard, and Black Standard, and more.
The Poultry Hollow hatchery offers as many as 55 breeds. They provide customers with an inventory that lets them know what's available when they will be available, and the estimated dates and prices. Shopping should not be that hard in Poultry Hollow Hatchery, and they provide easy access and transactions for their buyers.
Location: 116 Wilkerson Hollow Ln, Brush Creek, TN 38547
Phone: 615-477-7936
Cobb-Vantress Hatchery aims to provide the growing world with good quality food and make a difference by delivering sustainable genetic progress.
They also make sure they take care of their poultry to the best of their ability through robust animal welfare. They offer various types of broiler chickens. They offer the best services to their chickens and also provide deliveries that are guaranteed safe.
Location: 441 Industrial Dr, Lafayette, TN 37083
Phone: 615-666-5571
Rocky Top Gamefowl Hatchery provides the best toppy grey lines chickens. They provide their chickens with enough space to grow and move around. They make sure their chickens are comfortable in their space. If you are planning or are raising chickens for the game, perhaps Rocky Top Game Fowl can help you with your journey.
Location: 2053 Cumberland City Rd, Dover, TN 37058
Phone: 734-629-6483
Chick N Stuff Farm is an NPIP certified small-scale farm that breeds and sells chickens, turkeys, birds, and various types of eggs. They are breeding breeds such as Jersey Giants (blue, black, and white), Buff Brahmas (Light and Dark), White Rose Comb, and Single Comb Leghorns.
The farm also sells eggs of different types and colors. Birds in Chick N Stuff Farm are specially taken care of as they are not mass-produced and receive one on one attention with assigned staff. Prices start at $15 for chicks.
Location: 430 Crump Landing Rd, Crump, TN 38327
Phone: 731-607-7324
Cumberland Creek Farm is an NPIP certified farm that aims to develop and produce quality breeds to help chicken enthusiasts achieve their goals in raising chickens. They provide a vast and enough space for the chickens to roam around and free-range.
This ensures good bodywork for chickens that benefit their health. The chickens are sure to receive enough sunlight as it is also beneficial in egg-laying for hens.
They sell breeds such as Lavender Marans, Marans (chicks), Ameraucana chicks (Blue, Black, and Splash), Crele Orpingtons, Swedish Flower hen, Olive Eggers, and Bresse. They offer hatching eggs of different breeds too. The price starts at $6. Cumberland Creek farm also ships for the amount of $55.
Location: 73 Eatherly Ln, Lebanon, TN 37090
Phone: 615-522-8516
Golden Gaits Farm has a wide variety of breeds such as:
Polish
Silkie
Bantam Cochin,
Black Copper Marans
Orpingtons
Ayam Cemani
Blue Laced Red Wyandotte
Easter Egger/Olive Egger/Ameraucana
Crele Penedesenca
Heritage Turkey
Unfortunately, the hatchery does not take waiting lists or pre-sell chicks and does not ship live birds, except for hatching eggs when available.
Note: Golden Gaits Farm rarely has hens or pullets for sale, and when they do, they are advertised on the Golden Gaits Facebook page and sell out quickly. So the best method is to first follow their Facebook.
Location:600 Hill Top Rd, Shelbyville, TN 37160
Phone: 931-695-3301
Cluckmore Farms provide customers with good quality chicks, chicken breeds and eggs. Cluckmore Farms also sells rare breed hens such as White Silkie, Cuckoo Bantam Polish, Nankin, Blue Silkies, Easter Eggers, Chocolate Cuckoo Orpington. They provide shipping and the best effort to avoid any delivery trouble.
Location: 948 Pleasure Rd suite b, Sevierville, TN 37876
Phone: 865-446-0371
Linda's Garden/Buchanan's Barnyard provides a variety of farm produce. They sell chickens of different breeds, including Ayam Cermani, Silverudd Blue, and many more. Hatching eggs are very much popular in their list too. They provide excellent service and show their care for the animals by the way the animals' behavior manifests it.
Location: 190 Co Rd 80, Riceville, TN 37370
Phone: 423-836-4138
What to Look for When Buying Chickens in Tennessee
Before starting to raise a flock in Tennessee, it's essential to know dos and don'ts to avoid any avoidable trouble.
Cities and Their Corresponding Basic Rules and Regulations
Brentwood – When you want to raise chickens in Brentwood, there is not much hassle as they do not require any permit, and there's no limit when it comes to the number of chickens allowed. However, there still are limitations to consider, such as noise, proximity, sanitation, and zoning restrictions.
Chattanooga – In Chattanooga, there is no need to get a permit as well as no limitations on the number of chickens. Roosters are also allowed.
Clarksville – There is no need for a permit, and there are no limitations in terms of the number of chickens.
Germantown – There is also no need for permits in Germantown, as well as number limitations.
Jackson – You can raise as many chickens as you please.
Knoxville – No permit is needed in Knoxville. There is no limit on the number of chickens to raise.
Maryville – Maryville does not allow for new flocks, but a permit is also not necessary. This means that only the flocks kept before the ordinance in 1988 were allowed to stay. Any new flocks are other than those who were originally there before the ordinance are not allowed.
Memphis – Memphis allows for the raising of roosters and has no permit required as well as no limit in the number of chickens allowed.
Murfreesboro – Murfreesboro also allows for roosters, and no permit is required to raise chickens. However, they limit the number of chickens to be raised for as many as six birds.
Nashville – Nashville is quite complicated as it depends on how big the plot is. Nashville also requires a permit.
Smyrna – Smyrna does not require any permit, and there is also no limit to the number of chickens allowed.
Williamson County – Zoning ordinances apply in Williamson County. They allow as many chickens as you want and also with no permit required.
Here are places where raising chickens is prohibited.
Johnson City
Kingsport
Maryville – Although chickens are allowed in Maryville, all of those are poultry that had been already there before the 1988 ordinance. No new flock or chicken has been authorized.
Climate in Tennessee
Tennessee is elevated differently, and so areas can be different at certain times of the year. In general, Tennessee has an ideal climate for flocks to live in. They have cool but not so cold winters and warm summers.
This way, you can expand the types of breeds to raise as Tennessee does not require too much effort for chickens to live, especially during winters. Here are some breeds that will be ideal for raising in Tennessee's climate.
Australorp – Australorps are very much okay with cold or warm weather. They are especially adaptive in cold weather, and so when winter comes, there should be no complex challenges in your flock.
Plymouth Rock chickens – These are also cold-hardy breeds. They are dual-purpose and raised both for their meat and brown eggs.
Kelso Chicken – If you are raising a game, Kelso chickens can be the ones for you.
Delaware – These chickens are raised for their eggs as well as their meat. These chickens are also cold-hardy.
Buff Orpingtons – These chickens are one of the crowd's favorites when it comes to egg layers and chickens as pets. If you want gentle chickens as well as those you or your kids can easily pet, Buff Orpingtons are for you.
Jersey Giant – This breed is one of the biggest in the world and also a rare one. If you are up to rare breeds and worry that they would not survive cooler temperatures, you don't have to worry anymore. Jersey Giants are cold-hardy!
Summary
After knowing all the necessary things before raising a flock, you are all set. Getting to know some of the nine best chicken hatcheries in Tennessee gets you one step ahead when it comes to choosing a hatchery you could trust. Of course, it could be trial and error, but the progress will be worth it.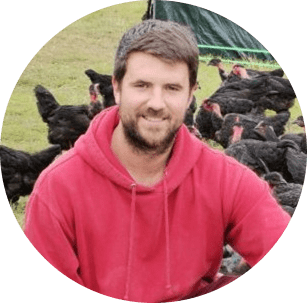 Joseph Hudson has been raising chickens for over 15 years. In 2018, he completed the Agriculture & Natural Resources program at Mt. San Antonio College. He currently raises over 1400 chickens on his 7.5-hectare farm. He keeps sharing his experience on raising healthy and happy chickens on Chicken Scratch The Foundry.