Whether you have waste matter from food or animals, you should consider turning it into compost. If you are interested in doing so, here are 27 pallet compost bin plans that you can check out.
What's A Compost Bin?
Before you look into the different compost bin plans, it's important to figure out what it is exactly. A compost bin is like a receptacle or repository for waste matte. In the case of animals such as chickens, they can deposit their manure in the compost bins.
There are actually some benefits to note when the waste matter from chickens turns into compost. These include the following:
Provides nutrients and moisture to the soil
Strengthens soil and root structures
Adds organic matter into the soil
Curbs wastewater disposal costs
Reduces the need to use chemical fertilizers
Where Can You Get Pallets?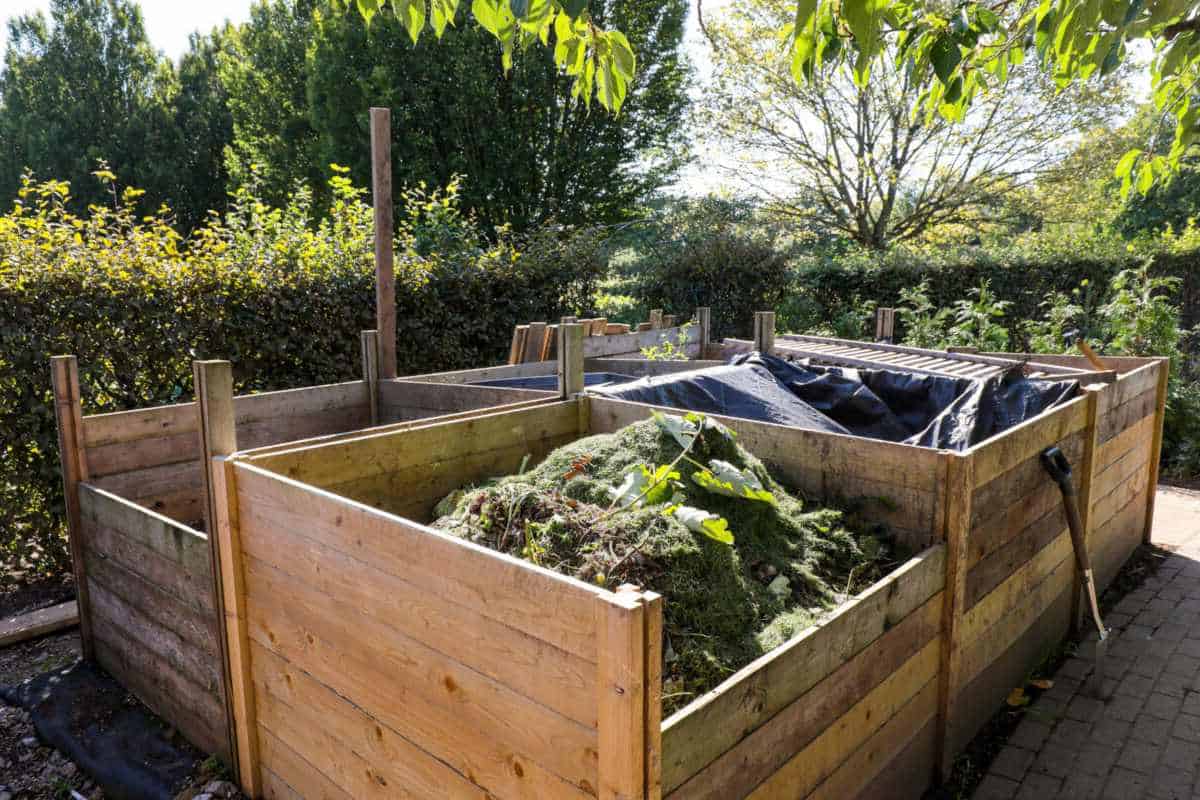 A pallet is a flat structure, most often made of wood, used for stacking, storing, and transporting goods. It has also become a widely used material for compost bins.
If you're considering making compost bins from pallets, you can either purchase them or find them for free. You can try to reach out to local establishments like the following and ask if they can give their pallets away:
Construction and industrial sites
Supermarkets and groceries
Bars and restaurants
Small shops or businesses
Hardware stores
Furniture store
Check Out These 27 Pallet Compost Bin Plans
If you have gathered the necessary materials that you would need to build your pallet compost bins, here are some plans that you can use as references. At first, they might look difficult to put up. However, the truth is, as long as you have the right stuff, it's going to be okay.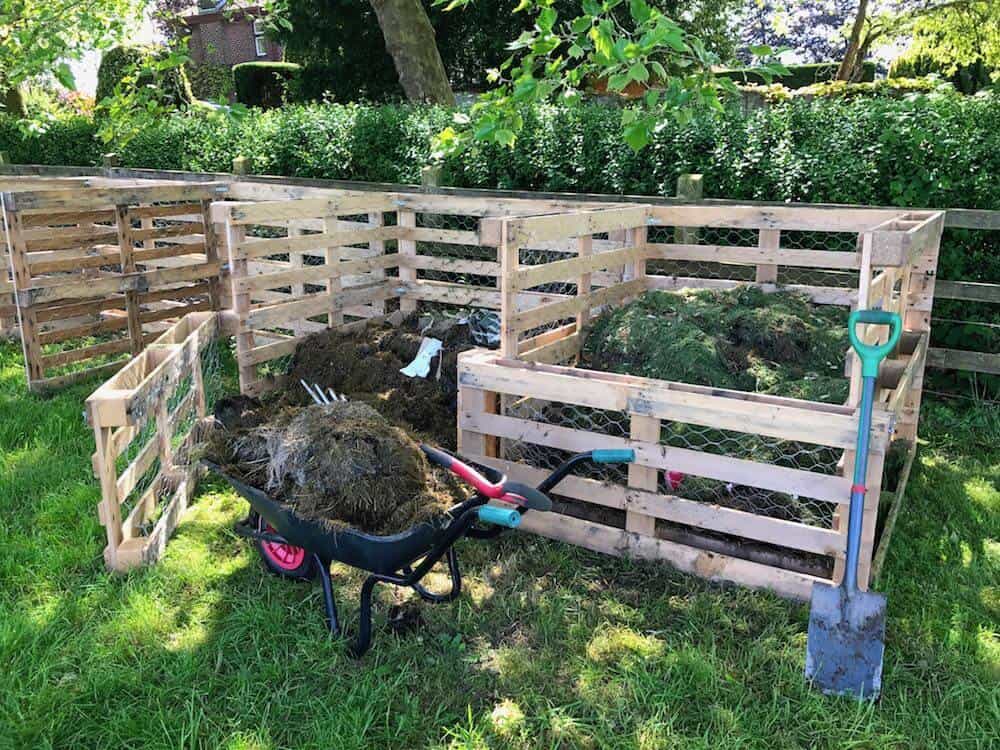 If you are new to making pallet compost bins, then this plan is for you! It's easy to do, and it works well even in small spaces.
This plan has everything outlined for you – from the materials you need to how you can start working on those pallet compost bins. One of the most helpful things that you can find here is the photos of the step-by-process.
2. Making A Compost Bin From Pallets
If you need a quick video that teaches you how to make a pallet compost bin, then you should definitely check out this one. While this video is only less than 5 minutes long, it packs a lot of information. It tells you the things you need to start working on your compost bin. It even tells you how to identify pallets that have been treated with chemicals.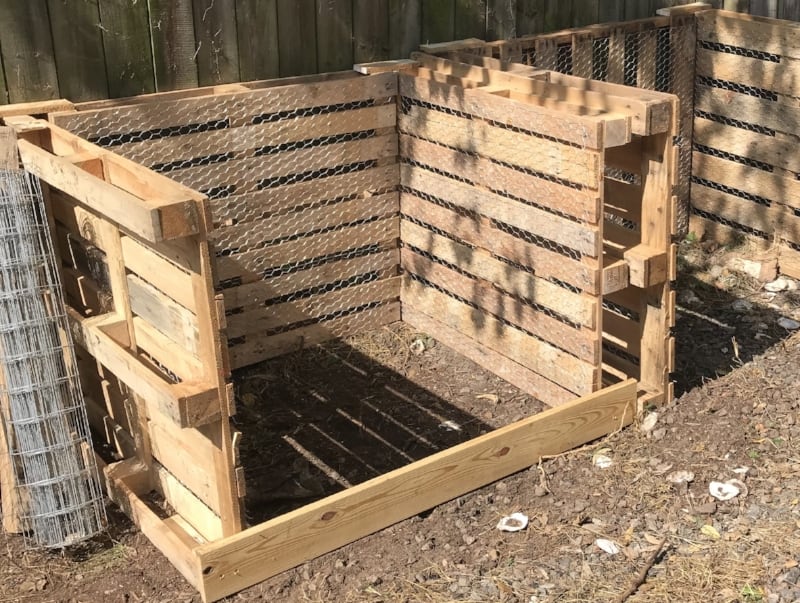 This plan guides you on how to build a compost bin using pallets in five easy steps. It talks about how to collect the right pallet and how many you need. In each step, there is a photo that you can use as a reference. This is a quick read. So if you are looking for a plan that you can easily follow, then this is a great option.
4. Easy DIY Compost Bin Using Recycled Pallets
If you are on a budget, you should go through this video about a DIY pallet compost bin plan. You don't have to spend a lot. You can probably spare $20 for the hinges, given that you can try getting recycled pallets for free. The video also shows you how to deconstruct the pallets so that they will work perfectly well with the plan at hand.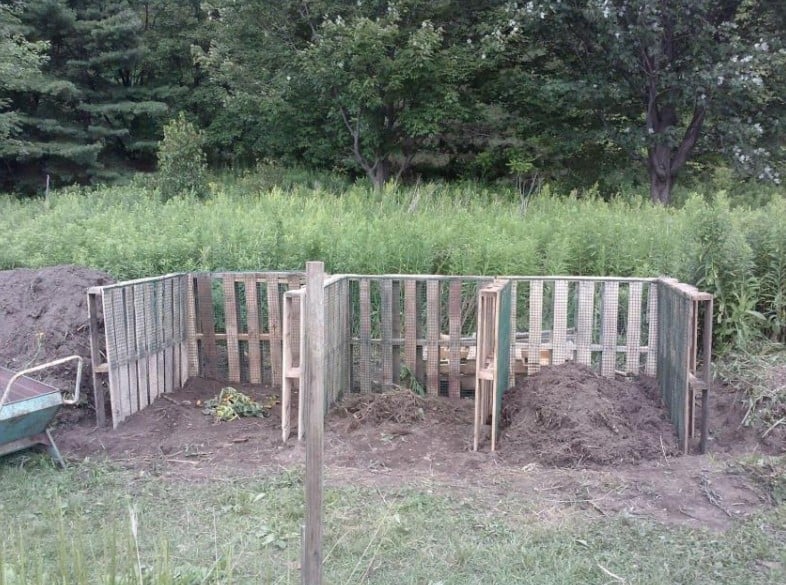 Here's a plan that you can always turn to whenever you need to build a 3-bin wood pallet compost bin. It includes the materials you should prepare, the steps you need to do, and photos that you can use as a guide. There are even instructions on how to each of the three bins that you would be making.
6. Designing a 3-Bin Compost System with Wood Pallets
If you think you can handle producing more than one pallet compost bin, perhaps you are ready to assemble three. Before this plan goes into motion, you learn more about the benefits of compost. As the video goes along, you get the instructions, as well as the footage of the construction of the pallet compost system. They even explain the different sources of compost you should be aware of.
If there's one word to describe this plan, it has to be "detailed." It would work perfectly for those living in an urban area or someone who has limited space. This details the materials that you would be needing and how to choose them. And best of all, it guides you on how to add a cover to your compost bin.
8. Making the Most Effective Compost Bin Made From Pallets
This particular plan talks about the most effective pallet compost bins. So if you want to achieve that, then this is something that you should check out.
It emphasizes the importance of choosing the right pallet, especially the ones that have not undergone chemical treatment. This shows you how to build one pallet compost bin but because the steps are the same, you can repeat it as many times as you want.
With this DIY pallet compost bin plan, it's all about cost saving. You would be needing at least 7 pallets. However, if there's a need, make sure you have extras. There are photos for every step, making it easier for you to follow. There's also a video reference that you can watch if you aren't too sure what to do.
10. An Organic Compost Bin From Recycled Pallets For Your Garden
If you have a garden, then this compost bin plan might work for you. It's perfect for those who are planning to grow organic vegetables. It details the use of recycled pallets and how you can make it hot. The heat helps in the development of a rich organic compost that would work best with your organic vegetable garden.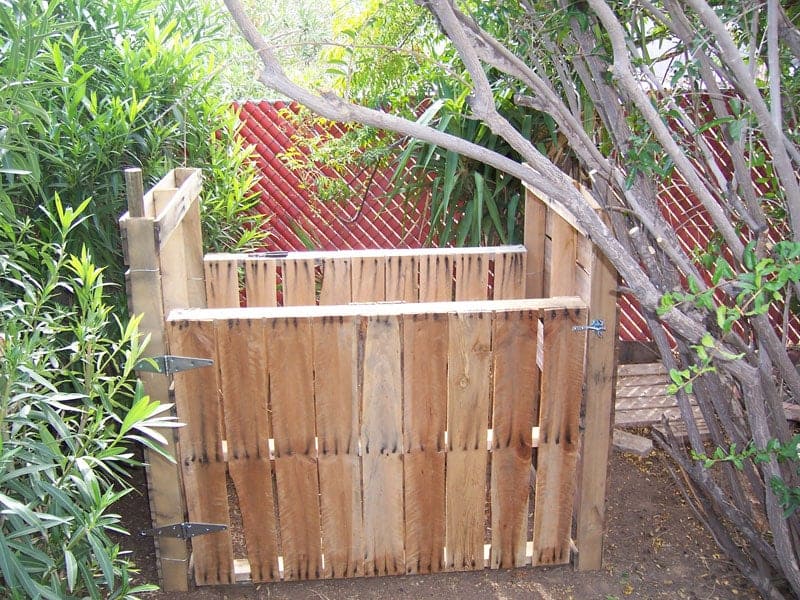 Here's a plan that only involves 8 very easy steps in creating your own pallet compost bin plans. In each step, there is a simple text instruction but it comes with a couple of photos. It specifies what you need and how to piece them together so that you can have your very own pallet compost bin.
12. Pallet Compost Bin With Side Garden
This plan combines a pallet compost bin and a side garden! Adding a cute garden at the side would give your pallet compost bin more color. Apart from putting the pallets together to form bins, the plan also gives you an idea of what else to do to make it functional and pleasing to the eyes.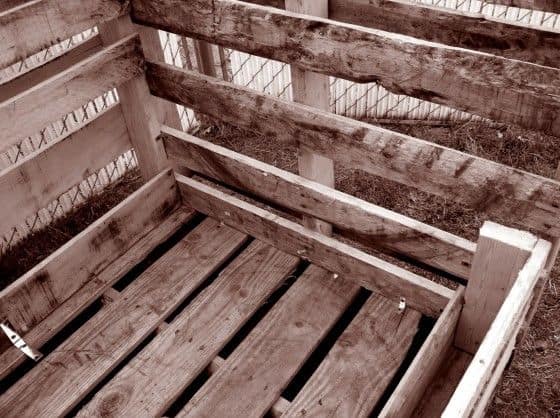 If you are using pallets to make your compost bins, that is a form of upcycling. That is exactly what this plan is all about. It teaches you how to make each part of the compost bin using recycled pallets. It starts with forming the base and then ends up with adding the front door.
14. DIY Compost Bin Using 7 Pallets
You do not need to purchase a pricey compost bin for your garden. You can make one for yourself using only seven pallets! This plan also points out which pallet you should get – the one with the HT stamp. Once you have your pallets, you can just watch the video and follow the easy step-by-step guide.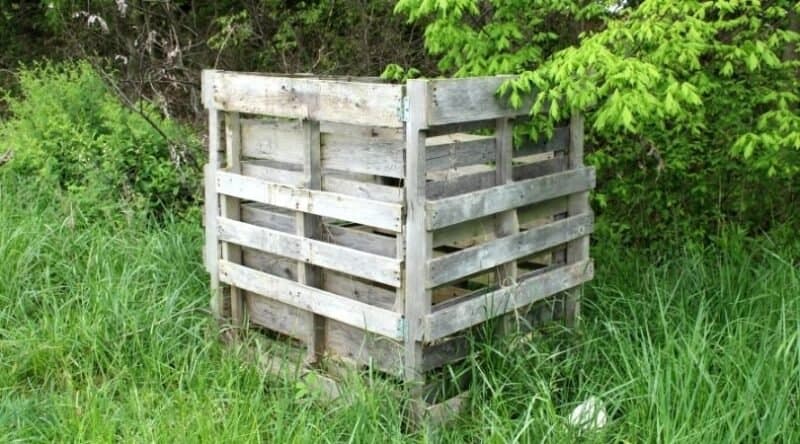 Simple and affordable is what this pallet compost bin plan is all about. It's said to be perfect for people looking to build their compost bin. It talks about the considerations you need to look at before choosing to make the compost bin. There's also a guide on how to set everything up and how to make the compost itself.
16. A Two Stage Compost Bin With Pallets
If your goal is to make a two-system compost bin made of pallets, this plan should be right up your alley. What makes this video reference good is that you can see how they built the pallet compost bin. It's straightforward, allowing you to easily follow the plan when making your own.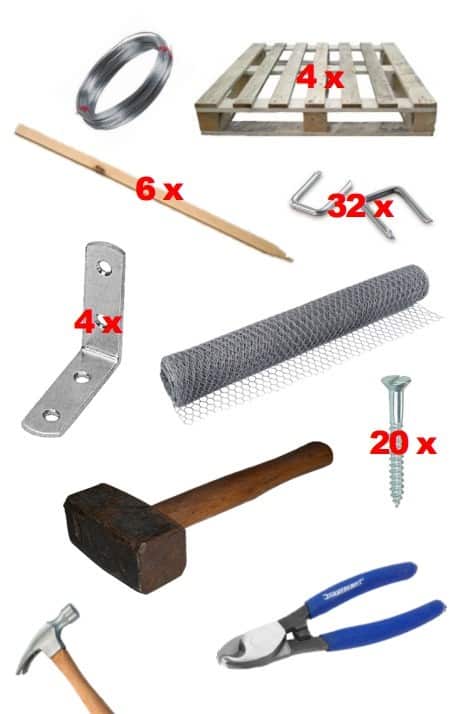 Here's a short but colorful DIY pallet compost bin plan. Don't let the length of this plan stop you from using it to construct your own pallet compost bin. It lists down the basic materials, optional items you might need, and the eight uncomplicated steps! This plan's simple approach is manageable even for starters.
18. Pallet Compost Bin in 10 Minutes
If you are pressed for time, then there's a 10-minute pallet compost bin plan that you can follow. As long as you have the things you need like the pallets, nails, screws, hinges, and whatnot, then you are good to go. This quick plan works for any type of composting that you might have in mind.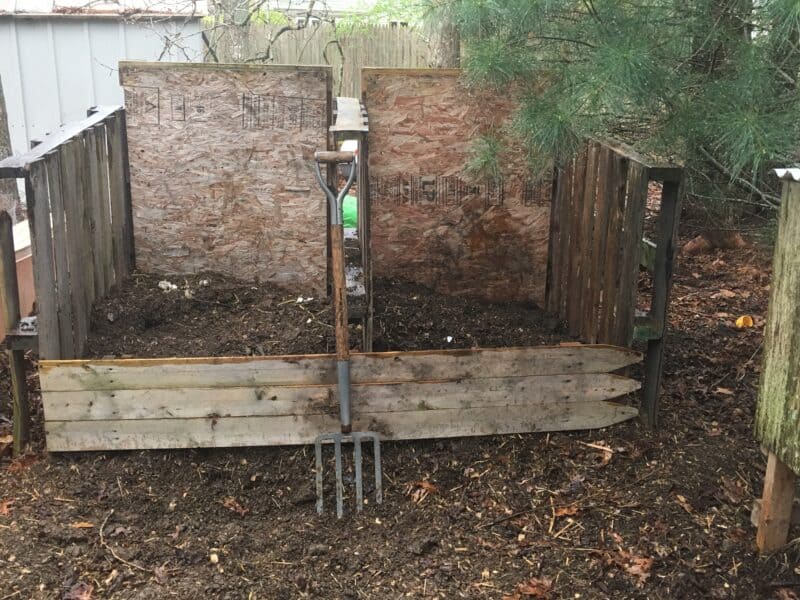 There are only two main materials that you need for this plan – pallets and screws. This basic pallet compost bin plan is uncomplicated. With your five pallets, you can now produce your own pallet compost bin. This works by putting the pallets together and screwing them. If you wish to do more than one, you just need another set of five pallets.
20. Step-by-step Guide: Making A Compost Bin From Pallets
Simplicity is the main draw of this plan. However, despite how common that might sound, the whole thing is very comprehensive. It does not only show you how to stack the pallets, but it also indicates the measurements and installation. If you want to get the desired result for your pallet compost bin, you know exactly what to do.
Most pallet compost bin plans involve nails or screws. However, this time around, all you need are zip ties. A zip tie is a great alternative when it comes to piecing your pallets together. If you want to put together this type of pallet compost bin, you can just follow the seven main steps that you can follow.
22. Simple Pallet Compost Bin Using Recycled Materials
Sustainability is the main goal for this pallet compost bin plan. It starts by listing the recycled materials needed and then discusses painting the pallets for a refreshed look. It then shows us the best place to install the compost bin and the process of setting it up. An area where there are lots of plants seems like the ideal place to do this.
If you are wondering if you can build a pallet compost bin for less than $5, then the answer is "yes"! With this plan, you don't have to spend much. It talks to you about using recycled materials, including pallets, as much as possible. You shouldn't worry about other items you might need to make the pallet compost bin. You already have them in your toolbox!
24. From Old Pallets To New Compost Bins
It only takes less than three minutes for you to learn about this pallet compost bin plan. While the content is a little sped up, it doesn't miss anything. It allows you to see how the pallets were put together to form a compost bin from the beginning to the end.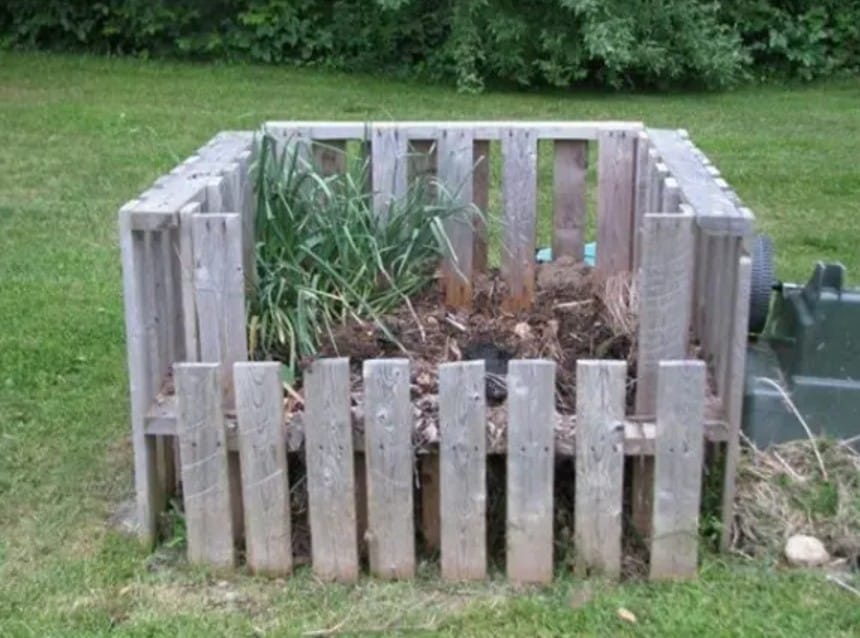 If you are searching for different pallet compost bin ideas, then this plan might have everything you are looking for. They feature 9 different variations of pallet compost bins. If you aren't sure which one would work best for you, this plan can help you determine the type you should go for!
26. Life Hack: Using Pallets For Compost Bins
This plan gets down to the nitty-gritty! It starts with showing you how to clean or clear the space where the pallet compost bin needs to be. It then moves on to putting the pallets together until you have formed the foundation of your compost bin. It even shows you how to put each pallet in place properly.
If you want a simple yet detailed plan, then you have to click this one. It includes the materials and steps needed to put the pallets together to make your compost bins. It also talks about where the best spot is to set your pallet compost bin up and what it can do to the nearby garden or lawn.
It's Not That Hard
Putting together a compost bin is not as difficult as you might think; it's not rocket science. As long as you have pallet compost bin plans that you can refer to any time, you can DIY it! There's no need to recruit a whole team to help you out!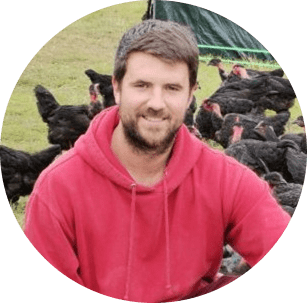 Joseph Hudson has been raising chickens for over 15 years. In 2018, he completed the Agriculture & Natural Resources program at Mt. San Antonio College. He currently raises over 1400 chickens on his 7.5-hectare farm. He keeps sharing his experience on raising healthy and happy chickens on Chicken Scratch.