Today, we will be talking about raising chickens in the 33rd biggest state in the U.S. – Pennsylvania.
Before you start, you are going to need some chickens. So, let us take a look at the 7 best chicken hatcheries in Pennsylvania.
Raising chickens could bring lots of joy, but the fun could be spoiled if you start on the wrong footing. That is why finding the best hatchery is a must to a fun chicken-raising journey.
Without any more delay, let us start this hatchery tour!
7 Best Chicken Hatcheries in Pennsylvania
Location: 266 E Paletown Rd, Quakertown, PA 18951
Phone: 215-536-3155
Moyer's Chicks is one of the oldest hatcheries in Pennsylvania. If you trust in years, then they're a place to consider.
Their chickens are grouped as broilers and egg-layers instead of breeds. They only have one breed per category. But if you are looking for productive birds, they are your place.
Their day-old chick prices are from $0.65 to $3.35 a chick. The price depends on the gender and number of birds you are planning to buy. A great price, given that their chicks (except the males) are already vaccinated.
They ship, but with at least an order of 20 chicks. Additionally, shipping would be free if you buy at least 100 birds.
Location: 187 N Windy Mansion Rd, Reinholds, PA 17569
Phone: 717-336-4878
Freedom Ranger™ Hatchery is another good place to get productive birds. They have broilers, egg layers, and even dual-purpose chickens.
They have a little more variety when it comes to their birds. If you are looking for a specific productive bird, you might want to look into them. They have brown egg layers such as Barred Rocks to colorful egg layers such as Easter Eggers.
They are a little on the more expensive side. The prices of their chicks are from $0.85 to $3.75, vaccination not yet included.
They also ship, but they do not have any free shipping promotion.
Location: Bowser Dr, Kittanning, PA 16201
Phone: 724-664-7403
Are you not particular about a productive bird? You might want to check Freehling Farms. They have a wide variety of birds from Wyandotte to rarer breeds like the Faverolle.
They do not have a website, but they have an active Facebook page where you can see what chicks and chickens they have.
They are pricey, with their cheapest bird currently going for $2.
Shipping does not seem to be an option. Like make hatcheries, you would have to pick up your birds.
Location: 178 Lowry Rd, New Holland, PA 17557
Phone: 717-354-5950
Here, we have JM Hatchery LLC.
JM Hatchery LLC has different poultries available. But when it comes to chickens, they only have Silkies and Freedom Rangers.
They are worth checking out if you are planning on keeping Silkies on your land. Depending on how many you're getting, you can get a Silkie for as low as $1.75.
They do ship but do not be surprised if you get your order from Blue Banty Farm, Inc. The two places are connected.
Location: 966 Ragers Hill Rd, South Fork, PA 15956
Phone: 814-539-7026
Myers Poultry Farm LLC is a great place to get poultry. They have almost every type of poultry there is, from chicken and even turkeys!
When it comes to chickens, they have a wide variety from which you can choose. They have meat birds like Cornish Crosses and Kosher King. Additionally, they also have layers like Ameraucanas, Australorps, and Langshans. Still, if you want some bantams, then they have Sebrights and Silkies. That is only the tip of the iceberg! They have so many birds!
They are not the cheapest choice on the list. But if you plan to buy in big batches, it seems they would be happy to negotiate.
Location: 1625 River Rd, Marietta, PA 17547
Phone: 717-426-3411
Reich's Poultry Farm Inc has a decent number of breeds from which you can choose. They have a little bit of everything if you will.
If you are looking for a productive bird, then they have some Leghorns for you. If you want a backyard buddy, then they have Silkies for you.
As for their price, you can get a chick for as low as $0.60. The cost would depend on the gender and number of chicks you are getting.
Lastly, they also ship and deliver.
Location: 113 Fairground Rd, Newport, PA 17074
Phone: 717-636-1985
ZB²C Hatchery is a small and new hatchery.
Like other small hatcheries, the available breeds and prices are not on their page. You would have to contact them directly for the list of available birds as well as the price. You do not have to worry. You can contact them directly on their website.
If we are to go by the reactions of previous customers, ZB²C Hatchery is undoubtedly worth a shot!
What to Look for When Buying Chickens in Pennsylvania
Have you decided where you are going to get your chicks and chickens? Well, do not get your new feather friends just yet!
Here are some things you would have to consider before taking any birds home.
Rule & Regulations
Make sure you check the rules and regulations for raising chickens in your area. It is also a good idea to check them before you get chickens. Also, every once in a while, after you do. Rules can change from time to time.
Some parts of Pennsylvania have tight rules when it comes to raising chickens. But other areas are more welcoming with keeping feathery friends.
Usually, you will be allowed to keep chickens. What you would have to look out for is how many chickens you can keep in your land.
If you want to hatch and raise your own chicks, then you might have to look for the rules about roosters. Many places do not allow roosters. If it happens that your area does not allow you to have roosters, then we would have to put that off for now.
Additionally, you should also take a look at the rules for the structures your chickens would use.
Coop, Runs, and Pens
The area is important to consider even without official restrictions.
Space is important if you want to keep some healthy chickens. Make sure there is enough room for your chickens to roam in the coop, run, and pen. Overcrowding is a big no!
You would also want to make sure these structures will be able to keep your chickens safe. Safe from different weathers and various predators.
Additionally, carefully decide on the things your chickens are going to use. That includes things like feeders, waterers, heaters, and such. Using whatever would work would be alright in the beginning. But it will prove to be trouble in the long run.
We have had many talks about these things. You can check those topics out if you need help with them.
Chicken Breeds
Speaking of weather conditions, the different parts of Pennsylvania experiences different weathers.
Some breeds would need extra care in certain seasons. It is also possible that it would not be advisable to keep some breeds in extremely hot or cold areas.
Take note of the weather conditions in your area before picking what chicken breeds to keep.
Last-Minute Checks
You need to check your chicks and chickens before you take them home.
It is time to look for problems that might give you a headache later on. Of course, we hope you will not find problems though!
Look for healthy chickens. Sometimes, telling the health of a chicken is as easy as looking at them. There are times that if a chicken looks sick, then it is probably is.
You do have to remember that that is not always the case. In the early stages of some diseases, some chickens would look perfectly normal. Do a little digging.
Some research and a good scan of the place would further help you find a happy and healthy bird. Again, if a place looks clean, you can be a little more sure they are taking good care of their birds.
It is important to find healthy birds, especially if you already have a flock. Some diseases are easy to pass from one chicken to another. One sick bird might affect all your birds and wipe your entire flock!
Gender is another thing you would want to worry about. As we have said, some places in Pennsylvania do not allow roosters. In that case, you should go for pullets or female chicks.
You have to be ready for accidents! Some hatcheries would accidentally give you a rooster at times. Sexing chicks is not always 100% right.
Summary
Knowing the 7 best chicken hatcheries in Pennsylvania, you are now a step closer to being one of the best chicken handlers in the state!
With their rules, it could be hard raising chicken in some parts of Pennsylvania. They are a little stricter than some places. But that should not stop you from getting and raising some chickens.
Do not get too excited! There are things you need to consider before bringing home some chicks and chooks. It is always great to prepare for the birds before they finally go to their home sweet home.
A very happy Pennsylvanian chicken raising from us to you!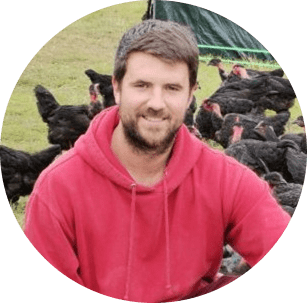 Joseph Hudson has been raising chickens for over 15 years. In 2018, he completed the Agriculture & Natural Resources program at Mt. San Antonio College. He currently raises over 1400 chickens on his 7.5-hectare farm. He keeps sharing his experience on raising healthy and happy chickens on Chicken Scratch.