A mobile chicken coop is a great option to house your flock as you can move it around for your chickens to get fresh grass regularly. Plus, it's easier to clean.
If you're planning to have one, you can easily build it on your own with these mobile chicken coop plans as a guide.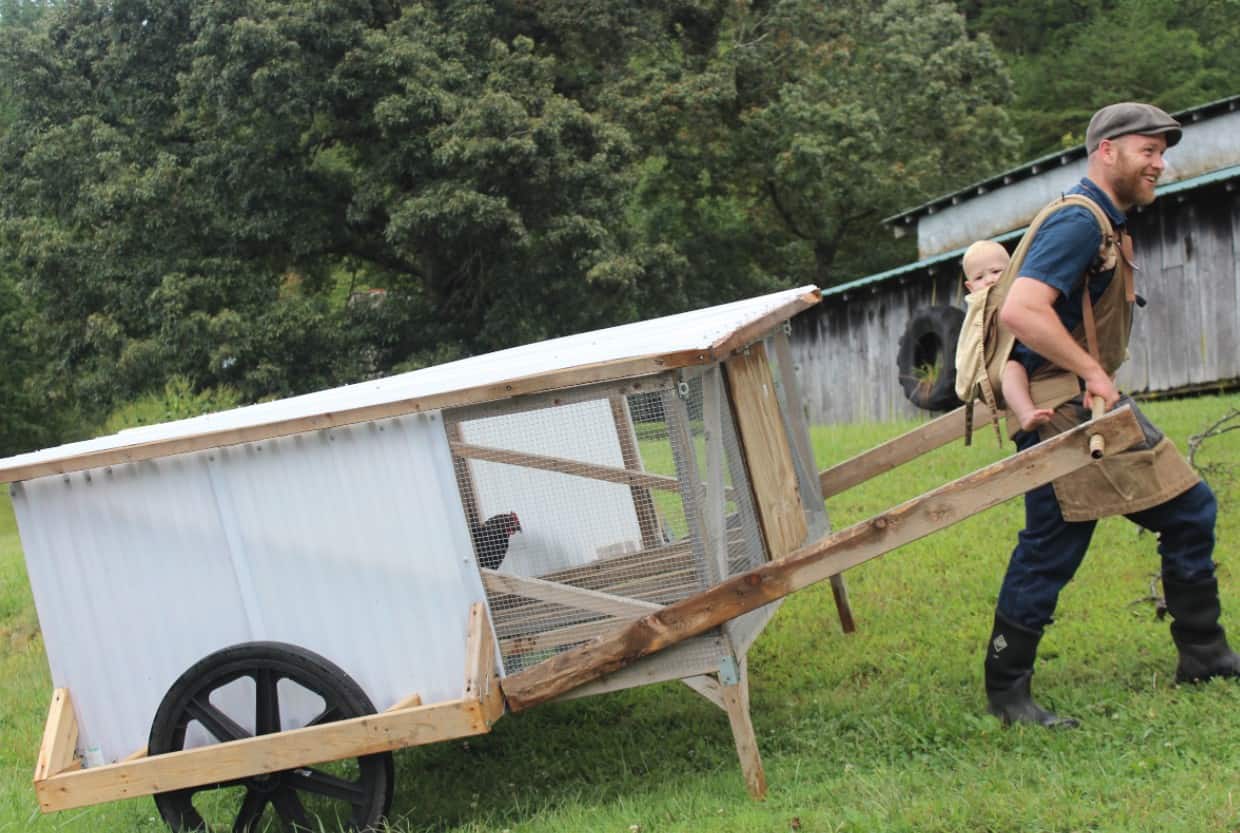 The ChickShaw is a coop built like a rickshaw making moving around easier with the use of a handle — which, by the way, can be used as a stand for the movable roof lid.
You can house up to 60 birds in this mobile chicken coop plan. Practicality in mind, the wheels are non-pneumatic so they can handle bumps and are high enough for your chickens to go under the coop while its door doubles as a ramp.
2. Mobile Chicken Coop Plan with Run
If you want to enclose your flock in your coop while still being able to move it from time to time, this mobile chicken coop plan is a good choice. It is fairly bigger than usual and comes with a run.
Your chickens will surely enjoy the roost, swing in the run area, and additional rope swing below the coop. With its backdoors and access points, you will find maintenance and cleaning easier. In terms of construction, it is also easy to make from scratch.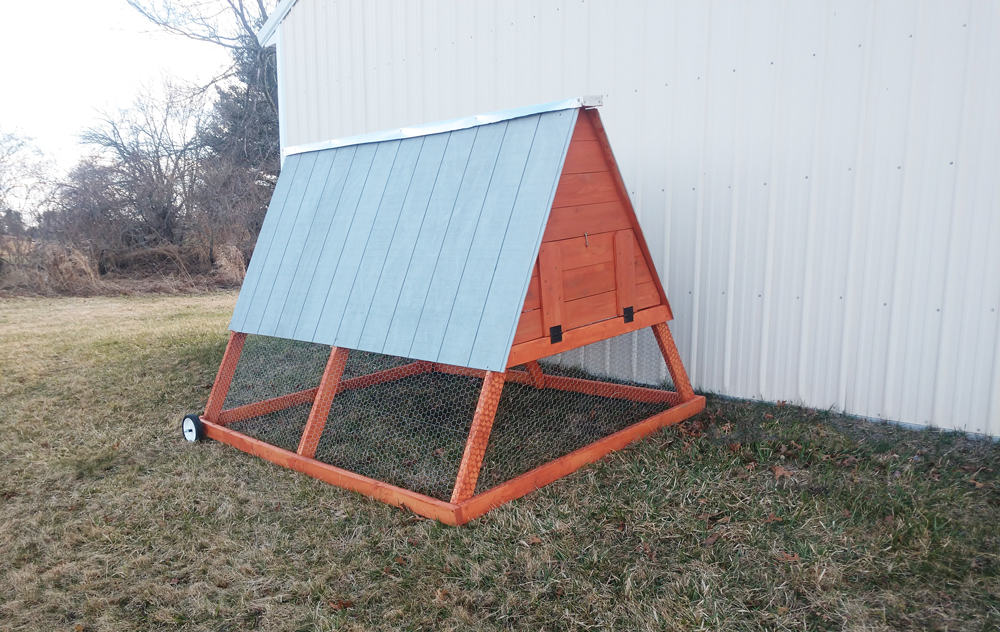 This A-frame chicken coop carries one of the basic coop designs which is the Toblerone shape. Its framework is simple and easy to do-it-yourself even for beginners.
With a capacity of three to five chickens, this mobile chicken coop plan is good for families. The triangle shape prevents water accumulation and gives good shelter to your chickens. There is enough space between the coop and the ground to serve as a roaming space.
Nesting boxes are built-in and there are doors on each side to give owners easy access to the inside of the coop.
4. Mobile Chicken Coop Plan with Covered Run
This simple mobile chicken coop plan features a roof that goes all the way to its run. Fitting eight hens comfortably, it is spacious enough to give shelter while also providing enough space for roaming in the run.
One noteworthy feature of this coop is its slanted egg boxes that allow eggs to roll down at the back where an access door is located. Vinyl floors make the scraping of manure a whole lot easier. With the coop's special safety feature, you can use a latch to open the door from the inside to avoid being locked in the coop while cleaning.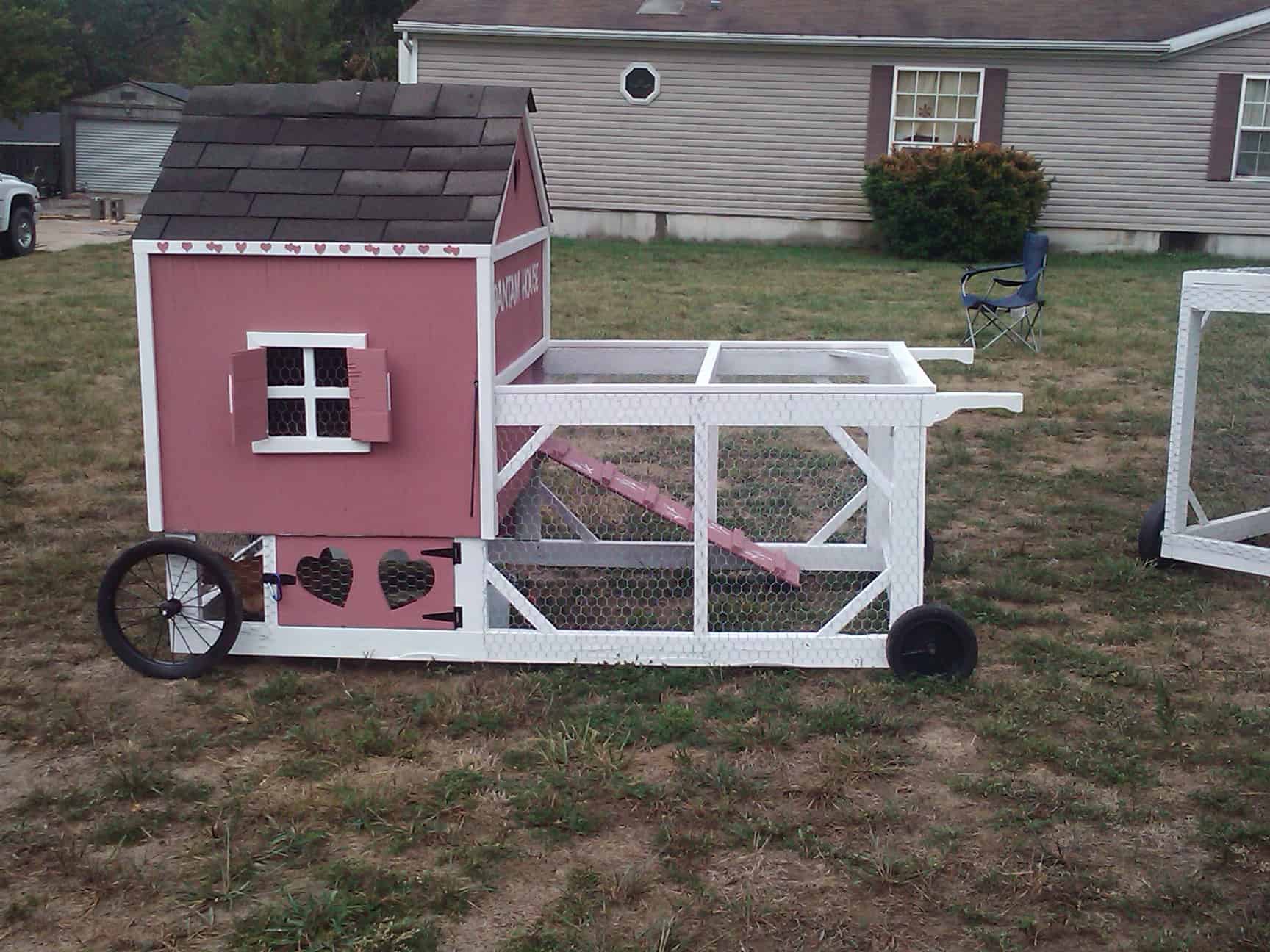 Called the Bantam House, this mobile coop looks like a little cottage for chickens but on wheels made of repurposed materials like wood. There are two main parts: the cottage where the chickens will stay and sleep and the extended area which is the run for roaming.
The cottage is well-ventilated with a cute heart-shaped hole at the back and windows with shutters. The inside of the coop is simple yet spacious enough for a small flock of three to four hens. Homey is the perfect term to describe this chicken cottage.
6. Mobile Chicken Chalet Coop
Coop maintenance can be a hassle but this mobile chicken chalet spares you the stress of cleaning. Standing 2 ½ feet tall, this coop plan seems complicated to build but is worth the time and effort because it is easy to maintain.
Inside the coop, the roost bars are removable but have nails that lock them in place. On the left side is a tube with water for your chickens and across it on the right is a pipe with feeding cups for chicken feed. You can pull out the lift in front to remove shavings and manure. These coop add-ons make caring for your flock more convenient.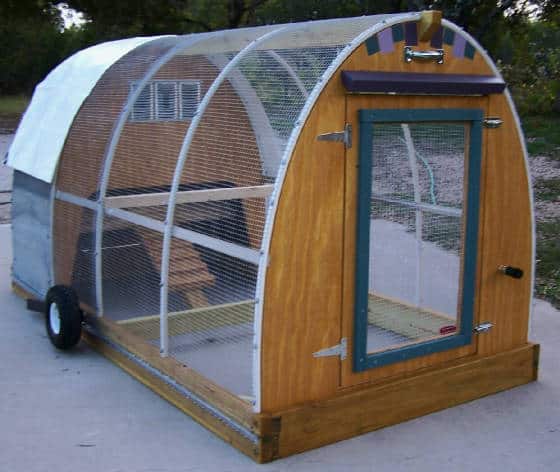 Want a mobile coop with a unique look? The Garden Stagecoach is one you should consider as it has both an aesthetic design and the functionality of a mobile coop. Perfect for urban gardens and landscapes, this mobile coop plan looks unique because of its arc shape.
It is enclosed well enough to prevent predators from coming in but also open enough for chickens to free roam. To add, it has proper ventilation and a nesting box that can be accessed from the outside for egg collection.
Steel handles allow this coop to be moved around easily. This mobile coop plan may seem intimidating but precut parts are available so all you have to do is put the coop together.
8. Sturdy Mobile Chicken Coop Plan
Dealing with windy weather can be a challenge for those maintaining a mobile chicken coop. This toblerone-shaped mobile chicken coop plan can house up to 30 birds overnight and is built to withstand strong winds.
Besides the usual roosts and ramp, this coop has a drop-down door that gives access to the nesting boxes. Mesh makes up part of the flooring so droppings can easily fall through.
During rain showers and strong winds, chickens can take shelter under the two-foot gap between the ground and coop. For sunny days, the ventilation on top provides enough airflow.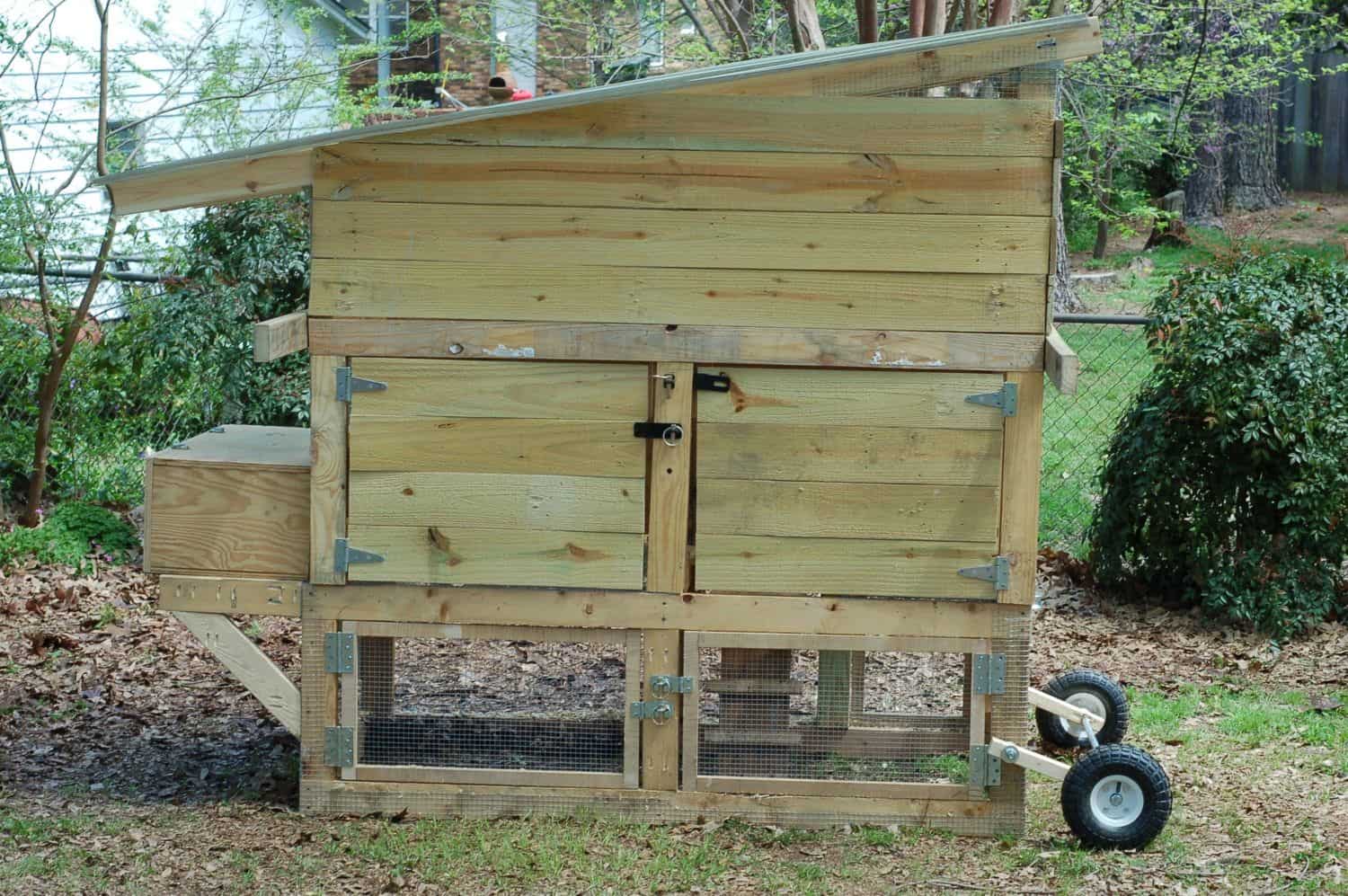 Have pallets, wood, and other items that have no use at home? Use all these to build a reclaimed chicken coop.
This mobile chicken coop design is pretty simple and straight to the point. It is compact and, though smaller than usual coop plans, is still able to provide chickens the comfort they need inside the shelter.
The priority is vertical space to give chickens ample space to perch on the natural roosts that are tiny tree branches. Chickens can also roam in the run area below the coop. A hinge at the bottom makes cleaning waste faster.
10. Tall Triangular Portable Chicken Coop
Shaped like a triangle, this portable chicken coop is as tall as a human being. At six feet, this coop provides enough room for the chickens to take shelter in and roam around the run.
Even though it is tall, it is made of lightweight materials that make the entire coop easy to carry — especially with the help of its bar handle.
A box at the back of the coop is connected to the main living area where hens can nest and lay their eggs in. You can lift its roof lid and lock it with a piece of wood so you can collect your eggs without much hassle.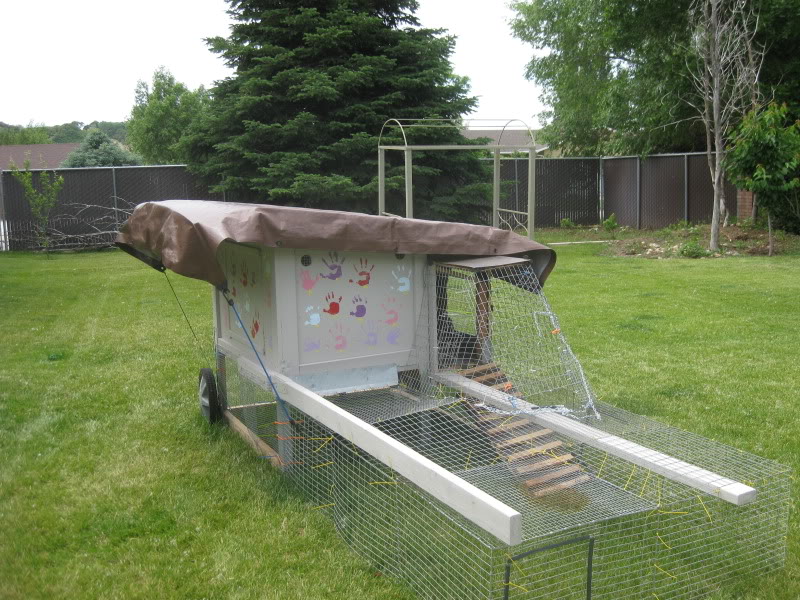 To cut on costs, you can upcycle unused furniture in your home and turn it into a chicken coop tractor. This mobile chicken coop plan makes use of an old cabinet to create a coop for small flocks. It is a simple project you can do at home.
The coop has roosts that can be detached, cleaned, and replaced should the need be. The nesting box has a door that is closed with a shower backer board. Because it is shaped like a tractor, you just need to hold the handles to move it around.
12. The Cluck Wagon Mobile Chicken Coop
Heavy duty and equipped with interesting features, the Cluck Wagon mobile chicken coop is great for bigger flocks. Unlike the usual mobile chicken coop plans, this one requires more effort in building.
This big coop has two automatic doors that have solar-powered timers that dictate when to open and close the doors for the chickens to go out and stay in. Solar panels also power the special LED rope light inside the coop.
Both sides of the coop have plenty of nesting boxes that can be accessed by the owners through the doors on the side. In addition, there are also three rounds of roosts per side that are at least 18 feet long — all of which are collapsible for easy cleaning.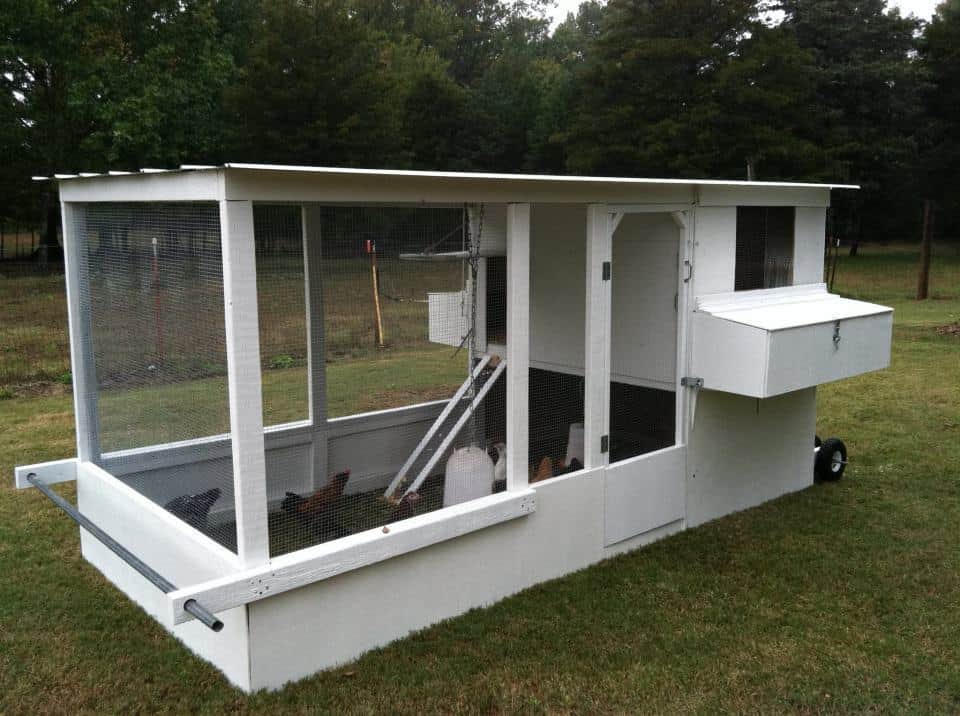 A portable chicken menagerie, this coop has a run that resembles a porch and a living area on its "upper floor" that can fit eight to ten chickens.
Its rectangular shape makes it easy to build. Though simple-looking, it has doors and latches that give access to the nesting boxes and the inside coop. Large windows provide good ventilation inside and the roof of the run is high enough for the chickens to enjoy the space.
14. A-Frame Mobile Coop
A-frame mobile coops are popular because they are easy to build and functional. The features of this A-frame mobile coop make a simple design very functional and interesting.
From the outside, you will see a long ramp leading to the coop. The coop's notable lock system includes a shaft that keeps the doors locked and the chickens safe inside. Pulling the string outside the coop opens the door to the coop saving you the hassle of going inside the coop.
The roosting bars inside are removable so you can wash and clean them easily. In gathering eggs, you just simply have to access the nesting boxes through the top door. It is truly a simple yet functional coop.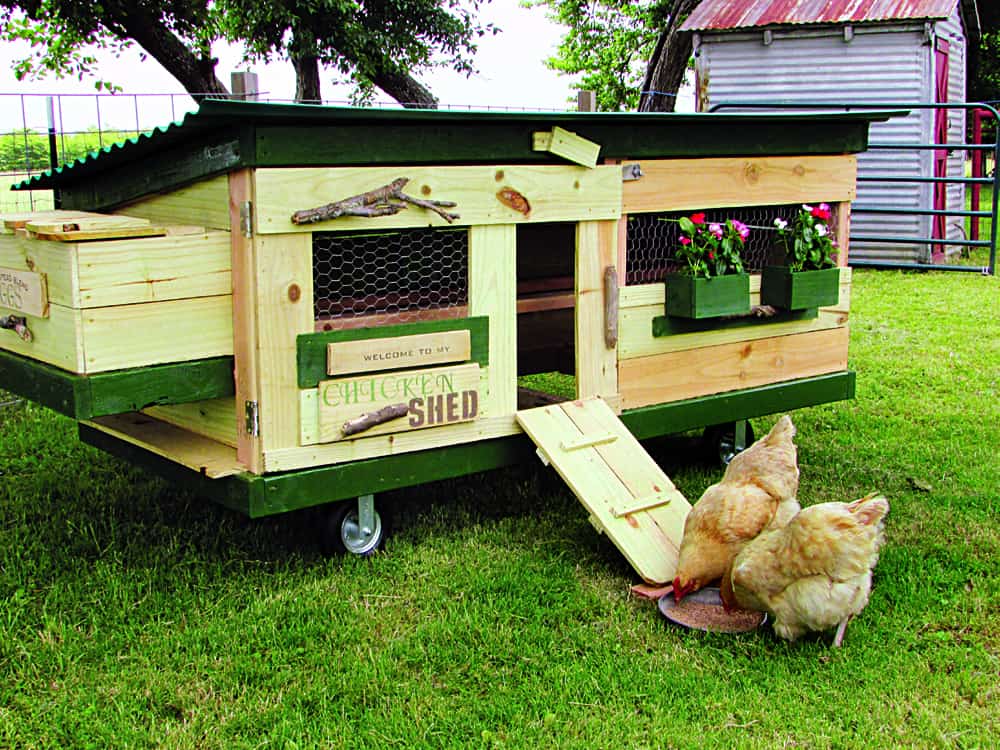 Are you a beginner builder? This box-shaped tractor is easy to build and you can modify it based on your needs. Using a frame that is seven by three feet, you can keep 12 to 14 chickens inside this coop.
This mobile coop is more suitable for free-range chickens or when you have the capacity to let your chickens run free in your area. It does not come with a run and only includes a coop for sheltering your flock. Nonetheless, it's a good coop for keeping your chickens safe, especially after sundown.
16. Lightweight A-Frame Chicken Coop
This A-frame chicken coop is so lightweight that you don't need much strength in moving it around. The bars in front make it easy to carry. In terms of height, it is high enough that you can even stand inside.
You can find the usual features of a coop like roosts and nesting areas that you can access through tiny doors. To keep chickens in, its screendoor has hinges that close on their own. The materials used are all lightweight to make it portable as it should be.
They call this mobile chicken coop plan the Little Egg Factory because it is a tiny space for hens. Unlike other A-shaped coops that are tall, this one is smaller and compact making it easy to carry around. Just lift the tiny grips on the side and wheel the coop away.
Despite the coop's short height, the space is well-utilized as the run is beneath the living area. The inside of the coop is also well-designed to provide all the needs of your hens such as nesting boxes.
18. Mobile Coop 2.0
The people behind this Mobile Coop 2.0 took in the lessons they learned while building their first mobile coop in creating a new design. In their second take, they used lighter and fewer materials so it can be moved with just manpower.
External access to nesting boxes is through a hatch that you just need to lower down. For dirt, there is another access point where you can rake out waste. There is a bigger door on the same side should you need more access.
So you won't have to run back and forth to your barn, there is a storage at the back where you can keep your chicken feed, grit, oyster shells, and eggshells. This plan, however, does not have a run.
Wrap-up: Build your mobile chicken coop plan
A mobile chicken coop is a good shelter alternative for your flock. Building one is relatively easy and you can make this DIY project at home even without experience.
There are different mobile chicken coop plans to choose from but pick the mobile chicken coop plan that suits your taste, provides your flock's needs, and is feasible to create.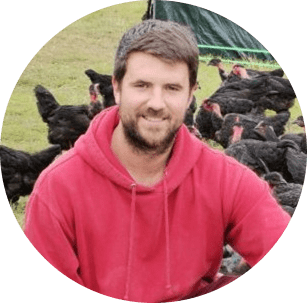 Joseph Hudson has been raising chickens for over 15 years. In 2018, he completed the Agriculture & Natural Resources program at Mt. San Antonio College. He currently raises over 1400 chickens on his 7.5-hectare farm. He keeps sharing his experience on raising healthy and happy chickens on Chicken & Scratch.