Do you wish to provide additional space for your flock while yet keeping them safe? A PVC chicken coop plan could be the perfect solution. These plans are a cheap and straightforward method to provide your flock with additional space to roam safely away from airborne predators. All you'll need is a few lengths of PVC pipe and connectors, as well as some mesh.
What's the deal with PVC pipes?
The greatest thing about using PVC components is that you can assemble this entire project in a matter of minutes. You can construct the entire structure without the need for adhesive or carpentry equipment.
Wrapping the protective mesh over the framework and fastening it with tie wires is perhaps the most challenging step. Having two persons work on this section simplifies the process significantly. PVC pipes are primarily composed of whitish plastic and are utilized in sewerage and plumbing applications. PVC is an acronym for polyvinyl chloride.
It is pretty sturdy and does not rust, which is why most people today use it for fresh water supplies. However, you can express your creativity by using PVC pipes to create a variety of valuable items.
PVC chicken coops are an excellent method to provide a secure sanctuary for your flock without hurting the budget. Not just that, but a bare 3ft by 9ft enclosure will eventually become insufficient to hold the number of chickens you may gather. When that happens, you may just need a few more fittings or connectors and lengths of pipe to extend your existing PVC chicken coop.
The advantages of using PVC chicken coops and runs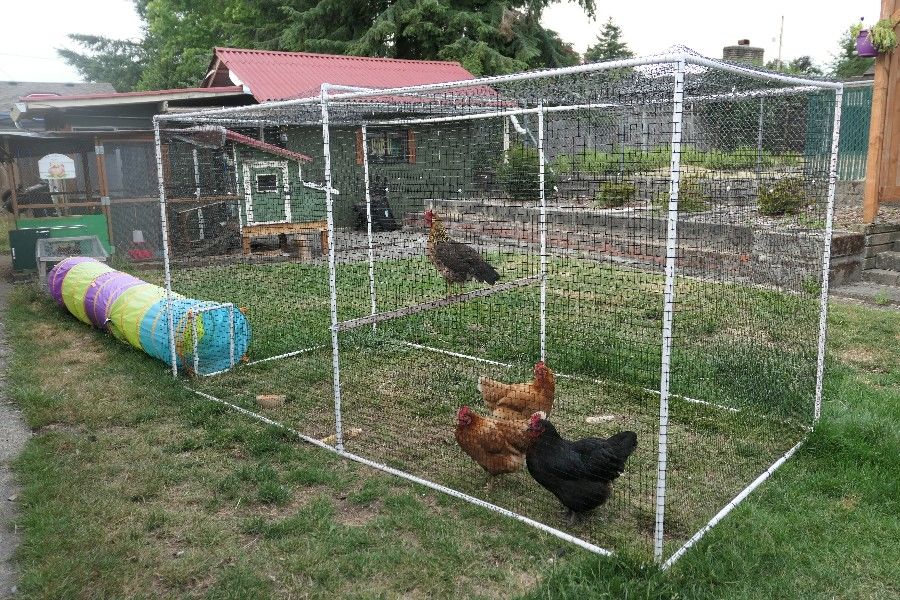 The following are some of the perks of building a PVC chicken coop
They are light– making them ideal for use as a movable chicken coop. You are free to move the coop anywhere you wish.
Neat appearance– Because all PVC tubes and connectors are light in color, primarily white, the coop seems extremely clean and attractive. Your flock would enjoy grazing inside the coop.
Sturdy– A chicken coop built from PVC is sturdy if a hardware cloth is used instead of a plastic net cover. If you are not afraid for your flock about predators such as cats, foxes, or raccoons, you can cover it with plastic net blankets instead of chicken wire since they are less expensive.
Simple to assemble– Simply connect the pipe to the fittings, and your PVC chicken coop plan is complete.
Disassembly is simple– Similar to wooden houses; PVC chicken coops lack complex connections. Consequently, when you are not using them, you can simply remove and store the parts.
Create any shape– The most outstanding feature of PVC connectors is their versatility. Create a dome coop, a rectangle shape, a square, a triangle, or any other shape using your creativity.
What kind of PVC should you use?
PVC plastic is available in a variety of shapes and sizes. While this course focuses on working with PVC pipe for your PVC chicken coop plans, PVC is also available in sheets, rods, and other forms. Additionally, PVC is available in thin, flexible fabric, making it perfect for various projects.
Common PVC Pipe Sizes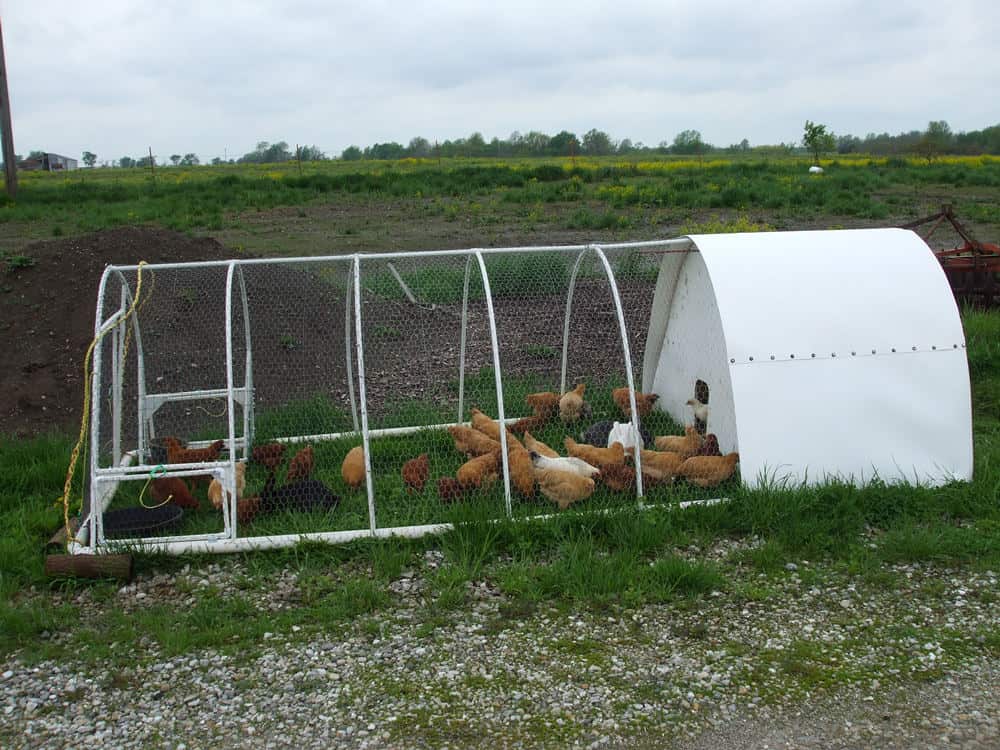 There are many PVC pipe sizes available. The bigger the pipe size, the more stiff and inflexible it'll be. It makes narrow pipes very helpful for lighter purposes and small structures like a PVC Chicken coop plan, but they are unsuitable for supporting high loads due to the pipe's flexibility. As the diameter of the pipes increases, the internal thickness increases, making it sturdier and more rigid.
Lower diameters flex and bend readily but retain considerable toughness, making them ideal gardening tasks and, of course, a PVC chicken coop plan.
The bigger diameters are suitable for structural or furniture applications since they are rigid and hard to shear. You can also make PVC chicken feeders out of them for your coop. Additionally, larger diameters are burdensome. Ascertain that you are prepared to handle large, heavy pipes.
PVC pipe fittings and connectors you will need for your PVC coop
Pipe connectors and fittings are what truly define a PVC chicken coop plan. These little connectors provide you a world of options for joining various pieces of pipe. These fittings are also available in various colors.
But the most common are white and blue. There are two types of PVC fittings: furniture-grade and plumbing-grade. Furniture quality fittings are ideal for PVC chicken coop plans; it is composed of a higher scratch-resistant resin and does not have printed letters or barcodes.
These are excellent for structural designs and are also available in many sizes and forms compared to those seen on standard PVC fittings.
PVC Chicken Coop Plans
Many chicken coops plans and designs are professionally built and marketed in shops or online, but you can also DIY. PVC pipe is a low-cost material that is ideal for building basic chicken coops. The completed chicken coop is lightweight enough to transport effortlessly and needs no particular expertise to construct.
These PVC chicken coops function well in locations that are protected from severe wind. 1″ diameter pipe is an excellent choice for this purpose and is always available at the hardware shop. Most shops will cut the pipe upon your requested lengths at no additional fee. Here below are the following PVC chicken coop plans you can DIY
1. 4 x 10 PVC Chicken Coop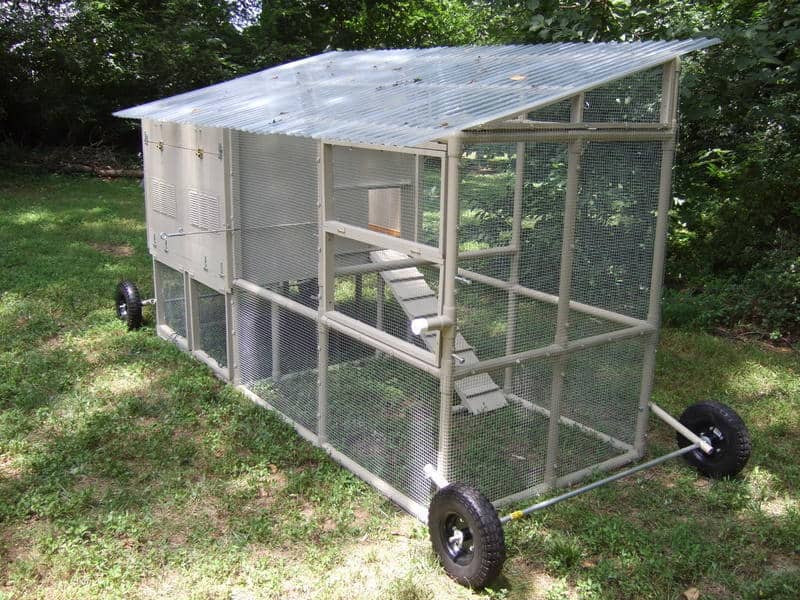 This coop is a great PVC chicken coop plan with all the necessary features for your flock and can accommodate up to10 chickens. It is equipped with a roosting perch, nesting boxes, and a run. Sure, it is a slightly complicated construction, but it is a safe and comfortable sanctuary for your chickens at the end of the day. Check out the plan here.
2. Portable PVC Chicken Coop
Consider the fact that PVC is cheap, sturdy, and simple to construct. It's an excellent substitute for wood when it comes to chicken coop constructions. If you use this PVC chicken coop plan to build a coop, there is no need to nail or saw anything. This design is excellent if you want to move your flock from time to time.
3. PVC Chicken Tractor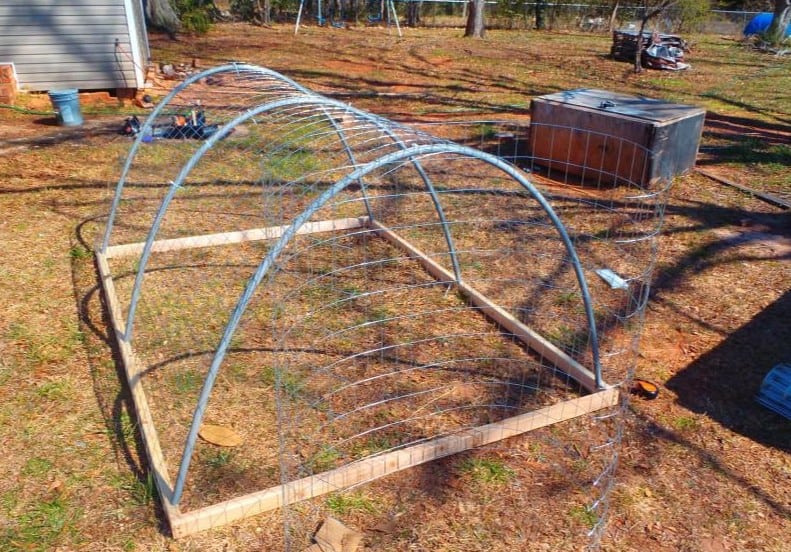 This design is a lightweight PVC chicken coop plan that is an alternative that is constructed with some wood on the base and a PVC pipe dome on top. Cover this with chicken wire and a tarpaulin sheet to complete the setup. Your flock will have a safe house, and you won't have to bother thinking about breaking your back moving it. Check out the plan here.
4. PVC Pipe Chicken Tracto
PVC Designs offers various PVC material designs based on some timeless favorites. Additionally, each has its unique designs.
They also come in various complexity levels, making it simple to choose the design that is most suited to your backyard and DIY abilities. This temporary PVC chicken coop plan is one of the most liked designs online since it is good-looking yet portable and straightforward to manage.
5. Portable PVC Chicken Coop Plan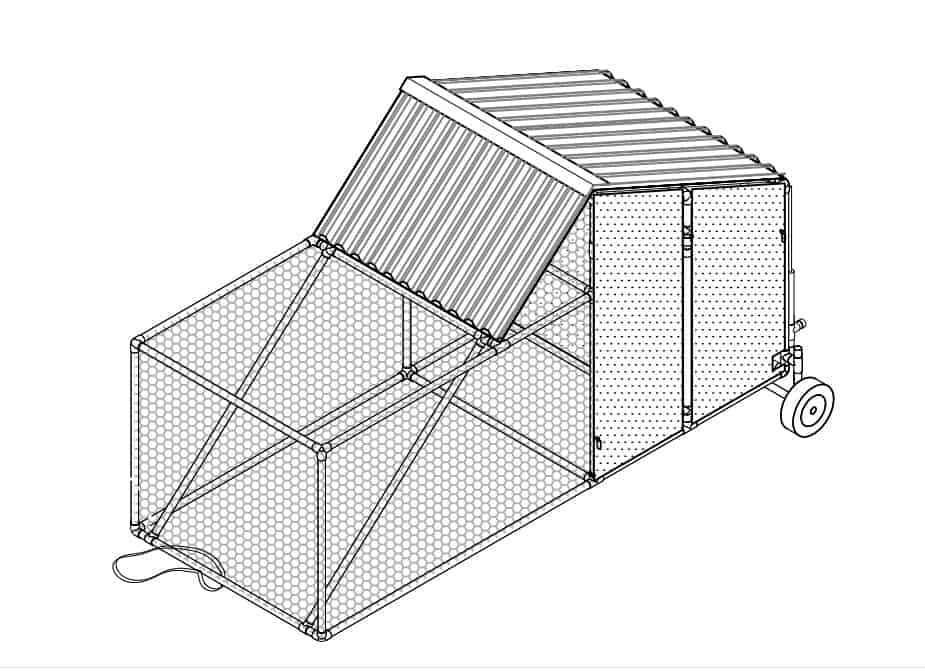 Two essential items are required for the layout of this PVC chicken coop plan. The PVC pipes and the tires; for a sweat-free moving of the coop. This PVC chicken coop plan is lightweight and appealing due to the use of chicken wire to cover the entire coop. This coop is one of the ideal PVC chicken coop plans since it uses materials commonly found in most homes. Check out the plan here.
6. Chicken Tractor Plans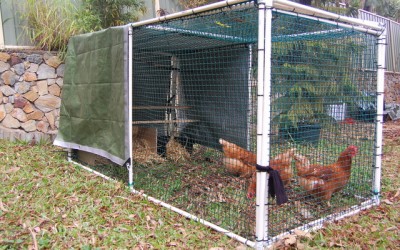 This PVC chicken coop plan is 1M in length, 1M in width, and 2M long. It can provide a large enclosed area for your flock. Drag it wherever in the backyard to provide fresh and clean grass for your flock. It is so easy to build and can be done in just a matter of hours. Check out the plan here.
7. PVC Pipe Chicken Tractor Plans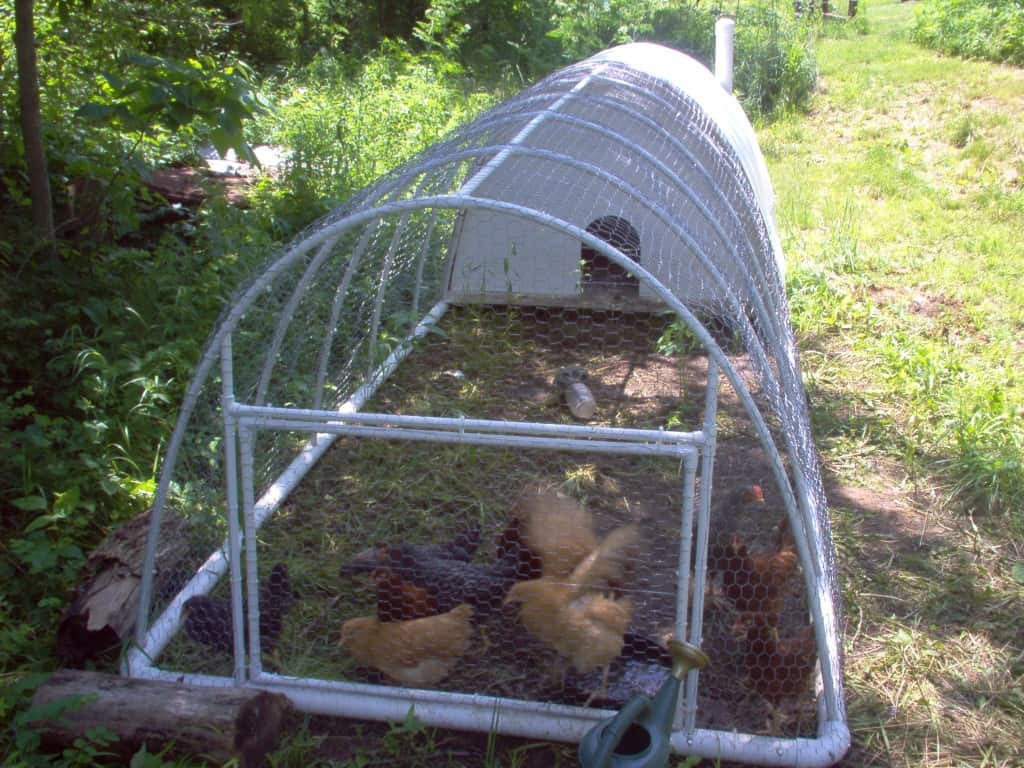 This PVC chicken coop plan or chicken tractor provides a safe place for your chickens to dig in the backyard grass. Construct the bottom structure out of wood and then add the PVC pipe domes and chicken wire to finish the arch-style shape of this coop/tractor. Check out the plan here.
8. Geodesic Chook Dome
This layout seems complex, but it is a simple PVC chicken coop plan to construct. This is optimal for ten to twenty Chickens. Drinkers and feeders can be placed in the run area. With the size and height of this dome-like coop, even your medium-sized wooden chicken coop could fit inside of it. Check out the plan here.
9. 4×10 PVC Chicken Tractor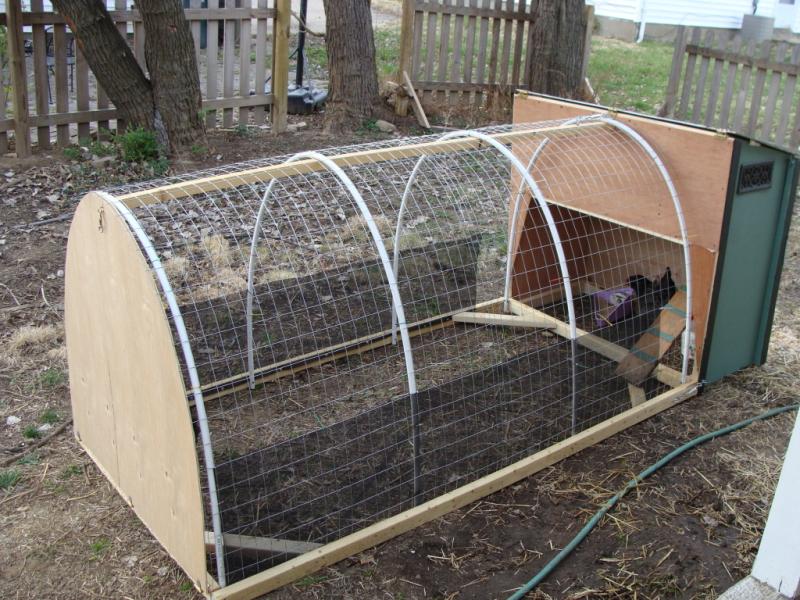 This chicken tractor is partly made of PVC pipes and is connected to a coop. It is what makes it be categorized as a PVC chicken coop plan; it has a space for nesting and roosting. It has a central arched plywood entrance. You can build this chicken coop/tractor with plywood, wire mesh, lumber wood planks, and of course, PVC pipes. Check out the plan here.
10. PVC Chicken Tractor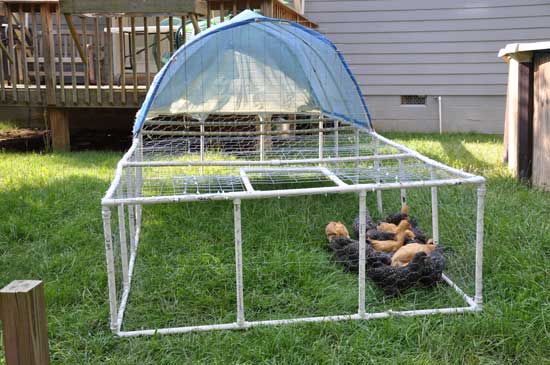 Well, the picture only shows a chicken run, but you can place or install a chicken coop inside of it. This PVC chicken coop plan is a low-cost alternative. It is constructed using PVC pipes and fittings, nylon ties, and wire mesh. It has a dome-style canopy and a chicken-wired cage framework. You can make this chicken coop/tractor to feed your flock with fresh backyard grass safely. Check out the plan here.
11. Large PVC Chicken Coop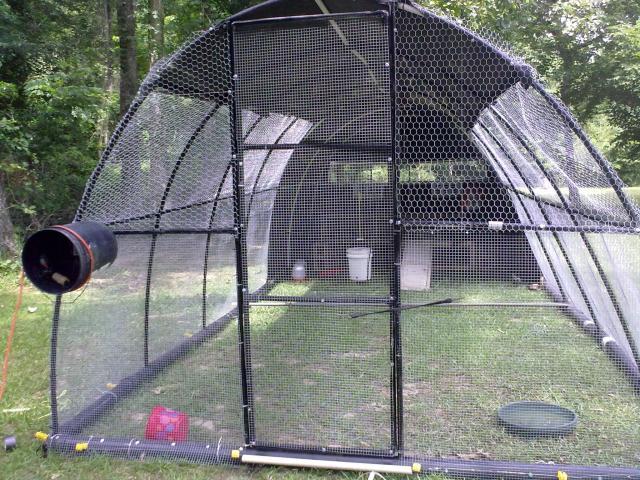 This huge arch-shaped PVC chicken coop plan is something you might want to build if you want to sit and relax while spending time with your flock inside. This coop's frame is entirely made of PVC pipes and a lot of wire mesh due to its size. It also has a canopy that serves as a shade against direct sunlight. Check out the plan here.
12. PVC Chicken Coop and Run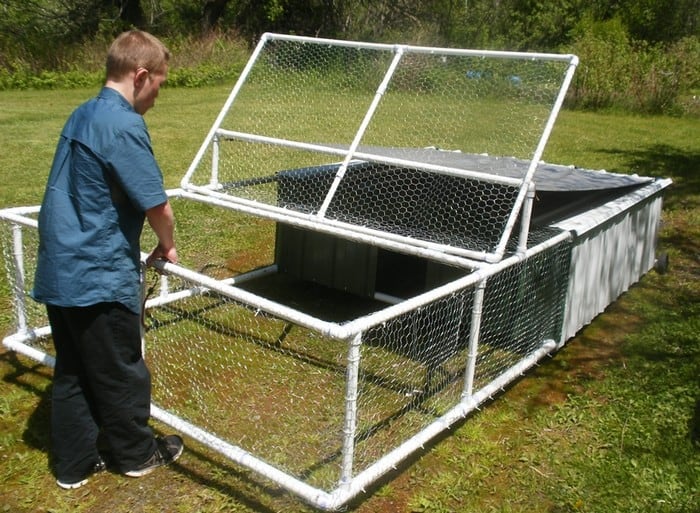 Chicken tractor coops are the pinnacle of creative, low-cost agricultural options, providing continuous access to fresh meals for your flock while enriching the land and eliminating pests. This PVC chicken coop plan is one of the best examples of it. The frame is entirely made of PVC pipes and has an expansive room for your flock inside of it. Check out the plan here.
Start building your PVC chicken coop plan now.
Connecting and creating a PVC chicken coop plan with a run is a simple process. To finish your PVC coop project, you may carefully read these tips and instructions.
You've chosen a plan. As a result, you already know the size of the house for your flock. If you're still unsure, here's a comprehensive guide. For instance, If you have ten chickens, you will have to provide approximately 40 square feet of space for the coop and the run.
Maintain a 10ft end and a 4ft on the other end for constructing a rectangle PVC chicken coop. Maintain a run height of approximately 3ft to 4ft to allow your flocks to wander easily. To reinforce the framework, split the 10ft end into four 2.5ft portions and 4ft end into two 2ft portions.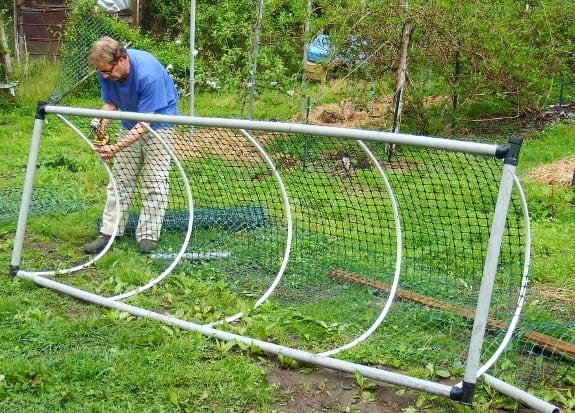 Attach the cut section with T-shaped connectors and the corners using the outlet elbows fitting. Then, reinforce the whole construction by using the elbow connector. Do use a tape measure; else, errors will occur throughout the cutting process. Add extra straight connectors to the top section to strengthen the framework.
You can now install the chicken wire or plastic net. If you have plastic nets, cut them with scissors; if you're using a wire mesh or a chicken wire, use a wire cutter instead. Attach the netting to the PVC pipes using nylon ties.
Your PVC chicken coop plan with a run is now complete and waiting for your flock.
Summary
Keeping your flock healthy is becoming a priority whether you work in livestock or farming, but leaving them confined in chicken coops for an extended time can make them uncomfortable or, worst, sick.
Therefore, choose the PVC chicken coop or tractors you can DIY that will protect your flock from predators while they are busy digging straight into the grasses and soil in your backyard to eat the pests. Purchasing readymade designs may be costly, but these free PVC chicken coop plans will teach you how to construct a cheap chicken coop/tractor like an expert.