Boiled, scrambled, poached – eggs are delicious, but not everybody can cook them to perfection. If you're an egg lover but always mess them up, you need the best egg cooker for flawless results every time – so here are our top picks to help you choose.
1. Elite Cuisine Easy Electric Egg Poacher
This is a great egg-cooking machine from Maxi-Matic. It comes with loads of useful accessories, including a poaching tray, an omelet tray and more, allowing you to prepare eggs in all your favorite styles.
Many of the pieces can be washed in the dishwasher, which is great if you hate washing up by hand.
On the whole, this machine is incredibly easy to use, too, and your eggs will always come out just the way you want them, whichever style you are trying to produce.
That said, there is a slight learning curve when trying to work out exactly how much water to use – but it's easy to master, and it won't take you long to get used to it.
Our only other slight complaint is the awful noise it makes when it's done – although the positive side to this is that you won't be able to ignore it, so your eggs will never be overdone.
All in all, a useful gadget to own for anyone who loves eating eggs. If that includes you, this is a machine you are likely to enjoy owning.
Pros
Lots of useful accessories – poaching tray, omelet tray and more
Great price – excellent value for moneyPoruductsproduct
Super-easy to use – perfect eggs every time
Many parts dishwasher safe – for effortless clean-up after use
Even cooking – 360° steam circulation
Cons
Slight learning curve with the amount of water – although easy to master
Unpleasant noise when done – but at least you can't ignore it!
2. Dash Deluxe Rapid Egg Cooker
If you love eggs but hate cooking them the slow, old—fashioned way, this egg cooker could be just what you need. You can use it to boil eggs, poach them, make them into omelets and more – and they turn out perfect every time.
The egg cooker comes with a range of accessories that make it highly versatile – you can also use it as a food steamer – and we love the way it has two tiers, giving you even more egg-cooking capacity. It also has a small footprint, making it convenient to use.
However, the number of accessories is also something of a negative since it can be awkward to store all the pieces. Also, when you use it, due to condensation, some water tends to drip out onto your counter, and you may prefer to place it on a mat when you use it.
Nevertheless, despite these minor inconveniences, there's so much to love about this machine. It makes cooking all kinds of eggs so much faster and easier, so if you eat lots of eggs, owning one will be a practical solution. A highly recommended pick.
Pros
Highly versatile machine – can cook all styles of eggs and steam different foods
2 tiers – gives you more capacity and flexibility
Lots of accessories – again, gives you lots of flexibility
Small footprint – won't take up much space on your counter
Boiled eggs extremely easy to peel – not like regular boiled eggs
Cons
Condensation causes some water to leak out needs to be placed on a mat
Can be awkward to store – due to the large number of pieces
3. Hamilton Beach Electric Egg Cooker
The Hamilton beach egg cooker can deal with a maximum of seven boiled eggs at a time, making it ideal for cooking breakfast for the whole family. Furthermore, whether boiled or poached, the eggs come out perfect every time you use it.
If you're boiling eggs, they are always easy to peel too – you won't ever need to worry about taking off the shell tiny piece by tiny piece. We also like the way this egg cooker looks. This might not be the most important aspect, but it will look great in any kitchen.
On the downside, there's no auto-off function, which means you need to be ready to take the eggs out as soon as the buzzer sounds. Also, it feels a little cheap – although it is a very inexpensive item, and this is something we're willing to accept.
In sum, an excellent egg cooker at a bargain price that will appeal to anyone who eats lots of eggs and who is looking for an inexpensive and efficient way to prepare them. If you fall into that category, this is an option that should be on your radar.
Pros
Boiled eggs easy to peel – shell doesn't come off in small pieces
Attractive design – looks great on your countertop
Tone tells you when ready – not too loud or annoying
Cook a maximum of 7 eggs – ideal for a family breakfast
Can be used for many styles of eggs – and always cooked to perfection
Cons
No auto-off – have to take eggs out right away when the tone sounds
Feels a little cheap – but at this kind of price, that's to be expected
4. Cuisinart Central Egg Cooker
For anyone who needs the capacity to cook more eggs at once, this large egg cooker from Cuisinart could be an ideal solution. You can cook up to ten boiled eggs in it at a time – or four poached eggs or a three-egg omelet.
Your eggs will come out perfectly every time, however it is you want them, and it also boasts several features to ensure your eggs are never overcooked, including a blue LED, a buzzer and a standby mode – although it doesn't switch off by itself.
One minor gripe we have is that the water level indicated is slightly off, and you may need to adjust it through trial and error before you can manage to cook eggs exactly the way you want them.
Other than this, the only negative is that it is more expensive than some other egg cookers. However, you have to expect to pay extra for quality, and if you can meet the price tag, this is an excellent machine. A big thumbs-up from us.
Pros
Large capacity – 10 boiled eggs, 4 poached or 3 in an omelet
Avoids overcooking eggs – with blue LED, alert tone and standby mode
On-board cord storage – convenient to tidy away
Perfect and consistently cooked eggs every time – just the way you like them
Poaching tray a good size – holds extra-large eggs
Cons
Water level indicators slightly off – needs a little trial and error to perfect it
Expensive option – although a high-quality product
5. VonShef Electric Egg Cooker
One of the first things you notice about this egg cooker is the classy stainless-steel lid. Not only does it look better than many other egg cookers but it's also easy to clean, so it scores some points there right from the beginning.
We also appreciate the auto-off feature, something not found on many other egg cookers, and another of the big advantages here is that, despite its quality, it also retails at a very reasonable price, making this option a real bargain.
However, it does have one quirky design feature that we like less – you can't turn it off manually and have to unplug it from the socket.
Another thing that could have been better is that the poaching tray can only make one egg at a time, and we would have preferred to be able to make two or three in one go rather than making each one individually.
However, if you feel that these are not deal-breakers for you, this egg cooker is still an excellent kitchen tool, so if you are looking for an inexpensive option that makes cooking different styles of eggs a breeze, this is a unit that's worth checking out.
Pros
Auto-off feature – unlike many other models
Attractive design – looks like a quality unit
Stainless-steel lid – higher quality than plastic and easy to wash
Includes poaching bowl – can be used for poached eggs or omelets
Affordable price – seems like a real bargain
Cons
Can't turn off manually – need to unplug from the socket
Poaching tray only does a single egg – better if you could do more at a time
6. Copper Chef Boiled Eggs Maker
This is another egg cooker with a large capacity, this time letting you cook up to 14 eggs at a time. You can soft boil them, hard boil them, poach them or cook them into an omelet, and they come out perfect every time thanks to the water measure and steam circulation system.
We like the way the parts are safe to wash in the dishwasher – this is great for people who hate manual washing up. It also has a small footprint, so it won't take up too much space on your work surface or in your cupboard.
One problem we should point out is that this machine doesn't have a buzzer. This can make it too easy to forget about the eggs, and this is the only way of overcooking them.
Also, the numbers on the measuring cup are hard to see, and we would have preferred something clearer, perhaps with color.
Overall, this is another effective and reliable egg cooker that consistently cooks eggs just the way you want them – and if you need to cook up to 14 eggs in one go, this product could be a no-brainer.
Pros
Large capacity – make up to 14 boiled eggs at a time
Perfect results without fail – with steam circulation system
Dishwasher-safe parts – makes cleaning up more convenient
Small footprint – doesn't take up too much space
Eggs peel easily – no pieces of shell stuck to the eggs
Cons
No buzzer – so can forget to take eggs out and overcook them
Numbers on measuring cup not clear – should have been colored
7. Nostalgia Hard-Boiled Egg Cooker
If you like owning gadgets that are both cute and practical, this egg cooker from Nostalgia could be just your style. It holds up to seven eggs, ideal for the whole family, and it cooks them to perfection just the way you like them every time.
We like the cool handles that mean you can avoid burning your hands, and the compact size makes it the ideal option for small homes, RVs or even dorms. It's also highly versatile, and can be used for poached eggs, omelets, steamed food and dumplings too.
At this price, there's not much we don't like about this machine. We might say it feels a little flimsy, but for us, the quality is acceptable. Also, there's no auto-off function, although this is common with this type of egg cooker.
In short, this is an attractive egg cooker from the bottom end of the price range that does its job perfectly and with a minimum of fuss. If that's all you need and nothing more, this could be a smart pick.
Pros
One-touch cooking – no need to mess around with complicated settings
Holds up to 7 eggs – enough for the whole family
Cool handles – don't burn your hands when you touch it
Compact size – perfect for small homes, RVs or dorms
Cute look – will look great, even if you leave it out on the counter
Cons
No auto-off feature – need to turn it off when eggs are done
Feels delicate – not a heavy-duty option
8. Chefman Electric Egg Cooker
For anyone who doesn't need to cook large quantities of eggs each time, this compact cooker with a six-egg capacity could be a better solution. It produces perfect eggs every time with a minimum of effort on your part and is super-easy to clean after use.
One of the things we like about this cooker is the lifting tray tool that makes it easy and convenient to pick up and carry hot eggs once they're done without burning your hands. We also appreciate the BPA-free lid that ensures no harmful chemicals are leeching into your food.
Something we like less is the unpleasant shrill buzzer that goes off to tell you when your eggs are done. However, at least you won't miss it! Also, there is no auto-off feature, so you need to be there when they're ready to turn it off and take them out.
This is another great little machine that offers excellent value for money. If you don't have an army to cook eggs for and cooking six at a time is enough for you, this is a unit that should make your shortlist.
Pros
Easy to clean – effortless to wash after use
Versatile unit – can be used for steaming food too
Tray lifting tool – makes it easy to move hot eggs when done
Affordable price – a budget-friendly option
BPA-free lid – no need to worry about harmful chemicals
Cons
Top gets hot – not easy to remove after cooking eggs
Shrill egg alarm – makes an unpleasant noise
9. Alcyoneus Rapid Egg Cooker
This is another convenient and versatile egg cooker than can be used to prepare boiled eggs, scrambled eggs, poached eggs, omelets or tortillas. It's easy to clean, and the accessories are dishwasher safe, so you don't need to wash them manually.
We like the way it has good safety features to keep it from being damaged from overheating or running out of water, and another positive for many people will be the auto-off feature. Rather than emitting an annoying noise, it simply switches itself off and waits for you.
That said, on the downside, it doesn't make any noise to indicate when it's done, so you need to remember to check it when the eggs are ready. Also, the user manual is not detailed enough and should have explained the operation better
If you don't like annoying noises in your home and you prefer an egg cooker with an auto-off function instead, this could be ideal – especially since it sells for such an affordable price. Another solid option.
Pros
Versatile unit – use it for boiled eggs, omelets, tortillas and more
Safety features – overheating and low water protection
Dishwasher friendly accessories – for quick and easy clean-up
Auto-off function – switches off when done
Small footprint – takes up little space and easy to store
Cons
Instructions lacking – need to work out how to use it
No buzzer – need to remember when it's ready
10. VOBAGA Electric Egg Cooker
There is a range of cheap egg cookers on the market, but if you don't mind paying a bit more for something of higher quality, this is an option that might appeal to you.
It features superior stainless-steel construction that is resistant to corrosion, and we love the way it looks, too – you can choose between two attractive colors, so you can go for the one that best matches your style.
It also includes an auto-off feature that might be important to some people, and it's a versatile unit that can make all styles of eggs with perfect results every time.
Something we don't like is the lack of an alarm to tell you when it's done, and even though it switches itself off, the eggs will keep cooking if you leave them. Also, the egg plate is a little sharp, so you need to be careful not to cut yourself.
This is a high-quality machine that will give you perfect eggs every time and looks great too. If you don't mind paying a little extra for something like that, this could be the egg cooker you're looking for.
Pros
High-quality build – stainless-steel construction makes it rustproof
Auto-off function – useful if you don't want to wait next to it while it cooks
Dishwasher-safe accessories – for convenient clean-up
Attractive look – and available in two different colors
Perfect eggs every time – and easy to peel
Cons
Egg plate a little sharp – be careful not to cut your fingers
No alarm – doesn't tell you when it's finished
How To Choose A Egg Cooker: A Buyer's Guide
If you're looking for the best egg cooker for your home, you might be wondering about which factors to consider when choosing. Let's look at the most important ones now.
Capacity
Perhaps the first thing you should look at is the capacity of the unit. If you only have a small family, it might be fine to buy a machine that can cook up to six eggs at a time – but for larger families, cookers than can do up to 14 eggs in one go exist.
Versatility
Egg cookers are primarily designed for boiling eggs to perfection, but many can also be used for scrambled eggs, omelets, tortillas, scrambled eggs and more.
Others can even be used for steaming food or cooking dumplings, and if you are interested in doing these kinds of things, you should check that the cooker you are buying has these capabilities.
Range of accessories
Many egg cookers include a range of accessories for things like making poached eggs or omelets, so make sure you check out what is included with any cooker you are interested in.
Dishwasher safe
If your egg cooker comes with accessories, are they dishwasher safe or do you have to wash them by hand? If you dislike washing cookware manually, this could be an important consideration.
Small footprint
How much space does it take up? If you only have a small kitchen or don't have much cupboard space, this could be important.
Auto-off
Some egg cookers can switch themselves off when the eggs are ready while others can't. If you prefer one that switches off automatically, make sure it has this feature.
Alarm
Sometimes, egg cookers with auto-off don't have an alarm, meaning they won't let you know when the eggs are ready. If you prefer one with an alarm that tells you they're done, make sure the unit you buy has one.
Loads of great options
As you can see, there are plenty of great options to choose from. If you have decided you need an egg cooker for your kitchen but you're having trouble making up your mind which one to go for, any of the models in our review would be a great place to start your search.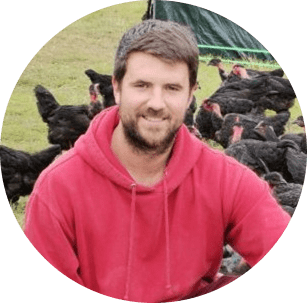 Joseph Hudson has been raising chickens for over 15 years. In 2018, he completed the Agriculture & Natural Resources program at Mt. San Antonio College. He currently raises over 1400 chickens on his 7.5-hectare farm. He keeps sharing his experience on raising healthy and happy chickens on Chicken & Scratch.