Who said coops have to be boring? Sure, you can buy a gallon of paint and brush and apply a fresh coat, but nothing really customizes your hen house more than a creatively-placed chicken coop sign. And lucky for you, we have a ton of DIY chicken coop sign ideas that will lift spirits and spruce things up around the coop.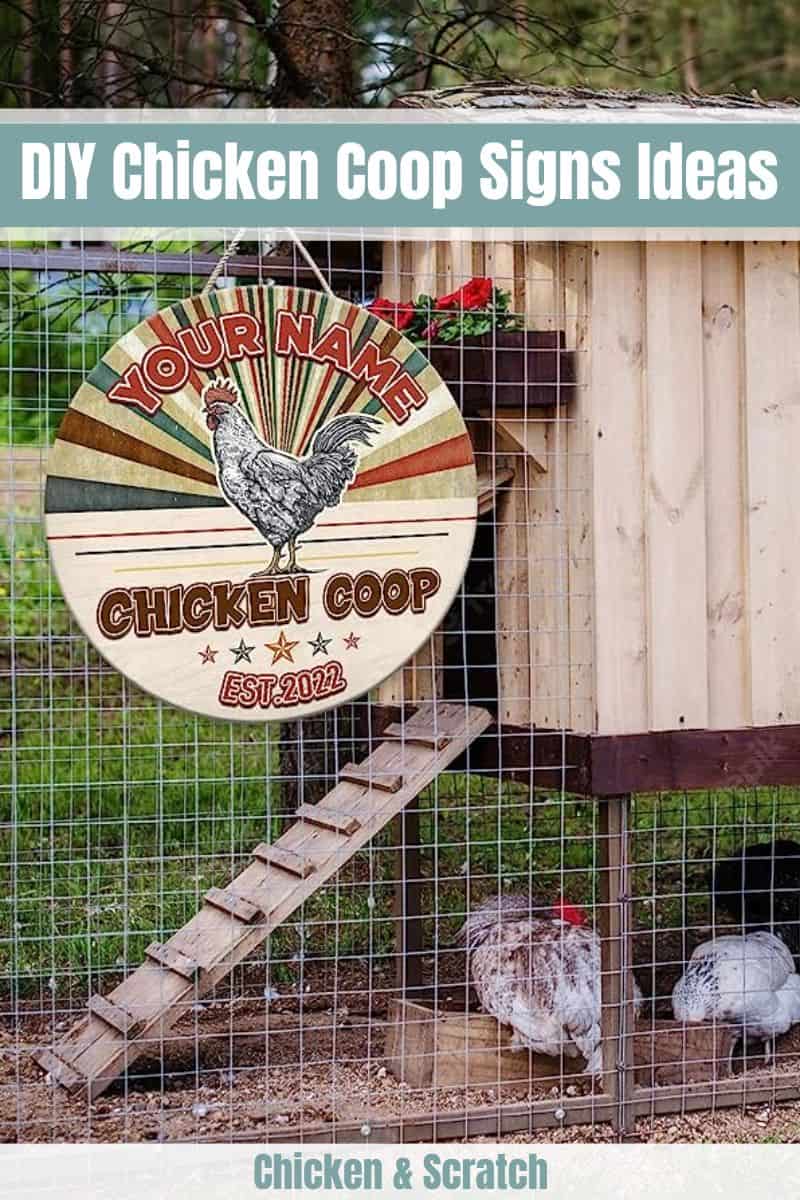 Why don't we jump right in rather than spend hours talking about it? So, in no particular order, below are 18 DIY chicken coop signs as found on the internet.
1. We Are All Cluckin' Crazy
First, we start with a sign that is befitting any farm that is crazy about chickens. What I love most about this one is the illustrator's effort in depicting the three roosters. Exaggerated eyes and funny body poses; there's no doubt that these chickens are crazy. And adding the phrase "we are all cluckin' crazy" just hits the nail on its head.
You can print this sign and slap it on the entrance of your farm, on the walls of your coop, or print it on a t-shirt. It works either way. It's cluckin' crazy!
2. Why Are Y'all Trying to Test the Jesus in Me?
Keeping with the comedic theme, we move to our second entry. This one cracks me up every time I see the crazy rooster. And when I read the caption, man, I'm done. It does work well as a chicken coop sign, but it works better as a meme, a digital wallpaper, or a t-shirt printout.
If you're the kind of guy or gal who does like their patience tested, this one's for you.
3. Crazy Chicken Lady
Ha ha ha! I'm done!
If you're into guns and chickens, there's no better sign for your chicken coop. The sign depicts the silhouette of an armed lady, locked and loaded, in the company of her trusty chickens. The sign is printed on an 8×12-inch aluminum plate. All in retro style, yellow and black, the colors of caution. This sign is bold and funny in equal measure. Power to all you chicken ladies out there.
4. The Last One In Is a Rotten Egg
This one reminds me of a game we used to play as kids, where the last person to an activity would be labeled the "rotten egg." This sign is highly customizable, and you can easily replace "The Johnson's Fluffy Butt Hut" with your farm's name. And it works best on entrances. You could slap it on your gate or on your coop's door.
5. Beware of Tiny Raptors
Our next sign is a cute is another cute and adorable chicken coop sign from
Etsy
. It's a simple sign bearing the phrase "Beware of Tiny Raptors," written in a mix of two classic fonts. Not only does this sign work as a mild warning about the existence of your tiny raptors, but it can also work well as wall art. I think the slightly charred wooden frame is a nice touch. And the three silhouettes of chickens blend well with the text.
6. The Name Tags
Or perhaps you're looking for something more personal. Perhaps a name tag for your chickens is the coop sign for you. This example is simple and highly customizable. It's a series of wooden planks painted with the names of all the chickens in the coop. And it is creatively titled "The Ladies."
If it were up to me, I'd start with "The Gals" before listing down all occupants of the coop. Hang this sign on the wall of your coop, and everyone who visits will know the names of your egg-laying squad.
7. Coop Rules
Sticking with the theme of wooden frames, here's another interesting DIY chicken coop sign. It's a cute reminder of the rules of the coop, which include laying eggs daily, rising and shining, crowing loudly, and of course, don't be a pecker. And it is painfully simple to make. If you've already tackled a project like building your own chicken coop, creating this sign will be a breeze. You can print the text and frame it, or get creative and paint it yourself.
Coop Rules is a nice wall hanging for any coop. What happens in the coop stays in the coop!
8. I Suffer From OCD
No, this is not a shot at people who have Obsessive Compulsive Disorder but rather chicken owners who are obsessed with having more and more chickens. So if you feel like you have an unquenchable thirst for keeping these little birds, an OCD diagnosis on your coop is totally called for.
You can recreate this sign with cutouts of chickens and paint the fonts yourself, or you can print out the whole shebang.
9. Easily Distracted by Peckers
If you're not one to shy away from risque jokes, perhaps this one will intrigue you. "Easily Distracted by Peckers" is particularly funny because of the double meaning of the word "Peckers." I'm sure the artist meant chickens when they wrote "Peckers."
The sign is easy to print, and you can frame it in any way you choose, even put it on a t-shirt.
10. Just A Girl Who Loves Peckers
If you're a girl who loves chickens, you will surely fall in love with this entry. The sign depicts two chickens sitting side-by-side, both with bandanas tied on their crowns. This life-sized meme works well as coop decor. Print it on an 8×12-inching aluminum plate, and you have a sign for your coop.
You can also print it on a t-shirt, mousepad, or on a coster.
11. Cool Chicks Live Here
This one is funny because of the creative use of the word "Chick." A chick, as we all know, is a young chicken. But we often use the term to describe a young woman. The word "Chick" on this sign is used to loosely disguise the age of the chicken in the coop.
But that's not the end of the story; our chicks are cool. And the point is driven home by an illustration of chickens wearing cool sunglasses. Awesome sign. Everything comes together in a beautiful way; the text, the font, and the illustration.
12. Beware Chicken Shit Everywhere!
Are you tired of city folk complaining of the presence of animal excrement around your property? Well, this next chicken coop sign leans into their complaints in a twisted yet hilarious way. "Chicken Shit Everywhere," consider yourself warned. And the whole thing is printed on a rusty old metal sheet with visible yellow stains; a nice touch if you ask me.
13. Turns Out I Need More Chickens
Here's a nice joke to use on a sign, "I Googled My Symptoms, Turns Out I Need More Chickens." It's funny and sweet. You can use this piece in its digital form as a meme or wallpaper. You can also print it out on a t-shirt, a coster, a mouse pad, or a chicken coop sign.
This sign sorts to explain to your friends why you're obsessed with chickens in a hilarious way.
14. Hangin' With My Peeps
Here's a wall hanging for your brooder, "Hangin' With My Peeps." A simple and cute message with an equally adorable illustration. Anyone that sets their eyes on this sign cannot begin to imagine the kind of fun your chicks are having in their brooder. Are they up to mischief? Are they creating life-long bonds? Nobody knows. But one thing is clear, though, they are hanging out.
15. Cluck it!
The artist of this next piece finds a creative way of dropping the F-bomb without actually stating it. The sign also captures the I-don't-care attitude that we must sometimes adopt to protect our mental well-being. So yes, some days you just need to say" Cluck it" and walk away.
16. Spoiled Chickens Make Better Eggs
Are you in the habit of spoiling your chickens with delightful treats and a lot of love? Perhaps you need to hang this sign by your chicken coop. Do I agree with the philosophy? Not entirely, but I find the sentiment funny. "Spoiled Chickens Lay Better Eggs" Anyone who stumbles upon this sign is guaranteed to have a laugh.
17. Cute Chicks Live Here
If you know your coop is overflowing with cute chickens, here's a sign for you. I like the use of the word "chicks" as used to disguise the age of the hens. And the chicken in the illustration is not bad looking. She's depicted with delightful eyelashes and a red bow tied on her crown; it really drives the point home.
18. Farm Fresh Eggs
And we end with a sign that's a little grounded. Simple is the name of the game here with this rustic metal sign stating "Farm Fresh Eggs." The image is simple, too, showing a brown hen peacefully sitting on her pink eggs. This sign can work as an ad for fresh farm eggs. It can also work as decor for your coop. Either way, it is an elegant addition to your farm.
Final Thoughts
And that folk is 18 awesome ideas for signs to post on your chicken coop. We've given you an assortment of funny signs, a little more grounded signs, and some risque signs as well. You have wooden options as well as metallic alternatives. In terms of style, you can choose from the rich collection of retro and contemporary chicken coop signs we've outlined.
So, are you inspired? Because I know darn well I am. So, what are you waiting for? Fire up the printer; let's get creative!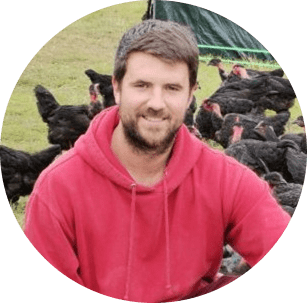 Joseph Hudson has been raising chickens for over 15 years. In 2018, he completed the Agriculture & Natural Resources program at Mt. San Antonio College. He currently raises over 1400 chickens on his 7.5-hectare farm. He keeps sharing his experience on raising healthy and happy chickens on Chicken Scratch.