Are you cooking your first feast and wondering how to cut up a whole chicken? Well, you came to the right place!
Cutting a chicken is as easy as counting from 1 to 3!
Actually, maybe we should say it is as easy as counting from 1 to 8 because, by the end, you would have at least eight chicken pieces on your counter ready to be cooked!
Get your chicken, a trusty knife, and let us get chopping.
Choose Your Weapon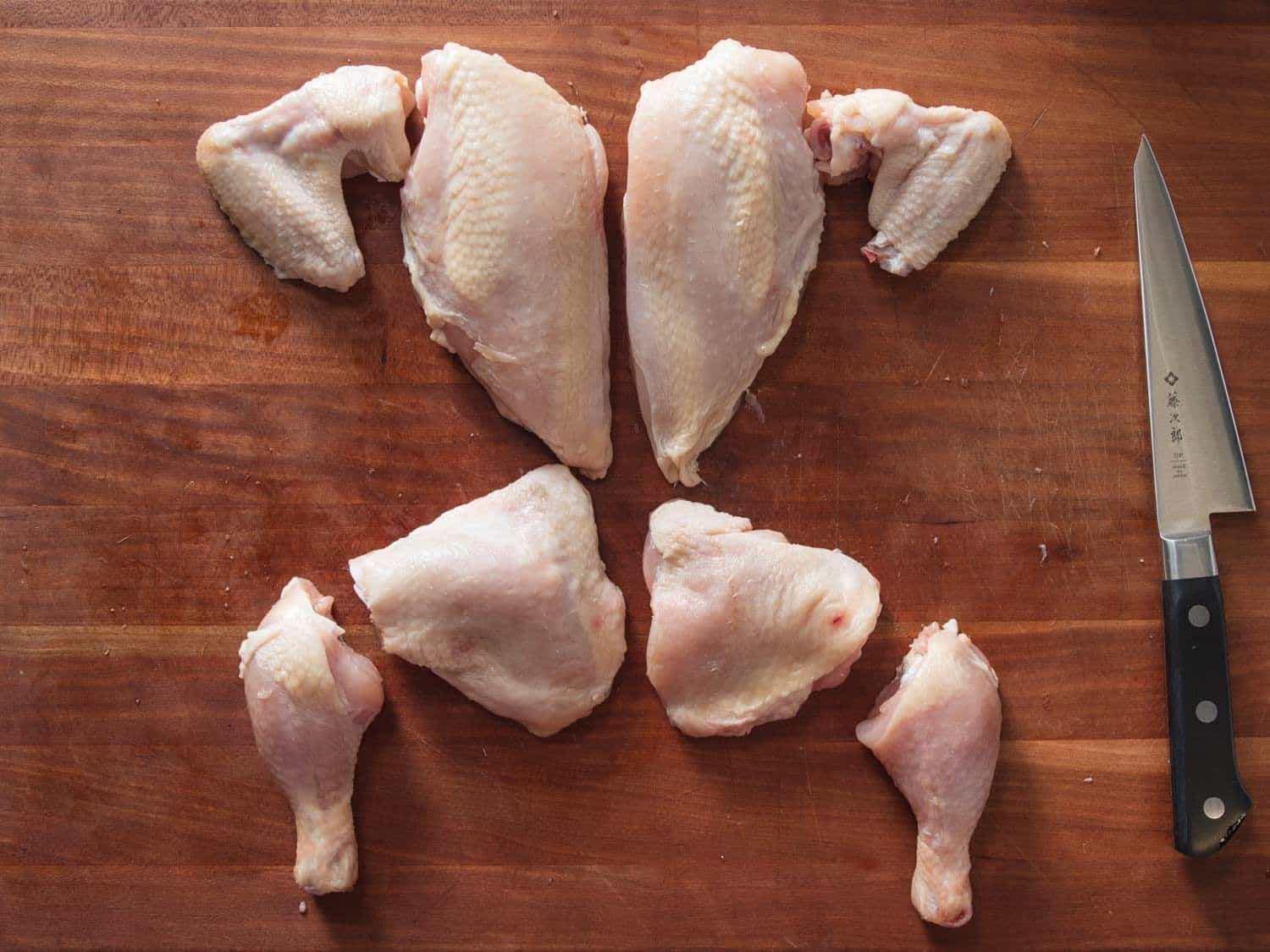 Cutting up a whole chicken into pieces is easy if you have the right knife.
There are many different knives out there, and you can choose which one would be most comfortable for you.
On the other hand, if you want to cut that chicken how the experts do, you might want to opt for a boning knife or a chef's knife. Additionally, if you have some kitchen shears, then it would also come in handy later on.
After that, make sure your chosen tools are sharp!
Cutting Up a Whole Chicken in 5 Easy Steps
Before we start, here is something to keep in mind. As we have said, cutting up a chicken is easy. We are not just saying that!
When cutting up your chicken, there should not be much resistance or muscle work. That goes for any step or stage. Once you notice any resistance or much muscle work, you are probably cutting in the wrong place. Move your knife around until cutting up the part becomes easy.
Keep that in mind as we go through the steps.
Step 1: Cutting off the Chicken Legs
Place your whole chicken on its back. The chicken breast should be facing you. Chicken wings should be on the top, and the legs should be on the bottom.
Gently pull at one of its legs, then slice through the skin at the point where the leg and the breast meet.
Pull a little firmer, and you will see the joint. If you do not see it, feel around that area until you locate it. You could pull the leg joint from the chicken with your hands. On the other hand, you can use the tip of your knife to snap it. Cut down.
Repeat for the other leg.
Step 2: Separating the Thigh and Drumstick
Take your leg and place it in a way that you can see the inner thigh.
Cut gently and slowly between the part where the thigh and the drumstick meet. Try to feel for the joint, and cut through.
If you are having a hard time, you can look for the fat.
It is not that easy to spot in this part if this is the first time you are cutting a chicken. If you see any squiggly lines that have a yellowish shade, that is it. Use it as a guide and cut through it. You should be able to cut down easily now.
Step 3: Cutting off the Chicken Wings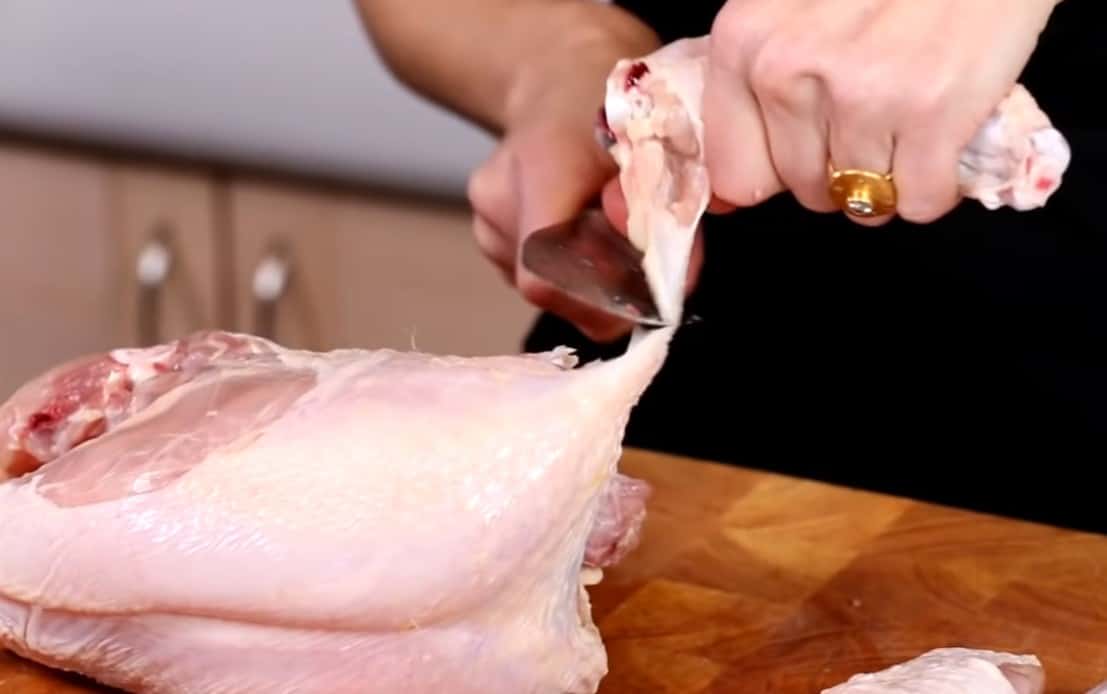 Next, place the chicken in a way that would be easiest for you to cut the wings. You can keep it on its back. On the other hand, you can place it on its side. See what would work best for you.
Gently pull at one of the wings, then cut through the point where the wing and breast meet. Cut just deep enough to locate the joint.
Again, pull a little harder to pop the joint, then cut. If that does not work, use the tip of your knife to snap it. Cut down.
Repeat the process for the other wing.
Step 4: Getting the Breast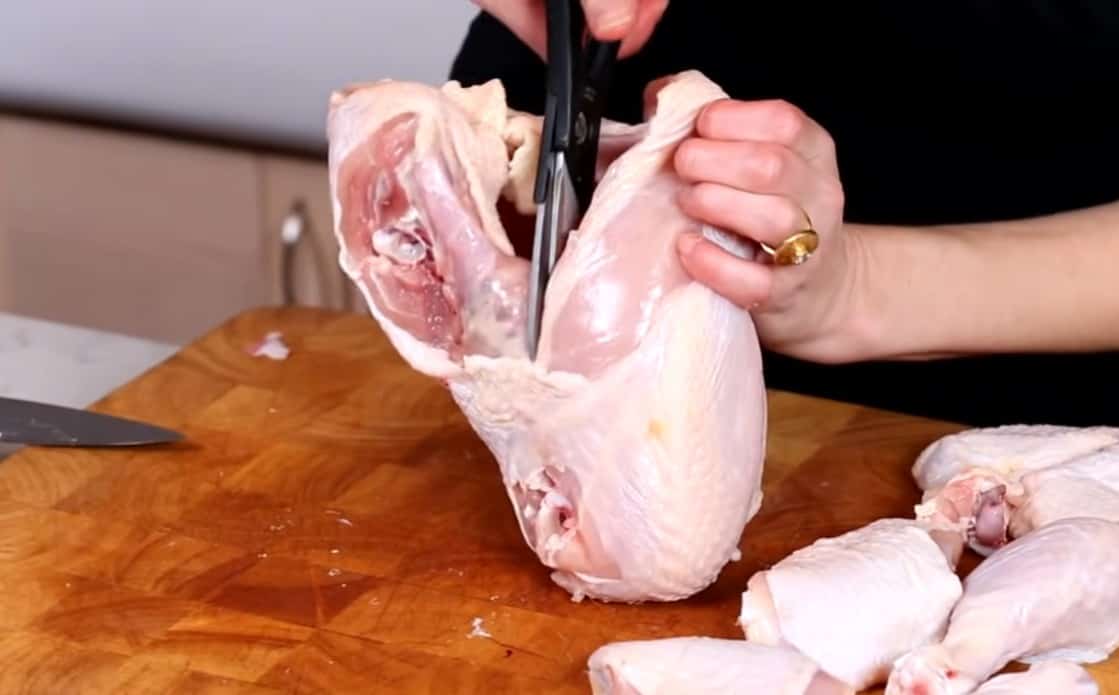 Again, look for the fat. It looks like a yellowish squiggly line. It is not straight, but it is easy to spot in this part.
You can either use your knife or kitchen shears for this one. Also, you can keep the chicken on its back, or you may want to place it on its side. See what would work best when cutting your chicken.
With your knife or shears, cut along the fat until the front and back parts of your chicken separate.
Step 5: Cutting the Breast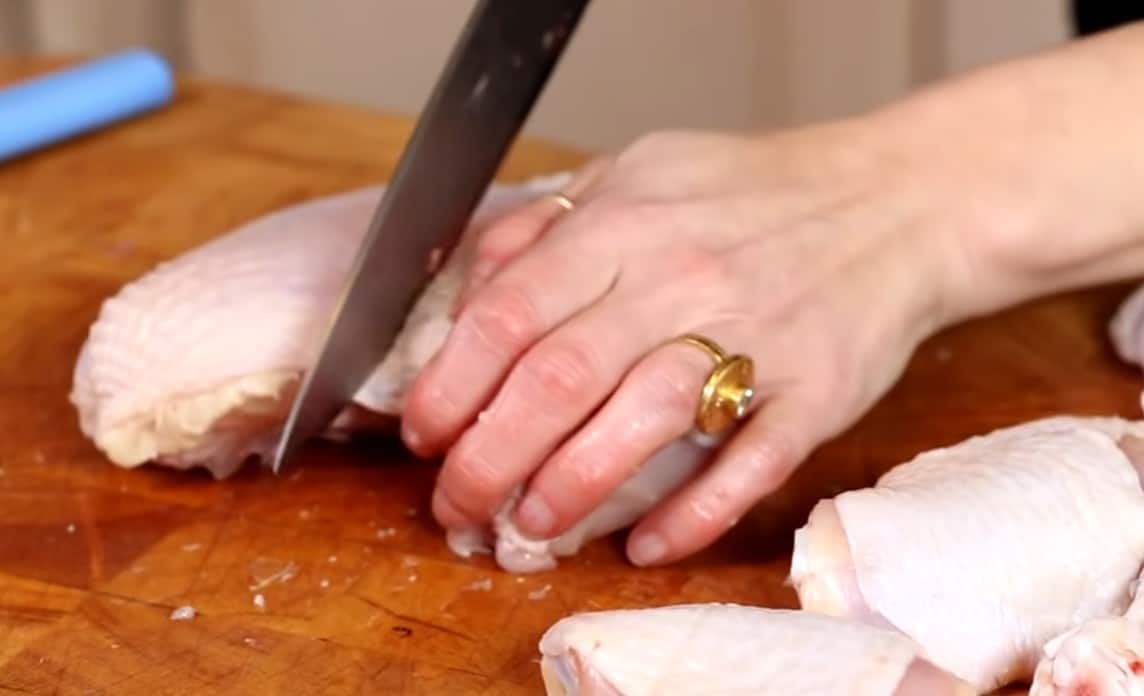 There are several ways to do this.
For some, it would be easy to cut through it. You can try this out by placing the breast part in that the inside faces you, and then cutting down through the breastbone.
If that is hard to do, you can try placing a kitchen towel on the top of the knife while you push it down.
If it is still not working, then you can try this other method.
Place the chicken in that the outer part is facing you. Put one palm on the chicken. Place your other hand on top of the hand you have on the chicken. Press down. Hard. Heard a crack? Do not worry! That is a good sign. This method should break the breastbone, making it easier to cut down through it.
Can I Use the Backbone and the Neck?
Right now, you might have noticed that you actually have more than eight parts. Furthermore, you might be wondering what you could do with those extra parts.
Well, it might not be that common in some countries. However, for some parts of the world, the chicken backbone and neck can are common ingredients of some dishes.
Other than that, you can also use the "leftovers" to make some broth or stock. So, if you have some space in your freezer, then you might want to put those pieces in a resealable bag.
Things to Consider When Cutting Up a Whole Chicken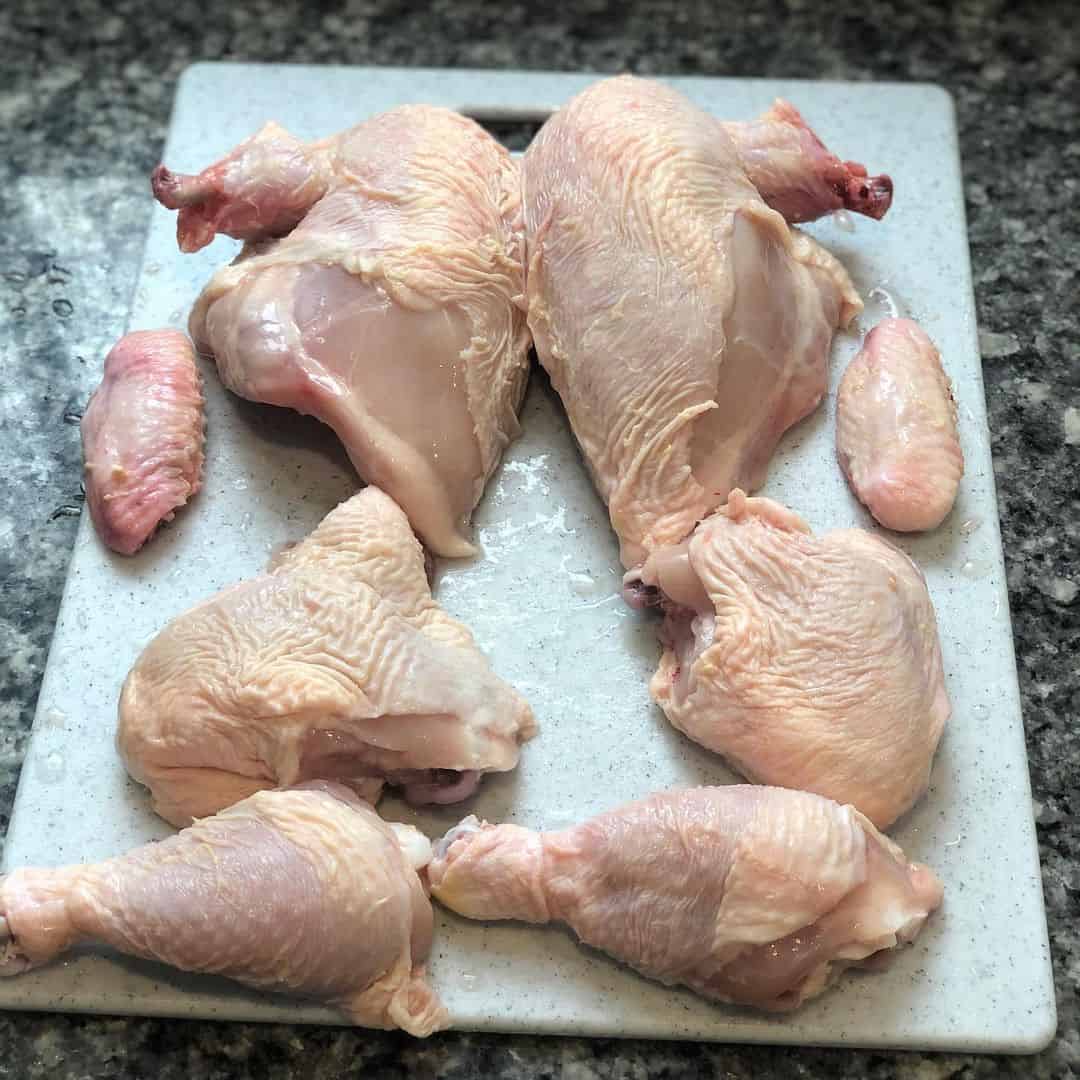 Gloves
Gloves are not necessary when dealing with meat at home. You might be surprised, but it can even be unhygienic and dangerous.
Gloves are said to be unhygienic because it lessens your hand-washing. Your hand might not be getting dirty, but the gloves are. When you are not washing your gloved hand, whatever stuff gets on your gloves stays on it. In effect, you are spreading it on the food.
Additionally, they could be dangerous because of their texture. Any kind of gloves is most likely more slippery than simply using your hands.
Skip the gloves if you could.
Hand Washing
To emphasize, you should wash your hands now and then when dealing with chicken meat or any meat at that.
8 Tasty Chicken Dishes
We have shown you have to cut up the chicken into eight parts. Now, we will show you eight delicious dishes that you might want to try!
Chicken Breast Dishes:
Honey Garlic Chicken Breast: If you are looking for a delicious dinner, then you might want to try recipetineats' Honey Garlic Chicken Breast. It is all you would want in a dish. Delicious, fast, and easy!
Creamy Herb Chicken: On the other hand, you might want to try Cafe Delight's Creamy Herb Chicken. It is quick and easy but undoubtedly mouth-watering!
Chicken Thigh Dishes:
Greek Sheet Pan Chicken: Our next one is one of my favorites among all the dishes we are talking about today. It is colorful. It is easy. It is healthy. Of course, we cannot forget to say it is scrumptious!
Huli Huli Chicken: Maybe you do not like pineapples on pizza, but maybe you would like it with some chicken. This dish is a lovely blend of sweet and savory. Yum!
Chicken Drumstick Dishes:
Chicken Mulligatawny Stoup: I always get tongue-tied when saying this dish's name. If it is the same with you, well, do not let it stop you from getting a taste of this yummy dish!
Sheet Pan Orange-Apricot Drumsticks: Here is another sheet pan recipe. I cannot help it. I am a big fan of these kinds of dishes, and hey, it's easy to do!
Chicken Wing Dishes:
Epic Dry Rubbed Baked Chicken Wings: Serving a big crowd? Well, you can wow them with this dish from The Chunky Chef!
Maple Chili Bacon Wrapped Chicken Wings: What else would go well with chicken? Bacon! Try this dish from Over the Fire Cooking to satisfy the meat-loving kid in you!
We may have divided the dishes into the different chicken parts, but you could most probably try these dishes with any portion. You might only have to make a few adjustments here and there if you plan to use a different part.
Summary
Still, having some trouble on how to cut up a whole chicken?
You can check this video out. It's similar to what we have just discussed.
We can't say it's easy as cutting up a pie, but it's still undoubtedly easy!
Cutting up whole chicken might be a daunting task at first. We understand! The chickens' body doesn't exactly look like the easiest thing to handle, especially with a knife. It is not flat, and it's not that soft either. Additionally, there are cartilages and bones the make things more complicated.
However, as you've seen, once you've gotten the hang of it, it's easy. It might not go that well with your first chicken, but don't give up! Try cutting another chicken or two, and you might see that you're becoming a pro at this whole cutting thing!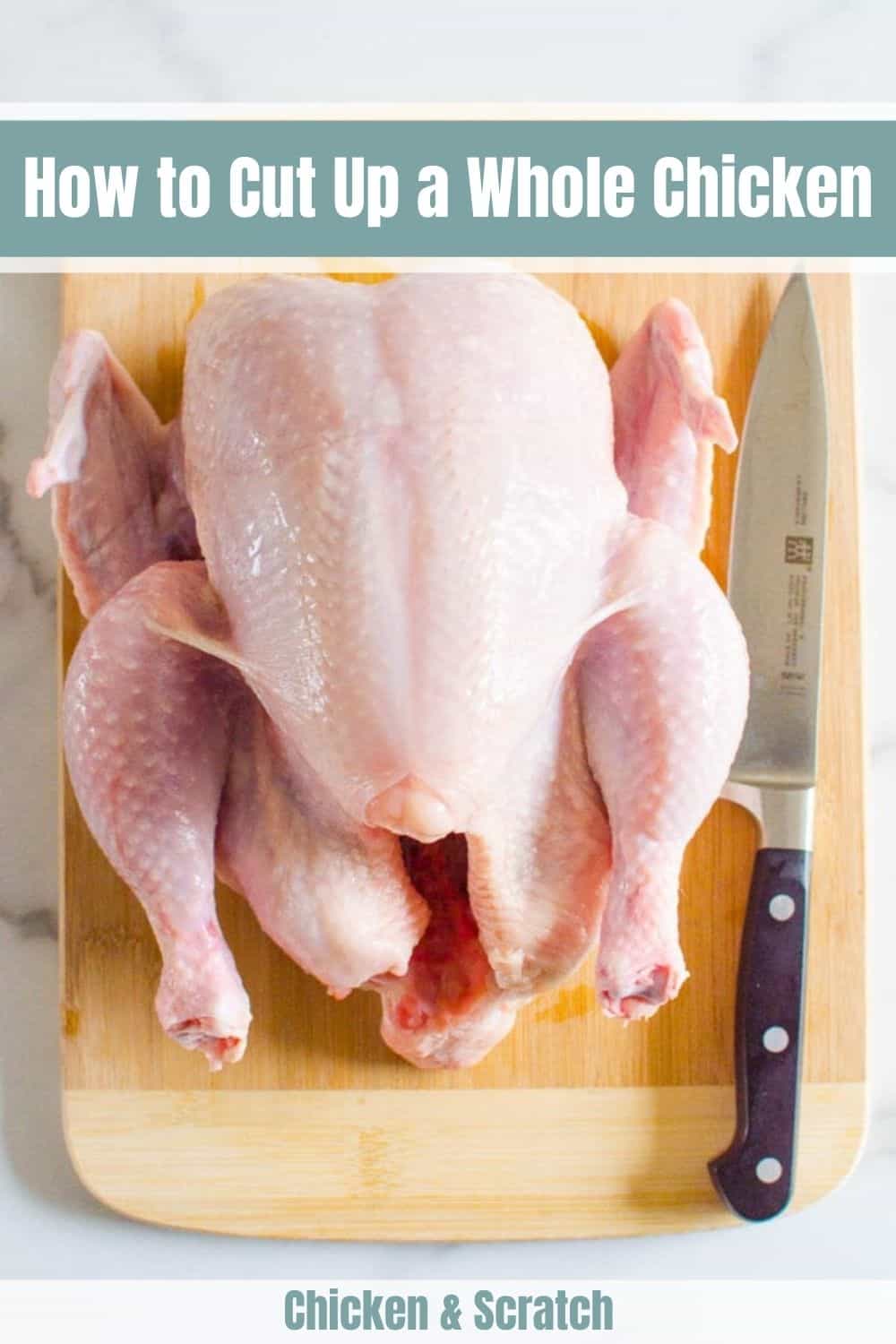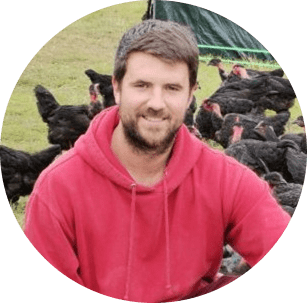 Joseph Hudson has been raising chickens for over 15 years. In 2018, he completed the Agriculture & Natural Resources program at Mt. San Antonio College. He currently raises over 1400 chickens on his 7.5-hectare farm. He keeps sharing his experience on raising healthy and happy chickens on Chicken & Scratch.