Raising chickens may not seem overly complex, but providing the ideal environment for your eggs to hatch is far trickier than many initially thought. Especially, when your chickens might not be broody and ready for hatching. Fortunately, you can use a homemade incubator to essentially duplicate what kind of conditions are ideal for hatching eggs.
See how to construct your own with these unique 23 DIY Incubator Plans for Chicken Eggs we have gathered from around the web!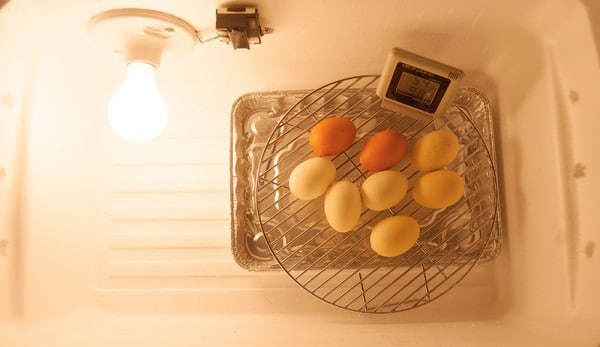 This excellent design uses a plastic foam cooler external shell and a ½" plywood insulation case. For efficiency, it's just the right size for small egg batches without taking up room. Lastly, feel free to not shy away from customizing the design, as it's pretty simple.
2. Egg Incubator With Cardboard Box
The DIY guide on Egg Incubator With Cardboard Box shows you an easy way to make a homemade egg incubator from everyday materials. You will just need an ordinary cardboard box and a bulb; it's a cost-effective way of hatching your eggs at meager costs! You can even see the inside and watch over your hatchlings with its see-through top.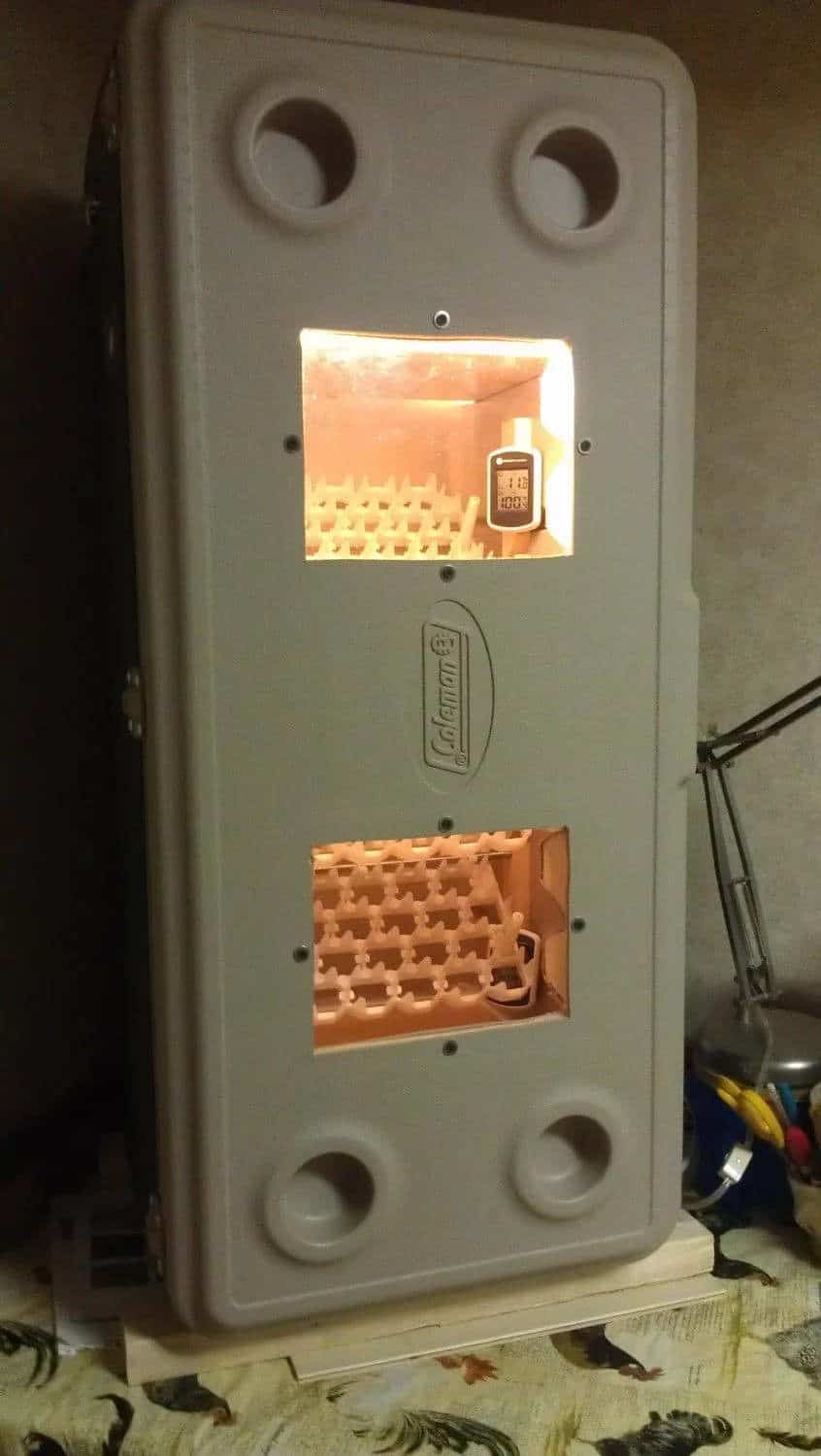 It's understood that most people can't justify the expensive cost of an actual Sportsman eggs incubator. That's why she worked to find an easier, budget-friendly way for anyone to
incubate their egg results without breaking the bank – by using a Coleman cooler!
By following the simple directions available, you can create a fully functioning home incubator capable of hatching dozens of eggs. No manual rotating is required!
One innovator found a way to put his DIY creativity to use when he spotted a wooden box at a scrap store for just $3. With this opportunity, he decided to turn the box into an egg incubator by adding features such as wiring, temperature control, and humidity control.
While it may seem like an intimidating project for people who lack technical skills, Mians has made sure his tutorial can simplify the process for everyone.
This plan is to optimize the space within a 24″ x 24″ x 14″ box. Instead of using a regular lightbulb, you'll be required to use a hot water heater thermostat, and two 15W bulbs for results. It might not look as aesthetically pleasing as some tutorials in this, but it will surely get the job done quickly and more efficiently.
6. Homemade 1200 Eggs Incubator
Most DIY incubator plans deal with just a couple of eggs. But what if you want to hatch them by the thousands?
If you're looking to hatch an astounding number of eggs, Mian's tutorial and process video has the needed guide. Though, it won't be easy—expect to recruit a few extra helping hands!
A few dollars and some household items are all you need to make a functional "forced air" box incubator at home. Gather everything together, and building this homemade incubator should take approximately two hours.
You can find almost everything in your local grocery and hardware store. At most, purchasing all parts would cost around thirty dollars, depending on how much you may already have!
8. Automatic Egg Incubator
Trying to do a lot of egg incubating can be very time-consuming if you don't have an incubator that does all the work for you, like manual turning. Creative Etc presents an easy tutorial for building your own automatic egg incubator! You'll be able to put up to 1400 eggs at once in it, so egg incubation will be much more efficient for medium-sized poultry farms.
You can create an incredible incubator costing less than £40 with this tutorial. It can incubate up to 8 eggs in total.
It uses mainly wood and materials and a 450mm x 350mm polystyrene food box. The digital temperature control has both 240v and 12v dual output capabilities, so you can drive not just the incubator but also your kiln at the same time!
10. Simple Automatic Egg Turner with Timer
This one is for you if you are looking at a homemade egg turner perfect for small-scale automatic incubators. This automatic incubator features a digital timer and speed controller, as well as being equipped with a 12V low RPM DC motor. You can even neatly put your eggs with its built-in tray racks.
11. Cheap DIY Homemade Egg Incubator
Not everyone can shed hundreds of dollars for an egg incubator. So, here is a DIY plan that highlights its cheapness. With just materials under $20, you can make your own incubator in no time. Although it's cheap (utilizing a styrofoam cooler), it still has all you need for an incubator.
12. Easiest Box Incubator
Grab some cardboard, a light bulb, and bedding materials if you don't have store-bought egg incubator equipment! With just these three items, you can house as many eggs as needed in whatever box that's up for the task. This guide is perfect if you're just looking for an incubator in a hitch.
With Al's Cabinet Incubator, you don't have to sacrifice aesthetics just to get a top-of-the-line incubator. This stylish cabinet incubator not only helps you with the hatching of eggs: but it also fits in nicely with the rest of your home. The large, convenient viewing windows let you keep an eye on everything from start to finish.
14. Plastic Tub Incubator
With resourcefulness comes weird materials in making your own incubator for your chickens. Enter the star of this tutorial: plastic or water tub. Although bizarre at first, it can help you maintain humidity and temperature.
Sometimes, your incubator is needed in a hitch; that's where this simple and cost-effective egg incubator shall come in place. In less than half an hour, you can connect all these parts to your self-assembled incubator. And if it seems too fiddly – a step-by-step Instructable sheet holds your hand all the way!
16. Old Tire Egg Incubator
Rather than throwing away an old tire, it is used to hatch chicks. An eccentric build: the lower part was covered in a wood sheet, and a fan cover was on the top slot!
It utilizes a W3001 temperature controller that you can set at 37.8C⁰, with two stirring rotations! Indeed an excellent way to recycle and hatch your eggs at the same time!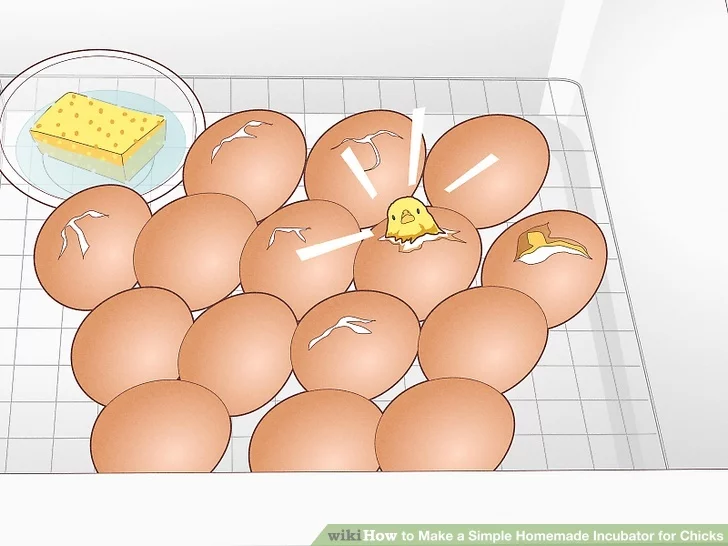 As a reliable source, WikiHow is here again to make our DIY project a little bit easier. With some styrofoam, bulb, and humidity, this eleven-step process is an easy and quick way to make an incubator. You can even add a clear covering on the top to easily monitor the eggs!
Do you have an old freezer lying around? If so, this DIY incubator might just be what you need! Before constructing the incubator, make sure to get rid of any broken freezer parts. Once complete, it has the capability to hold up to 88 eggs; however, for better airflow, 66 might be a better fit. With enough room for smaller-scale hatching, this is perfect for small-scale farms.
A solar-powered incubator is a new and sustainable way to help you hatch some eggs! Following these easy steps supplied by user harishk99, building one in your home can be smooth sailing. Perfect for makers or people simply wanting something new who may not even have prior knowledge of assembling and using solar machinery.
20. 500 Capacity Homemade Incubator
Would you like to make a DIY egg incubator from the ground up? Don't miss this incredible step-by-step video showcasing building one that can cater to up to 500! It might be one of your most rewarding creations, even more so knowing you can conjure it up quickly! The video aids in cutting down on precious time and ensuring the task is simple to follow and achievable.
21. Electric Fan Egg Incubator
This list can have some weird material here and there, but this electric fan incubator might be the most bizarre of them all. Could it get more bizarre than that!?
Well, you might be asking how? An electric fan cover can make for an excellent surface for a homemade DIY hatchery. It enables proper air up the flow and provides ideal conditions for giving moisture and warming the environment within its tub.
No need to spend tons of money on new equipment! This homemade economic incubator gives you all the tools for successful egg hatching.
What makes it great is its simple design that supplies consistently warm and humid temperatures. It's also quite basic to construct, so you can smoothly make it in a hitch.
Discover the simple solution for hatching eggs of your own at home! Gather up a cardboard box, a 40-watt bulb, a thermometer, and a hydrometer for heat regulation – and you are all set. With these supplies taking egg incubation into your hands couldn't be any easier!
Conclusion
Hatching eggs can be fascinating so don't let the price of incubators deter you! Pick the perfect one in our fantastic 23 DIY Incubator Plans for Chicken Eggs list. It varies from traditional builds to stranger ones. Whatever design you choose, each will create the perfect warm and humid atmosphere for your chicks!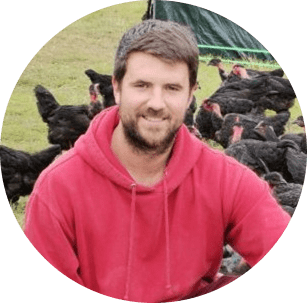 Joseph Hudson has been raising chickens for over 15 years. In 2018, he completed the Agriculture & Natural Resources program at Mt. San Antonio College. He currently raises over 1400 chickens on his 7.5-hectare farm. He keeps sharing his experience on raising healthy and happy chickens on Chicken Scratch.