What came first – the chicken or the egg? We'll never know for sure, but if you have fertilized eggs and no brooding chickens, you're going to need an incubator. It's a piece of equipment that safely nurtures eggs en masse until they hatch. The hatching process takes roughly 3 weeks.
Incubators are more efficient than organic hatching because the temperature and cover are consistent. There's no risk of the eggs cracking, getting cold, or being cannibalized while their mamas are off eating or hydrating. So do some reviews and find the best chicken egg incubator.
1. Magicfly 9 to 12-Egg Digital Automatic Egg Incubator
When you look at this incubator from the outside, it looks pretty basic. But it's a complex unit with lots of different parts. The bottom is filled with water for humidity. Then you have three white stacking shelves, and a black egg tray with two grids to form 3 rows. The tray keeps your eggs in place so they don't wobble, crack prematurely, or grind each other as they hatch.
This incubator is fully automatic with a built-in egg turner. But because the eggs sit between multiple grids, you might not notice them turning. You also can't get a clear look at the eggs hatching because of all those stacked grids. Luckily, the temperature, humidity, and airflow are all automated so you can just wait until the preset time before you open the incubator.
The incubator can hold 9 chicken eggs, but it can also hatch owls, parrots, doves, geese, ducks, and quails. The incubator stands close to 7 inches high and is 14 inches at its longest point. The plastic used to make it is sturdy ABS and PP. The top of the hatcher houses the power plug, LED display, digital control buttons, and an air vent to facilitate air circulation.
While this incubator is complicated to put together, it doesn't need much attention once you set it up. Just deposit your eggs, set your timers and settings, then wait 21 days for healthy chicks.
Pros:
The hatcher is suitable for 7 types of birds including geese and parrots.
It has an automated egg turner and temperature controller.
The grids keep your eggs from pushing each other as they hatch.
Con:
Setting up the incubator is challenging so watch a few demo videos first.
2. VIVOHOME 9 to 12-Egg Incubator with Automatic Egg Turning
You may have noticed this silhouette is a popular one for table-top incubators. This Vivo Home unit has the same styling as Magicfly and HBLife. But again, it has a few significant differences in functionality. In the prior models, the egg tray had two or three grids to hold your eggs in this place. This model has two white shelves instead of three. It gives you more flexibility.
And while the black egg tray has two dividers, the frame of the tray itself is movable. The plastic outer shell isn't as see-through as HBLife, but it does offer partial visibility. And while the incubator has an automated thermostat, you do have to manually adjust the temperature at strategic points in the hatching process. The incubator is 13.5 inches long and 9.5 inches wide.
It's 9.5 inches deep and weighs close to 5 pounds. The internal egg tray is about 7 inches by 7 inches excluding the handle. It can hold 9 chicken eggs (or up to 16 pigeon eggs). The meshed white shelves allow heat, water, air, and steam to circulate freely, maximizing the potential health and strength of your hatchlings. The egg turner automatically rotates your eggs.
The visuals of this VivoHome incubator are eerily similar to other brands we've reviewed. But some minor differences place it lower on the list of best chicken incubators.
Pros:
It has two perforated shelves to secure your eggs in place.
The black egg-turning tray has four adjustable dividers.
This incubator is mid-sized and can hold 9 chicken eggs.
Con:
The ABS isn't clear enough for comfy monitoring. It's a bit foggy.
3. GQF Thermal 42-Egg Air Hova-Bator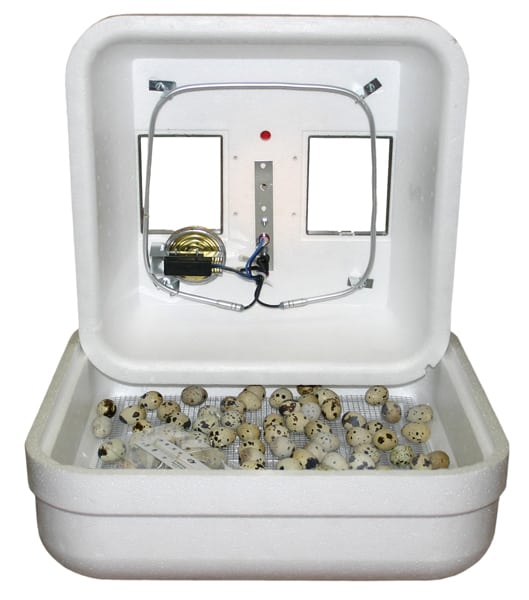 For something described as a small incubator, the GQF Thermal has a pretty big capacity. It measures about 50 inches by 50 inches and is 13 inches deep. That size can hold 42 to 50 eggs depending on how you arrange them. The egg turner holds about 40, but you can make room for more eggs if you're not using the egg turner. You'd have to turn the eggs manually though.
This incubator is square-shaped with rounded corners and two viewing panels at the top. The hatcher also has vents on its top and bottom surfaces and a heating element attached to its inner lid. The heater warms up the air, which then flows in through the bottom and out through the top, keeping your eggs warm and well-ventilated without punishing your utility bill.
It's not just for chicken eggs – you can hatch other eggs in it as well. The brand has been trusted for over 30 years and is safe for hatching bot birds and reptiles. It weighs 1.18 pounds when empty.
Pros:
The incubator has an automated egg turner.
It can hold 42 eggs with the turner and up to 50 eggs without it.
Its thermal features enhance hatching efficiency.
Con:
The incubator lets warm air flow freely between your eggs but it doesn't have a fan.
4. iTavah 9 to 12-Egg Incubator With Automatic Egg Turning
This clear digital egg incubator comes packed with features. Its see-through walls provide easy monitoring for your eggs as they hatch. You can stack the eggs in adjustable trays for multi-level hatching. The incubator also has water channels and a heater, so the temperature and humidity in the hatcher are automatically controlled. The equipment is electric and uses just under 60W.
iTavah turns eggs automatically and circulates air all around your egg trays to keep hatching temperature even and consistent. The hatcher can hold 9 chicken eggs and up to 16 eggs from smaller birds like pigeons and quails. The incubator measures 35.5 cm by 19cm by 17cm and weighs 2.5kg so it's compact enough for tabletop placement. You need to add water though.
This water maintains humidity levels via active evaporation so you'll have to top it up every day or two. The power outlet plugs into the top of the incubator lid, so position it within convenient reach of your socket. Apart from chicken eggs, you can hatch other bird eggs here too, including owls, quails, ducks, and swallows. It has a 45-day money-back guarantee and a 1-year warranty.
iTavah weighs roughly 5 pounds unloaded and it fits conveniently on your tabletop for easier monitoring. But it needs active observation and regular water top-ups for humidity.
Pros:
The sides are see-through for convenient viewing.
It has an automated egg turner and thermostat.
It's an energy saver that uses less than 60W.
Con:
Setting up and using this incubator can be complicated for beginners.
5. Brinsea 7-Egg Mini Automatic Egg Incubator
Watching this egg hatcher will brighten your day. The yellow base is cheerful and the clear sides let you observe every moment in the life of your hatchlings. And if you're the type that forgets dates and times, the incubator has a handy countdown that stops automatically when the eggs are due to hatch. So you can tell at a glance whether there's an issue in timing or development.
During the last three days of incubation, eggs shouldn't be turned. This Brinsea automatically stops the egg turner two days before the expected hatching, making everything easier for you. The incubator has an unusual shape, with a flat base and a see-through dome.
The digital display at the top lets you see and control your settings. You can program the hatcher to turn eggs automatically or you can lift the dome and turn them manually if you prefer. And there's a convenient spout on the side where you can add water for humidity management.
The plastic used to form this incubator is anti-microbial so it's safe for you and the chicks. And the company has over 40 years' experience so you know you're getting quality.
The product is intended for home breeders and hobbyists since it can only hold 7 eggs at a time and they won't all necessarily hatch. So it's easy to use even if you have no experience hatching.
Pros:
The clear sides and plastic base are both practical and attractive.
Brinsea has an automated egg turner and countdown clock.
The sturdy ABS plastic is easy to clean.
Con:
The incubator comes in three similar-looking versions – each with slightly different features – so it can be easy to mix them up.
6. Currens 7-Egg Mini Chicken Egg Incubator
At first glance, the Currens mini incubator looks more like an electric egg boiler. The egg slots mimic boilers, and they serve a positive purpose. Keeping every egg in its own molded casing gives them adequate space as they hatch, so it's a healthier layout for your chicks. And the clear dome roof lets you see exactly when and how each egg hatches. The tab at the top helps too.
It lets you conveniently lift the lid off when it's time to release the chickens. The incubator has a digital control panel on its front side. It's not intuitive though two blue buttons and three green ones so it takes time to figure out how to work the controls. In between the two sets of buttons, an LCD shows your programmed settings, letting you adjust them to your preference.
The base of the incubator is a bright yellow that contrasts the black control panel and white egg tray. Beneath the tray, a perforated grid lets steam through for controlled humidity. The incubator has a diameter of 6 inches in diameter and is another 6 or so inches deep. The plug is on the rear of the incubator, opposite the control panel. It's durably designed and shockproof.
This cute little hatcher is more powerful than it looks. It can incubate 7 eggs on individual hatching ports. And it has automatic egg-turning, heating, ventilation, and humidity.
Pros:
The dome-shaped cover allows for easy observation and monitoring.
The digital control panel is on the side for easy access.
It has a perforated base grid for better airflow.
Con:
The control panel takes some figuring out, so you'll need time to adapt and figure it out.
7. HBlife 9 to 12-Egg Digital Fully Automatic Incubator for Chicken Eggs
The HBLife incubator seems almost identical to the Magicfly incubator. It has a few minor differences though. Its egg tray has three grids instead of two, so you can arrange your eggs in 4 rows rather than three. The other base mechanisms are the same. The incubator has three white trays to hold the hatching eggs in place – a bottom grid, a lock grid, and a top grid.
The black egg holding lies between and it turns automatically to ensure all sides of your eggs are evenly heated and hydrated. The grids prevent the eggs from bumping each other as your sprightly chicks emerge. But unlike other incubators, you'll need to manually remove the turner tray 2 or 3 days before the hatch date. The eggs will then sit on the lock grid for safety.
The power cord plugs in at the top, but the bottom of the incubator has a clear surface, allowing you to look at the eggs as they hatch. This can be especially exciting during those last few days after you've removed the egg turner. Also, the manufacturer recommends attaching the hatcher to a hygrometer so you can control the levels of humidity and keep them consistent.
This egg incubator has many nifty features and a see-through wall so you can witness the magic of hatching. But remember to remove the turning grid during the last two or three days.
Pros:
The incubator has 3 grids so you can arrange your eggs in 4 rows.
The bottom of the incubator is see-through for easy monitoring.
The tray doubles as an automatic egg turner.
Con:
The temperature settings are in degrees Celsius rather than Fahrenheit, so you'll have to do some quick conversions to set the right figure.
8. Xuliyme 7-Egg Mini Egg
Incubator for Chickens
Shopping online can be frustrating because so many products look like clones. This Xuliyme hatcher – for example – has the same style and structure at the Currens incubator. It shares the molded egg cups, the yellow base, the front-facing control panel, and the durable rear cord. Unlike other incubators that have detachable plugs, this one is fused to the body of the device.
That said, there's a reason this style of incubators is so small and clear. It's a necessity to keep your chicks alive. With bigger hatchers, the chick can stay inside the device for a bit. You can even feed them inside the incubator. But this hatcher is so snug that you need to release the chicks as soon as they crack their shells. That's easy to do if the incubator is on your work desk.
The incubator holds seven eggs in a star-shaped holder. Beneath the egg cups, a perforated plastic plate has diamond-shaped holes cut into a diamond-shaped grid. They facilitate ventilation, heating, and hydration so your chicks hatch healthy. The built-in thermostat can adjust temperatures by up to 0.01 degrees, giving you far more specificity.
This incubator may seem like a Currens clone, but there are some design tweaks in this Korean version. Put it in an easily accessible spot so you can monitor it closely to avoid smothering.
Pros:
It has a cute compact design and cheerful color schemes.
The incubator is small enough to sit on your work desk for daily observation.
The molded cups allow it to hold more eggs than its size implies.
Con:
The compact positioning of the egg cups means chicks can squash themselves when they hatch. So you have to keep a vigilant eye and extract them the moment they break through their shells.
9. Farm Innovators 41-Egg Air Incubator for Chicken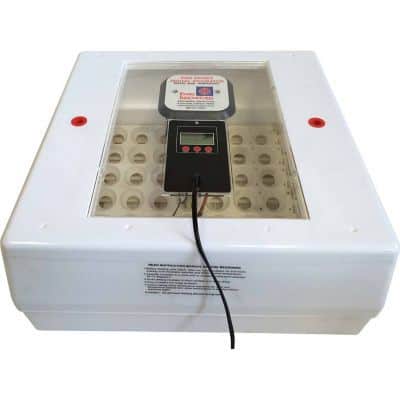 So far, we've looked at incubators for home use. If you want something a little more commercial, you can opt for this unit. It has some interesting features to optimize performance. The heater warms your incubator in minutes, achieving the recommended preset temperature of 100°F. If the incubator gets too hot or cold, a light flashes, warning you to adjust the heat settings.
The incubator has an automated egg turner and a countdown clock. You can set it to 21 days for chickens or different durations for other birds. The timer automatically stops turning the eggs when they're two or three days away from hatching. It also has a special feature called an Egg Candler that lets you 'x-ray' the eggs to see what's happening inside the shell.
To avoid disrupting development, the incubator has two filling holes on the side with rubber bungs. Unplug the holes and use a baster to fill your E-Z water channels for consistent humidity. You don't even have to open the lid or the plastic outer shell. The hatcher can hold up to 41 eggs and its internal fan keeps the eggs well-aerated so they hatch and grow into healthy chickens.
This incubator possesses some commercial characteristics but it's still safe for home use. It's an energy-saving model that only uses 40W and you can refill your water reservoirs without lifting.
Pros:
The incubator has a large viewing window.
It can hold more than 40 eggs simultaneously.
The water holes are on the side so you can refill without lifting the lid.
Con:
The control panel is smack on top of the viewing window so it partially blocks your view.
10. Brinsea Products 24-Egg Chicken Incubator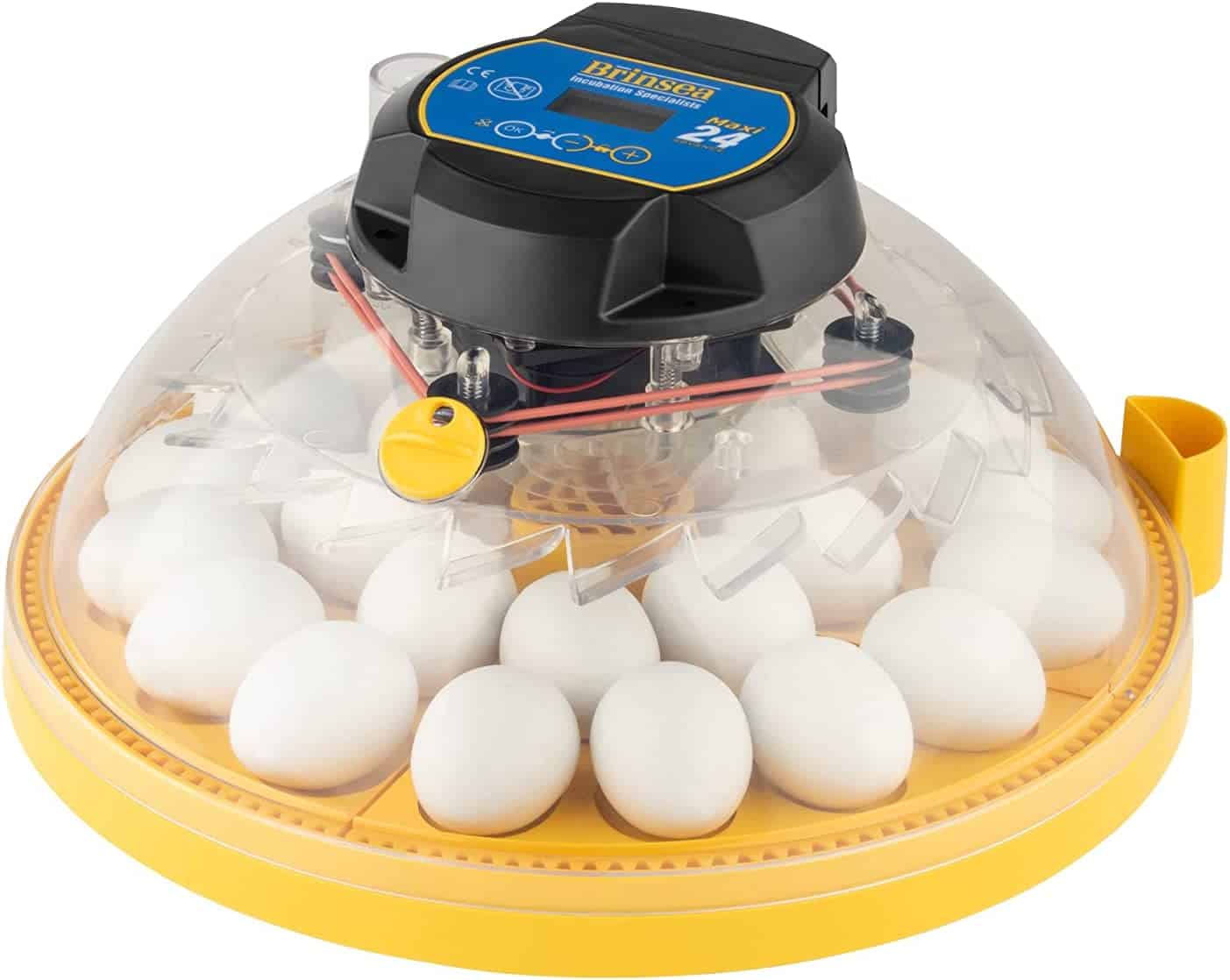 This is one incubator you can't mistake for any other. It has a bright yellow color that seems designated for egg hatchers. Maybe it's because artificially hatched chicks always seem to be yellow. Either way, the incubator has octagonal plastic sides and see-through plastic front so you can observe your eggs as they progress and eventually hatch. It can hold to dozen eggs.
The incubator is fitted with an accurate glass thermometer and a thermostat reset to 99.5°F. If it goes above or below 99, a flashing light will alert you to make the necessary shift. The hatcher is made of ABS with a built-in fan for airflow and heat distribution. The black section at the top of the incubator has a toggle switch that adjusts the size and angle of your air vent opening.
For maximal insulation, the bottom of the incubator has foam padding. This helps the incubator spread heat efficiently while using up less electricity. The eggs turn by rocking the whole incubator. You can sway the manually or use the optional cradle to automate hourly turning. The tray is also removable so you can easily load the eggs and unload the chicks as they hatch.
Looks aside, this incubator has some handy features including a pivoted tray that rocks to turn your eggs. The hatcher comes with a 3-year warranty and optional automation tools.
Pros:
It has a warning light to help you maintain your desired temperature.
Its cheerful color and unique shape are visually entrancing.
It can hold 24 chicken eggs at a time.
Con:
Managing humidity levels is a tricky affair.
What to Look for When Buying a Chicken Egg Incubator?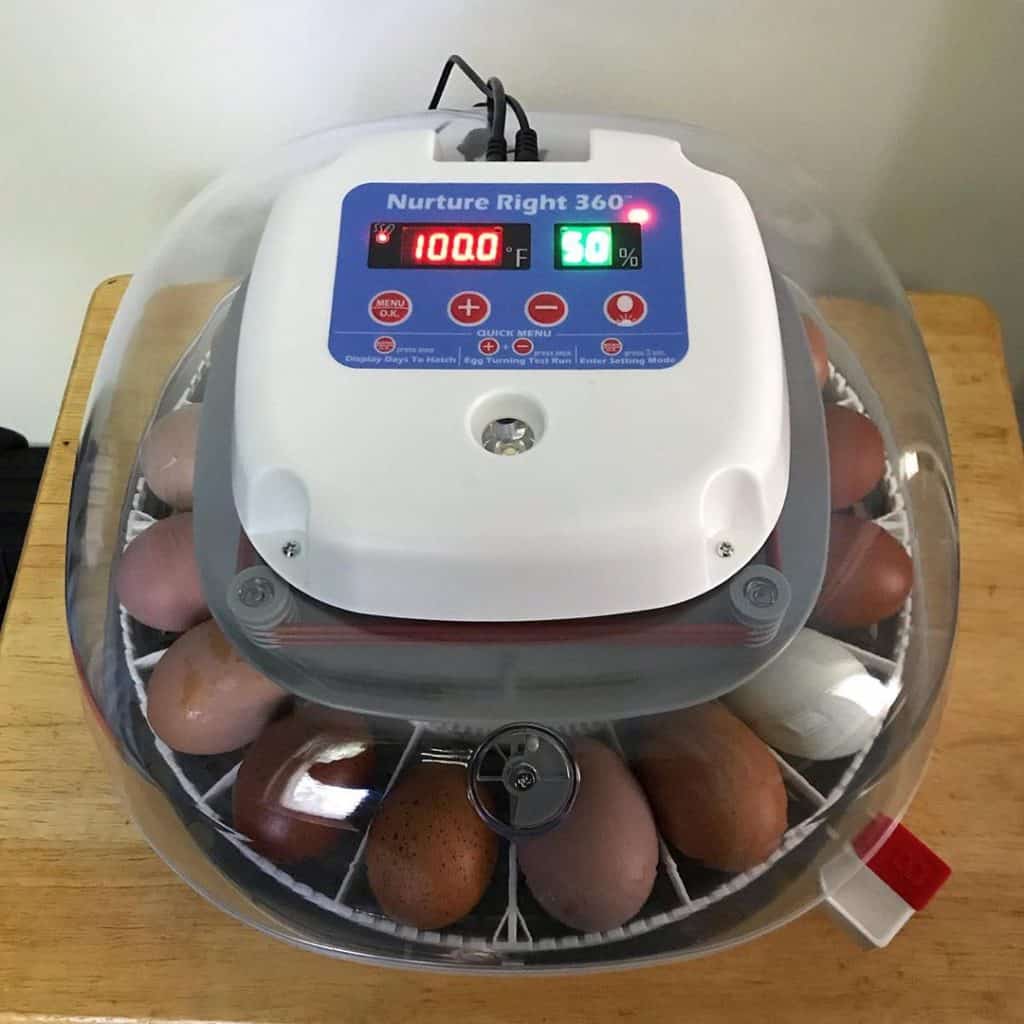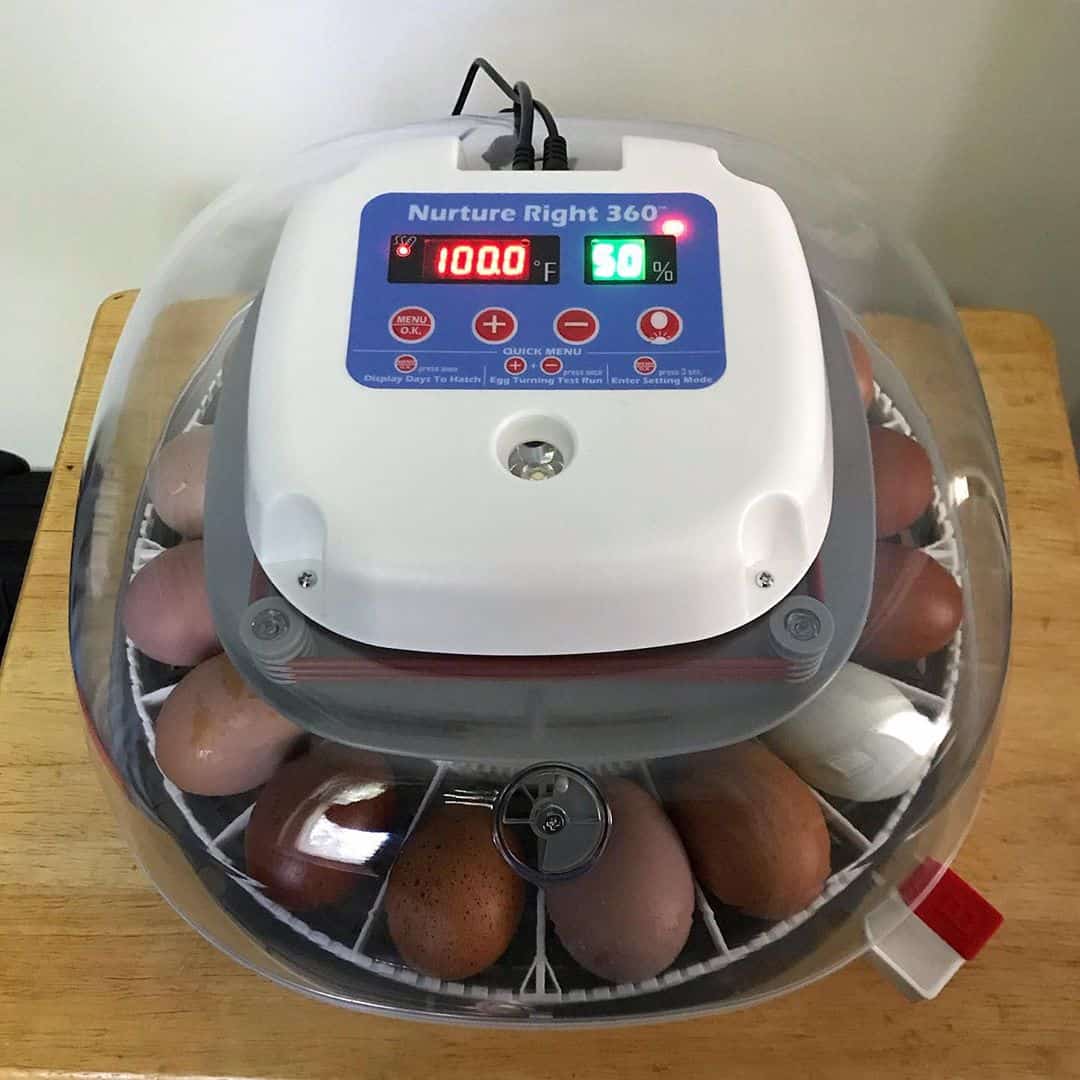 Hatching chicken eggs is a delicate natural process. But with advances in agriculture and technology, we have fine-tuned the process to make it smoother and more efficient. Only if you buy the best egg incubator though. So let's find out what features you should be looking for.
Capacity
Some incubators can hatch 5 or 6 eggs at a time. Others can hatch more than 50 eggs. Commercial incubators can hatch a thousand eggs simultaneously, but you're unlikely to need that many from your home hatchery. Most back yard breeders are fine with an incubator that can hold a dozen eggs or so. But there's something you need to remember …
Despite all the improvements and enhancements in technology, not all eggs hatch. So you may load your incubator with 13 eggs and only end up with 5 chicks. Meaning as you make your selection, ensure the incubator can hold more eggs than you intend to raise. Leave room for contingencies, accidents, or flaws of nature, because we can't always control those.
Features
When a chicken sits on her eggs, she turns them occasionally so that all sides stay equally warm. And she uses her body heat and nesting materials to keep her hatchling in optimum condition. Incubators do all these things with varying degrees of success. And the more additional features your hatcher has, the more it will cost. So decide on your mandatories beforehand.
With an incubator, you want an easy way to control temperature and humidity. They might have a built-in thermometer or thermostat. They may also have a humidifier or dehumidifier, depending on the climate where you live. Some incubators also have an automated egg turner while others need you to rotate your eggs manually, so weight the benefits against the price.
Accessibility
If you opt for a manual hatcher, you need easy access when it's time to turn your eggs. But even if you go with something automatic, it's reassuring if you can watch over your hatchlings. So you may want to buy an incubator that has a see-through lid and sides for convenient observation.
Alternatively, even if part of the hatcher is opaque, get a model with a viewing window. You also want easy access when it's time to load, empty, or clean your incubator. Some hatchers come is separate pieces that you have to assemble, which is tough without technical skills.
Buy one you can put together – or budget for an expert to set it up for you. Most incubators have an electrical component, so it's worth weighing your power usage against your utility bill. You can buy an energy-conserving model so that your running costs remain manageable.
Count your Chickens While they Hatch!
For safe eggs and healthy chicks, we recommend Magicfly Digital Automatic Egg Incubator. Here's why:
The incubator is made of strong durable plastic.
It has see-through sides for easier monitoring.
The egg turner and temperature control are automated.
It can hold 9 chicken eggs.
The incubator measures roughly 14 inches by 7.5 inches by 7 inches.
It weighs about 14 pounds unloaded.
The plug and digital control panel are located at the top of the hatcher.
The incubator can hatch different birds including parrots, owls, and geese.
What type of incubator are you using at the moment? Show us a photo in the comments!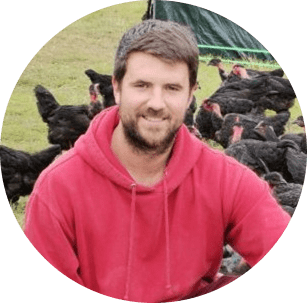 Joseph Hudson has been raising chickens for over 15 years. In 2018, he completed the Agriculture & Natural Resources program at Mt. San Antonio College. He currently raises over 1400 chickens on his 7.5-hectare farm. He keeps sharing his experience on raising healthy and happy chickens on Chicken & Scratch.