If you're an average person, it's probably never crossed your mind that chickens need watering. They don't drink much, but they do need it to survive. So you should allow them constant access to clean, fresh water. Serve it a dish that's shallow so they don't fall in and hurt themselves.
You should also get a waterer that's easy to clean, otherwise, you'll avoid maintaining it and your chicken may fall sick. So how do you spot the best chicken waterer for your backyard bunch? First, let's look at some popular brands then we can settle on our favorite pick.
1. RentACoop Automatic Chicken Waterer
Sippy cups for birds are an amazing innovation. But in many brands, the valve breaks off long before the cup has expended its shelf life. RentACoop uses a weighted cup to solve this problem. The valve sits inside the mounting mechanism to prevent it from breaking off. It's controlled by weight. When the cup is empty, it's lighter, so it tips back to open the valve and release water.
Once the cup is full, its water weight closes the valve to stop the flow of water. This shipping box contains cups, washers, valves, and wing nuts. But it doesn't have a water source, so you'll either need to buy a water jar or a PVC pipe and RentACoop T-joints. This latter system lets you serve more chicken because you can lay a pipe along the perimeter or your hen house.
You don't have to use RentACoop jars or pipes though. These cups are compatible with any container or brand. You have to drill 3/8th-inch holes though. The cups are 4 inches in diameter and are safe for chicks to use. It's easy to suspend the because all you have to do is raise the location of the PVC pipe or poke a hole high enough on your plastic water reservoir.
Watering cups are a good idea, and RentACopp makes premium versions. You can buy them individually as replacement nipples or you can assemble a watering kit from scratch.
Pros:
It's an automated watering system.
The cups have valves so they won't spill or overflow.
Each cup is large enough to water but small enough to avoid drowning.
Con:
This package only contains the 'sippy cup' so you still have to buy a supply jar, tank, or pipe to link them to.
2. RentACoop 2 Gallon Chicken Waterer
A 2-gallon waterer can be quite convenient. If you keep 4 chickens, this waterer can keep them hydrated for up to 5 days, so you'll only need to clean and refill it 4 or 5 times a month. The waterer has a removable cap so it's easy to refill it, no hassles. You can also buy an optional top cone and hanging chain if you prefer to keep your waterer suspended. Both are sold separately.
The purpose of the cone is to prevent your chickens from perching on tip of the waterer. You don't need the roost (or the hanging chain) though, they're not essential. The waterer is cube-shaped with 2 lips on each side, so the chickens can't poop in the water. And because there are 8 watering cups in total, your chickens can drink comfortably without getting in each other's way.
The waterer has a built-in metal handle so it's easy to move it around for cleaning and refills. The plastic on this waterer is food-grade and BPA-free. If you do raise or hang the waterer, make sure it's flat on the ground during refills. This prevents spillage or straining the suspension chain. Also, because the nipples are raised and customized, your chicken litter won't get wet.
Pros:
The lip design keeps birds poop out.
The waterer has lips on all four sides for easier access.
It has an option for hanging installation.
Con:
These nipples are modified to reduce wastage, but that means your chickens have a bit of a learning curve – these aren't the cups they're used to.
3. Little Giant Complete Chicken Waterer
This well-named chicken waterer follows the typical silhouette. It's what you'd expect a waterer to look like. The waterer comes in two pieces – the jar and the bowl. If one gets lost or damaged, you can buy either piece separately as a replacement. The waterer is white and red so it's visually distinct. The white jar shows dirt easily, so it will nudge you into better hygiene.
That's important because we often assume a watering can, water bottle, or chicken waterer doesn't need much cleaning. After all, it's just water. But apart from chicken waste and splashback litter, water does develop a slimy film and may acquire bacteria, so you do need to clean and refill it every few days. The see-through water level is a convenient prompt as well.
Unfortunately, the wide watering bowl means you're sure to get chicken poop in the water, so even though it's a 1-gallon waterer, you may have to clean and refill it daily. And the refill process is cumbersome because you have to turn it upside down, fill it, close it, then tip it back over without spilling the water. That leaves a lot of room for unwanted soaking, so wear overalls!
This Little Giant chicken waterer is pretty and simple. You can buy replacement parts separately, but you can't hang it off the hen house roof, so that's a design flaw.
Pros:
The waterer is gravity-powered so you don't need electricity.
It has a broad base so it's less likely to tip.
The visible water level alerts you when it's time for a refill.
Con:
If you prefer your chicken waterer suspended, there's no easy way to hang it.
4. Harris Farms Poultry Waterer
It's easy to get confused by conversions. But if it helps, this 5-quart chicken drinker holds about a gallon of water, slightly less than 5 liters. The jar and base can be bought separately, and this can be useful. How so? The original fountain bowl isn't heated, but Harris Farms manufactures a heated base that you can buy separately to de-ice your water during winter.
This is a gravity feeder, so it's green – both literally and figuratively. It doesn't need electricity to power it unless you opt for the heater base. The white jar is see-through so you easily tell when its time to clean and refill your waterer. The base is 10.9 inches in diameter and up to 32 chickens can drink from it. But like all gravity feeders, there's a trick to filling it.
Getting the water in is easy, but you have to secure the bowl carefully to avoid spills and overflows. This model has a twist-lock mechanism for that. Unfortunately, while the low lip gives chicken easy access with a lower likelihood of drowning, it does splash a lot of water out, so your chicken bedding will get wet and potentially moldy. Suspending the waterer helps a little.
When you're looking for a simple, no-frills chicken waterer, Harris Farms have your covered. It's made of translucent plastic and you can buy an optional base heater if you like.
Pros:
It holds 5 quarts of water.
The waterer has a hook on the side for convenient hanging.
It's compatible with Harris Farms heater base.
Con:
The lip is low to prevent drowning but its lack of depth leads to spills and water wastage.
5. Farm Innovators All Seasons Chicken Waterer
With many chicken waterers, you have to fill the jar then tip it over and secure it back to the base, providing plenty of opportunities for messy spillage. This waterer steps things up with a simple fix. Instead of refilling the jar, the refill port is on the base. So you still have to turn in upside down, but you're less likely to spill because you seal it while it's still upturned.
The top of the jar also has a convenient hanging hook made of rust-proof plastic. The base has a heater to prevent freezing. The heater uses 100 watts of power, but it does mean your chicken waterer must be close to a power outlet. Otherwise, your chicken may peck at or trip over your power cables. You also have to position it carefully to keep your power and water from mixing.
The base and the jar are connected via a twist-lock so it's easy to separate them when you want to clean the waterer. The outer rim of this waterer is about a foot in diameter and the waterer stands 16 inches tall. It weighs 2.25 pounds, so use a sturdy chain to suspend it. Otherwise, it may fall and cause electrical problems as the power and water sources intermingle.
Farm Innovators have designed a waterer with a built-in heater so you can sue it all year round, even in sub-zero temperatures. It has a rubber plug at the bottom for refilling.
Pros:
The waterer has a built-in 100-watt heater.
It also has a convenient plastic hanging hook.
The chicken waterer holds 3 gallons.
Con:
The electric cord is only 2 feet long so you'll probably need to use an extension that could cause a tripping hazard.
6. Royal Rooster Twin Cup Drinker and Feeder
When you want a comprehensive chicken maintenance kit, these twin towers offer the best chicken waterer. The pair comprises a feeder and a drinker in attractive tower designs. The towers are designed for wall mounting and come with four aluminum brackets so you can install them on your walls or hang them off your chicken mesh. Empty, they weigh 4 pounds combined.
But the plastic is lightweight and UV-treated so your walls and mesh won't sag even when the feeder and drinker are filled. The feeder can hold 6.5 pounds of chicken feed while the waterer holds about a gallon. The waterer has two cups and can accommodate 4 to 6 chickens. The cups have valves to reduce wastage and should be hung at beak level to give your birds easy access.
Both the feeder and the waterer have identical ergonomic lids that make cleaning and refilling easy. The lids and water valves conserve water because it slows the rate of evaporation. Royal Rooster is an Australian brand but its models are easily available in the US. The towers are 5 inches in diameter so they have a subtle but attractive cylindrical silhouette.
Give your hens and roosters the royal treatment with this pair of chicken supplies. The waterer and feeder combine to meet your chickens' daily needs for food and hydration.
Pros:
This two-in-one set keeps your chickens watered and fed.
Both towers are 20 inches high and hold 1 gallon / 6.5 lbs.
The set comes with brackets for wall-mounting.
Con:
The height of the tower increases water pressure so these drinkers will spring a leak faster than their main rivals.
7. K&H Pet Products Thermo Chicken Waterer
Two things make chicken waterer maintenance unpleasant. One is the potential for poop and all the germs it contains. Two is that slimy feeling from filmy water residue. K&H addresses both these problems by including a water filter in its chicken drinker. It sifts out most of the dirt and makes maintenance easier – just wash the bowl by hand with food-grade detergent.
Remember though, this chicken waterer has a heater, so clean it carefully to avoid electrocuting yourself. You can easily tell when the water needs a refill because you can see through the plastic. And the jar has a convenient handle molded onto its body so there's no wastage of space and water. The rounded cone shape also discourages perching which may damage the plastic jar.
With a capacity of 2.5 gallons, you'll only need to refill this waterer once or twice a week. The reservoir has a spill-proof cap and it refills from the bottom. And the heater only uses 60 watts, though you can buy a version without a heater of you prefer that. The one downside is it's challenging to suspend this waterer. If you loop the handle, the waterer will hang diagonally.
K&H makes a pretty and practical chicken waterer with a built-in filter ring, thermal control, and no-roost dome shape. It's energy-saving heater only requires 60 watts to function.
Pros:
The water reservoir is conical to reduce roosting.
It has a built-in heater to prevent freezing.
The waterer has a decent 2.5-gallon capacity.
Con:
The waterer has no suspension hook.
8. Farmer Brad Automatic Chicken Waterer
This chicken waterer has a basic bucket-like shape, but there are lots of features packed into it. It has a floater valve to control the flow of water, so you'll never have any wastes or spills. You can adjust the float level if you'd like the bucket to release more or less water at a time. The sides of the barrel are fitted with four cross-shaped nipples. These nipples keep the chicken litter dry.
They also protect your water from accidental bird poop or back-splashed litter. It's a low-maintenance waterer – just empty and wipe it once a month, inside and outside. You can connect it directly to your water mains or garden hose using a hose adapter. The adapter is included in the shipping box and has rust-proof metallic threads to enhance its grip.
The metal threads also extend its lifespan of your chicken waterer. This is because many competitors use plastic threads that frequently needs replacement. You can place the bucket on ground level or use a strong rope or chain to suspend it. It holds 2 gallons of water and can sustain up to 25 chickens. The waterer is made if white food-grade BPA-free plastic.
With this chicken waterer, you can speed up or slow the flow of water to your chicken by tweaking the built-in float system. It's easily elevated and needs minimal maintenance.
Pros:
It has a 2-gallon capacity and 4 side nipples.
It comes with a convenient water hose adapter.
The chicken waterer has a built-in float valve.
Con:
The lid occasionally sticks and refused to sit snug on the bucket so you may need to find a replacement lid.
9. Premier Chick Nipple Drinker
As simplicity goes. Premier Chick provides the best chicken waterer. Its small size is suited for chicks. The reservoir holds 1 liter of water and comes with wall brackets for convenient installation. The waterer only has one nipple, so mount it at a suitable height. The tank is see-through so you can easily tell when you need a refill. But the water outlet is a dropper, not a cup.
This means your chickens will need some time to figure out how to use it. The shipping box comes with a solid bracket and a wire bracket, but mounting screws aren't included so you have to buy those separately. And because the waterer is so small, you'll have to frequently check it and refill it. You can install it indoors or outdoors, but you need a bigger bracket for externals.
The chicken drinker is about 9 inches tall and measures 3.5 inches by 4 inches. Some chicken breeders don't like the drop-nipple design and may prefer to attach nipple cups like the type manufactured by RentACoop. But the entire waterer is made from food-grade BPA-free plastic.
You may think this small chicken waterer is only suitable for chicks. But full-grown chicken can use it as well, provided you refill it often enough. It may need daily top-ups though.
Pros:
The waterer comes with wall brackets included.
Its square shape is ideal for wall-mounting.
The convenient lid allows easy cleaning and refilling.
Con:
The chicken waterer is on the smaller side with a 1-liter capacity.
10. Bafx Products Chicken
Watering Bucket & Lid
Bucket waterers are easy to use and interchange, but this one is special. Instead of the watering cups being mounted on the sides, they're cut into the bottom of the bucket. This eliminates the chances of drowning and lowers your costs because the waterer is fed by gravity, not electricity. But that positioning also means the nipples always drip onto your chicken litter.
This could easily present a moisture problem so you may need to place a collection tray beneath your waterer. And that's sure to get messy because your chickens will step in it every time they drink. That aside, the chicken waterer holds 2 gallons and is made from food-grade plastic.
The waterer has a removable cap at the top for convenient refills. It also has a metal handle with a plastic grip so it's easy to hang the chicken drinker. Of course, it has to be suspended so your chickens can access the nipples at the bottom. The positioning of these nipples also makes it difficult to attach chicken cups, so your chicken will have to learn how to use the nipples.
This 1.3-pound chicken waterer has a simple, seemingly intuitive design. But these design choices present a few problems, including the possibility of a constantly wet coop floor.
Pros:
It has four nipples so multiple chickens can drink simultaneously.
This waterer is a top loader with a convenient inlet on its lid.
It has sufficient 2-gallon capacity.
Con:
The nipples are placed at the bottom of the bucket so the floor will consistently get wet.
What to Look for When Buying a Chicken Waterer?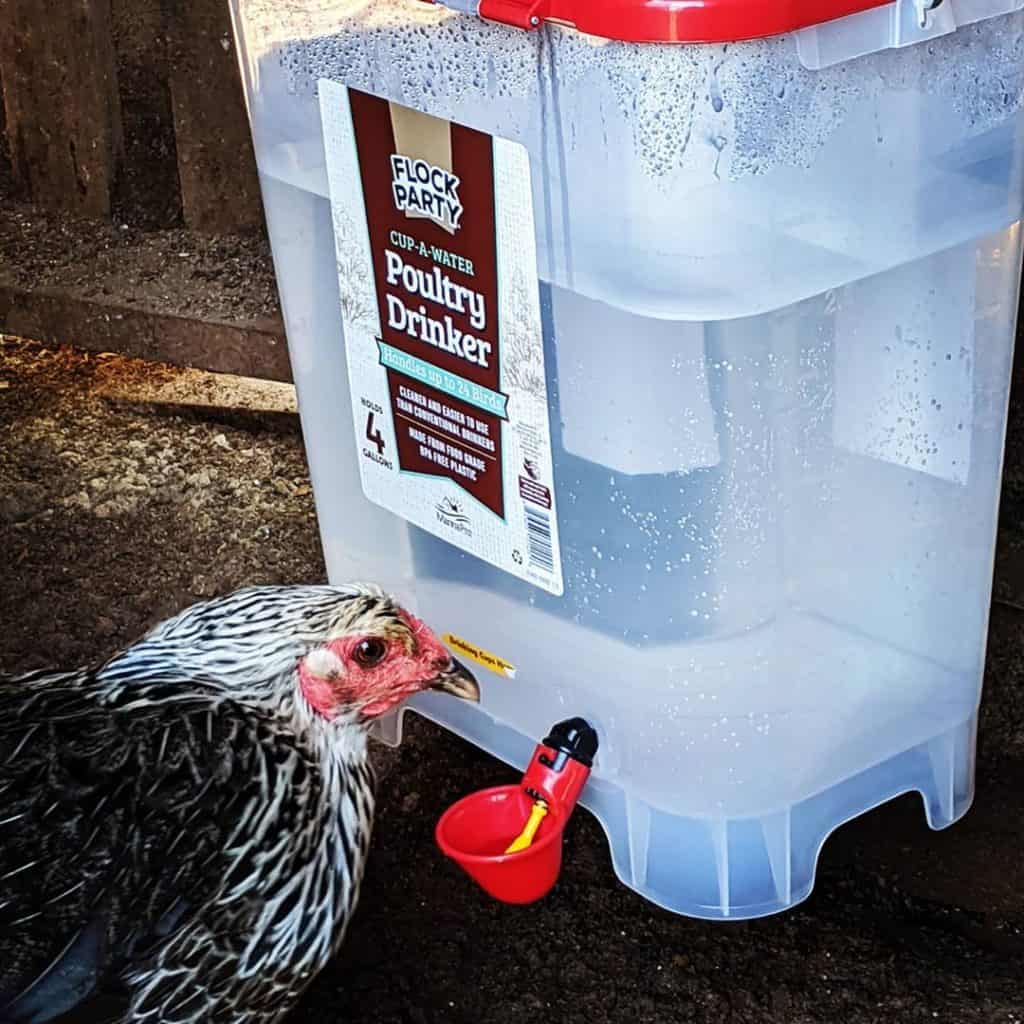 As you can see from our reviews, chicken waterers range from tiny tablespoon servings to 5-gallon containers. And they come in so many different styles that it's easy to get overwhelmed. So let's explore some factors you should consider as you shop for the best chicken waterer.
Temperature
You may assume this means your chicken waterer should have a heater – and it should – but not for the reasons you think. Chickens actually prefer their water cold, so you want to keep it in a shaded area. If it gets too warm, they won't drink it. So your heater isn't intended to raise the temperature of your chicken's water. Its job is to keep your water from freezing.
If ice crystals develop in the water – or if the top of the bowl freezes solid – then your chickens can't reach the water and even if they do, they won't drink icicles. So if you live in a region known for its winters and sub-zeroes, buy a waterer with a low-powered heater. It has to prevent freezing without making the water unpalatably warm for your birds (or hiking utility bills).
Size
This isn't just about capacity. It does matter, and the bigger your waterer, the less often you'll need to refill it. But if you buy one that's too big, you may neglect it and it could become a pathogen petri dish. It could end up making all your chicken sick because you're waiting too long between refills and cleaning sessions. But the physical dimensions matter too.
Let me explain. What type of chicken coop do you have? Is it a tower or a lean-to? Are the roofs hinged for easy access? Can your chicken waterer fit through the door? Does it crowd the feeding area or is it so small it will get trampled? Your waterer should be a good size relative to the shape and layout of your hen house, as well as the number of chickens you're raising.
Style
Some chicken waterers have a big overflow bowl so multiple hens can drink at the same time. These types of waterers should have a large diameter and a wide base to prevent them from tipping over. Other waterers are styled as cups or nipples connected to your water mains. These are good for chicks and smaller hens because they can't drown in that tiny cup, so they're safer.
But if you go this route, you may need a more individual waterer because only one chicken can access it any given time, and you don't want your chickens crowding and fighting at the watering hole. You could also pick between automated and manual waterers. Or electric waters versus analog ones. Chicks need smaller waters than grown hens and roosters, so consider that too.
Summary
If your chicken waterer is too deep, your chickens may slip and drown. But if it's too shallow, your chickens may soil it. Buy a waterer that has raised sides. This way, your chicken's beaks can reach the water but it's awkward for their rear ends to access the waterer. You might also buy a raised waterer, but only if it has a sturdy base or anti-tipping features to prevent spills.
Also, what's the chicken waterer made of? The most common construction materials are plastic and metal. If you buy a metal waterer, ensure that it's rust-proof, corrosion-proof, and chemical-proof. Also, metal waterers might warm the water too much because they're good conductors. So if you opt for galvanized steel waterers, ensure they're placed in a cool, breezy spot.
Lap it up!
In our opinion, the best chicken waterer for your needs is RentACoop Automatic Chicken Waterer. Here's why:
You can attach them to a jar or directly to a water pipe.
The modular piped structure means you can add as many cups as you need.
If you use anti-UV RentACoop T-joints to achieve this layout.
The cups are wide enough for chickens to wet the wattles as needed.
Every cup has a valve so there's no spillage or wastage.
Washers and wing nuts are included in the shipping box.
What type of waterer are you using? Show us a photo in the comments!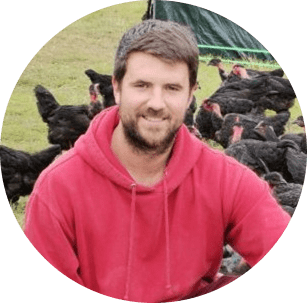 Joseph Hudson has been raising chickens for over 15 years. In 2018, he completed the Agriculture & Natural Resources program at Mt. San Antonio College. He currently raises over 1400 chickens on his 7.5-hectare farm. He keeps sharing his experience on raising healthy and happy chickens on Chicken Scratch.