Some people keep chicken as pets. Others prefer fresh eggs for breakfast and fertilizer for their kitchen gardens. Either way, if you're keeping chicken at home (as opposed to breeding them commercially), their comfort is key. It keeps them happy and gives you healthier eggs.
When you're rearing these chicken domestically, you want them to have lots of space and light. So you're unlikely to have more than a dozen chickens. If you have a rooster, he needs a larger territory to avoid infighting. Let's review some top chicken coops then we can pick a winner.
1. Best Choice Products 80″ Outdoor Wooden Chicken Coop
In a human habitat, a sliding attic window would be an amazing design feature. But on a chicken coop, it feels a little strange. After all, it's a window opening with a wooden sliding door at the top of the sleeping area. But chickens can't open sliding doors, and if you leave the window open, your chicken will be over-exposed to the wind and cold. It does look pretty though.
While the window has no window guards, the rest of the chicken coop is covered with galvanized mesh, providing a sizeable chicken run and lots of air circulation. The sleeping area is raised and has a sliding tray, but the chicken run sits directly on the grass. The wooden bits are natural weather-proofed fir wood. It's used on the walls and the roofs too.
These wood panels are solid pieces that are horizontally laid out. It's a tall coop though – 51.5 inches at its highest point, so you can access it without straining your back. The hen house does need assembly since it comes in a flat pack. But the manufacturer provides a demo video to guide you through the process. The whole package is in two boxes and weighs 50 pounds.
Best Choice Products can rightly claim they make the best chicken coop. It's made of waterproofed fir wood and galvanized metal so it's suitable for all weather conditions.
Pros:
The wood and metal mesh are all weatherproof.
The coop measures 80 inches by 51 inches by 26 inches.
It has a large chicken run and a ramp.
Con:
The sliding window is redundant since chickens can't move it themselves.
2. Formex Snap Lock Large Chicken Coop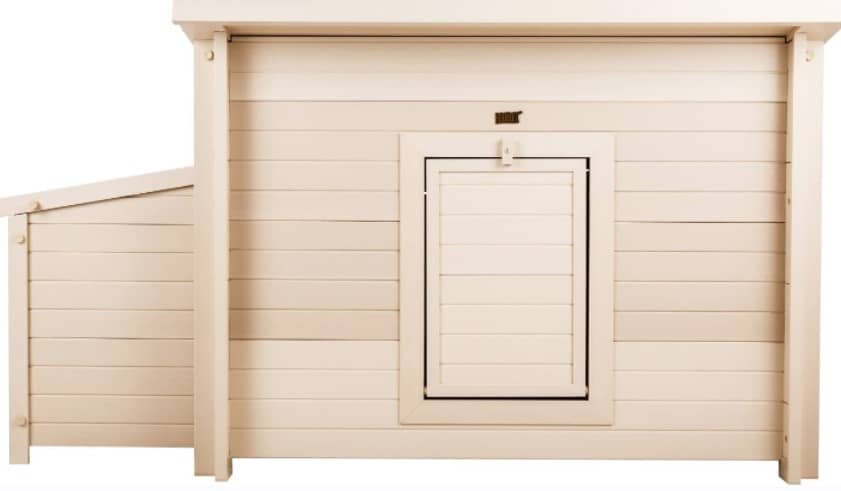 When you want your chicken to live in style, you could build them a house that a miniature version of yours. Snap Lock Formex rivals any suburban home, with its vertical siding and its faux slate lean-to roofs. It assembles quickly without tools, and every surface on the coop is resistant to rust and sunlight. The coop looks like, but it's sturdy and can withstand impact.
The chicken coop has tan walls and gray roofing, so it will blend subtly into your yard décor. While some chicken houses have raised floors with open-air ground levels, this one is mounted on a pedestal. This lower access for worms and ground pests, but it doesn't offer sub-floor ventilation like some chicken cops. Instead, ventilation louvers are installed close to the roof.
The louvers can slide up or down to increase or reduce air circulation. And the coop has one lockable door and two nesting boxes. It can house 3 to 6 chickens or up to a dozen bantams. The litter tray slides out for easy cleaning, and the nesting box roofs can fold open to let you collect eggs. Inside the house, several crossbars provide perching spots for your chicken roost.
Snap Lock Formex chicken coops are pretty and convenient. You don't need special skills to assemble, clean, or maintain your chicken coop. And it's a US-made brand.
Pros:
This plastic hen house is so easy to install that you don't need any tools.
The sturdy construction material can resist water, chemicals, and UV radiation.
The chicken coop has a sliding tray for your chicken litter.
Con:
The coop doesn't have a chicken run.
3. PawHut Backyard Chicken Coop Kit with Nesting Box
Installing a PawHut chicken coop will take less than 30 minutes out of your life. You do need a screw gun though. And because there are so many bits and bobs to connect, it can get a little confusing. Read the instructions and or look up assembly demos online. You might also need a few small padlocks for the lockable sections of your chicken coop, including the nesting boxes.
This chicken has multiple outlets. The nesting boxes have lifting lids and the main housing section has a sliding litter tray for quick cleaning. The roofs are made of green asphalt with beautifully complements the wooden walls. And the coop has a large open-air section enclosed by rust-proof chicken mesh. The main section is raised as well, with rubberized feet.
The feet stop the coop from sinking into your soil and grass. It also makes it tougher for pests to scale the walls. These fir walls have a gorgeous natural feel because they're coated with clear waterproof varnish. The hen house has a 12-month warranty and is eco-friendly with zero toxins. The holes are pre-drilled to ease and speed up the assembly process with an electronic drill.
PawHut Buddy is pretty, practical, and easy to assemble. It has multiple entry points and a ventilated tower with mesh windows, in addition to an outdoor chicken run.
Pros:
It includes two nesting boxes, a chicken run, and a ramp.
The coop has wooden walls and asphalt roofs.
The chicken coop takes 10 to 20 minutes to set up.
Con:
Despite all this talk of easy installation, it's a process, so watch a few videos first.
4. Paw Hut 98″ Portable Wooden Chicken Coop
Paw Hut is a good name – you're unlikely to forget it when you walk into the chicken store. This coop is made of wood, including the roof, which is unusual. The wood isn't sufficiently moisture-treated, so that causes issues after a while. It's a spacious hen house that measures 98 inches at its longest point. Its enlarged chicken run includes a covered section below the main living area.
Because the bulk of the house is open-air, the chicken coop is well-aerated. The primary sleeping space has a sliding tray floor so your coop is easy to maintain. The nesting boxes have hinged roofs that you can easily lift to collect eggs. And you can move the hen house to different parts of your yard when the weather changes, allowing the chicken more light or less wind.
The wheels aren't as strong as they look though, so you'll have to place wooden blocks or braces beneath then when you want to move the house. Apart from that, the hen house is well-designed with accessibility and sufficient ventilation. But with so many parts, it can be challenging to assemble. Set aside enough time and watch some demo videos to ease your learning curve.
This chicken coop from Paw Hut looks good and serves your chickens well. But setting it up involves patience and skill. This isn't a half-hour job, so brace yourself before you begin.
Pros:
The coop has wheels for enhanced portability.
The sleeping area is raised to deter predators.
Paw Hut has galvanized wire mesh for waterproofing.
Con:
The roof is made of wood, so the hen house risks warping.
5. New Age Pet ecoFLEX Fontana Chicken Barn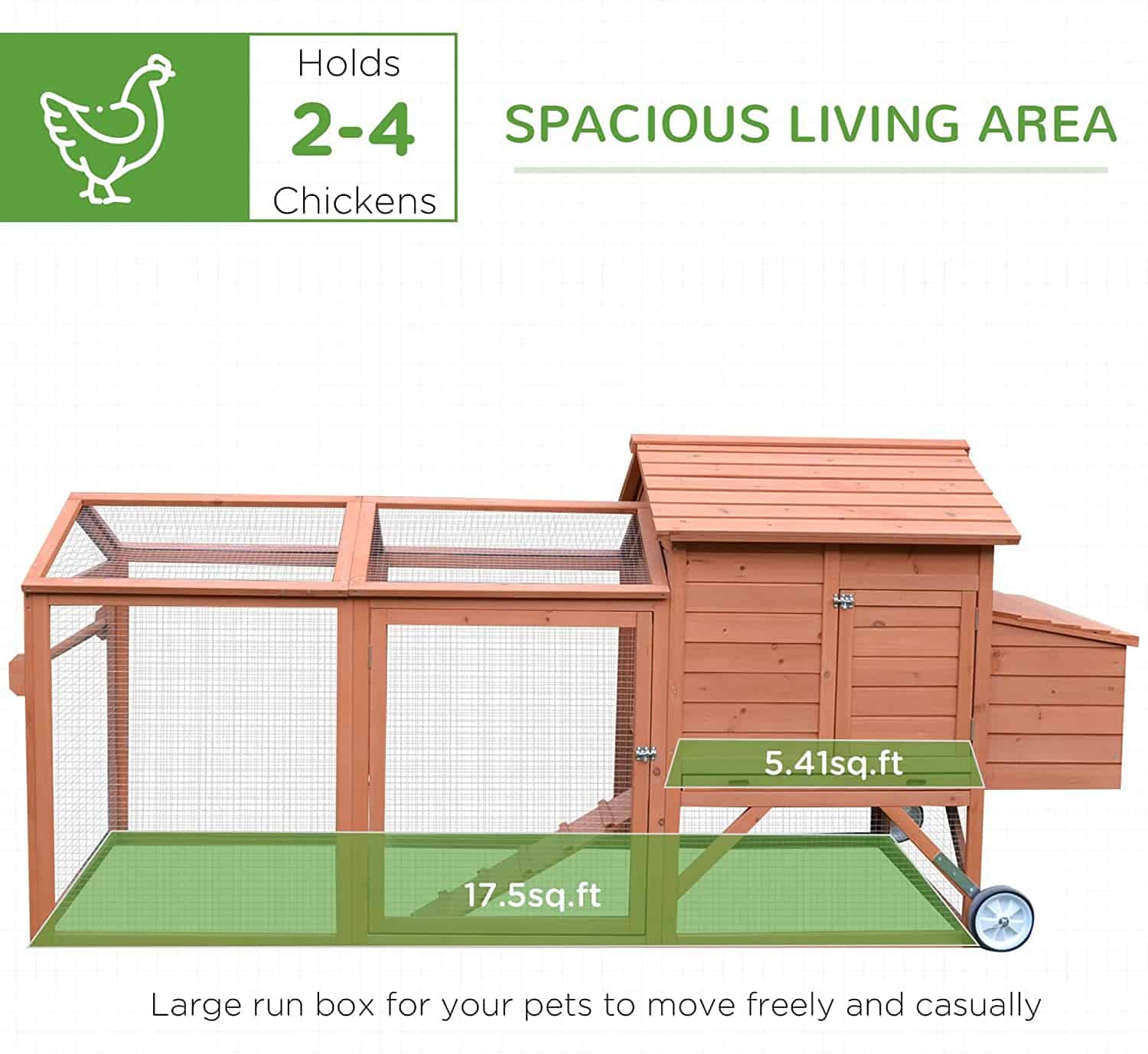 Many chicken coops have sloped roofs that let wind, water, snow, and fallen leave slide off. EcoFlex has a single sloped roof that could be a disadvantage. But the roof pulls off when you need to clean the coop. This is an essential feature because the coop doesn't have a sliding tray or any outdoor space. So this coop only works if your chickens are free-range during the day.
The hen house is made of a special mix called EcoFlex, hence the name. EcoFlex is made by blending plastic polymer with recycled wood to produce an eco-friendly construction material that's waterproof, rust-proof, and corrosion-free. The plastic means your wood-imitation surface won't warp, attract fungus, rot, split, or crack. The coop floor is slightly raised.
This prevents run-off, rising damp, or burrowing pests from accessing your chicken coop. The nesting box also has a hinged roof that opens up and out for easy egg collection. The hen house isn't completely closed though. The back wall has ventilation slits in the top three rows of its siding panels. The chicken coop is covered by a generous 10-year warranty so you know its good.
Pros:
It's made of recycled wood and polymer.
The roof comes off for cleaning.
This coop comes with a 10-year warranty.
Con:
The hen house doesn't have a chicken run.
6. Aivituvin Extra Large Chicken Coop
A lot of chicken coops can be used for other pets like rabbits or guinea pigs. And any designated rabbit hutches get repurposed into hen houses. But chickens do have certain needs that rodents don't. For example, this Aivituvin pet hostel does have a sliding tray. If you keep rabbits, the tray is ideal for providing the bunnies with consistently clean water. It's good for 2 or 3 rabbits.
But when you turn it into a chicken coop, the tray becomes a sliding depository for chicken litter. And you may have to perforate the floor above the tray. If the floor stays solid, the chicken can't reach the litter and it can't collect their droppings to ease your cleaning process. That aside, this chicken coop has two chicken runs and two ramps, so you chicken get lots of space.
The open-air sections are covered with waterproof mesh so the birds are well ventilated. The hutch has no perches or nesting boxes though, so collecting eggs becomes more cumbersome. That said, the house is made of fir wood and corrosion-proof metal. There's a removable PVC sheet on the outer floor, so the hens can run on grass or plastic depending on your preference.
The removable PVC at the bottom of this extra-large pet house makes it easier to clean because you can remove the plastic to clean it. Or you can hose it down in place. It fits 3 or 4 chickens.
Pros:
The coop comes with removable PVC flooring.
The hen house has pre-drilled holes so it's easier to assemble.
It has sloped roofs and a sliding tray.
Con:
This is a multi-pet house (it's most commonly used for rabbits) so it lacks a few key chicken-related features including perches and nesting boxes.
7. Esright Large Chicken Coop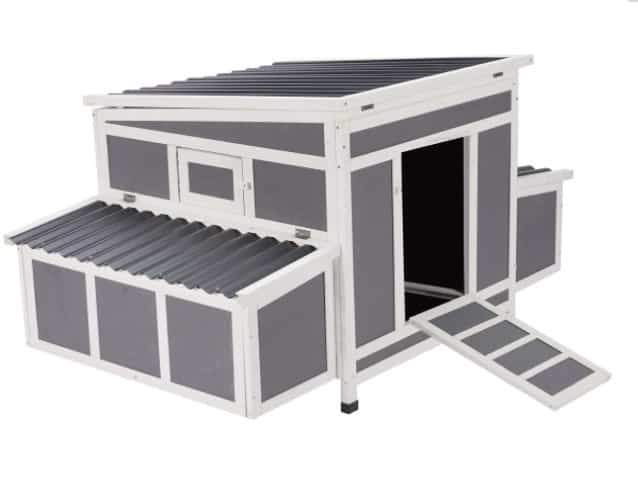 Wood is the most intuitive and traditional construction material for chicken coops. But if you don't want the fuss of maintaining wood, you can buy faux wood. It has a PVC base with wood patterns or colors printed on the plastic But this chicken coop from Esright is true natural wood. The gray paint helps protect the wood from moisture while adding style and aesthetic appeal.
The bottom of the living area has a pull-out sliding tray that makes it easier to clean and change your chicken litter. But the whole coop is covered with corrugated roof and there's no chicken run. So if you buy this for your hens, you'll have to keep them free range during daylight hours. Or you could buy an independent chicken run and install it next to your Esright.
The hen house has two nesting boxes with hinged roofs, and the main roof is hinged as well. All three ceilings pull open for egg collection and cleaning. The finish of the house is non-toxic varnish with UV protection. The hen house isn't entirely wooden though. Some sections are made of PVC board. The instructions are illustrated but have no wording, so heads up.
Esright hen houses come in pretty neutral shades with corrugated roofing. The coops are painted and finished with waterproof, weatherproof, UV-proof varnish.
Pros:
Esright can house 6 to 10 chickens.
It has waterproof, rustproof corrugated roofing.
The rubberized feet are raised off the ground.
Con:
The chicken coop doesn't have a chicken run included. Enright does sell one, but you have to order (and pay for) it separately.
8. Pets Imperial Monmouth Large Chicken Coop
Most of the chicken coops we've looked at so far had house-like silhouettes with gabled roofs and several levels that aren't quite stories. This model by Pets Imperial is boxier even though its dimensions aren't cubic. Only one corner of the hen house is covered wood.
The other three sides are metal mesh, making this chicken coop extremely airy. The covered section can house 3 to 4 chicken though, especially because it's mostly for sleeping. The side of the hen house has a covered nesting box with a hinged roof for easy collection. And the mesh sections of the chicken coop are reinforced to keep out possums and foxes.
The wooden parts of the hen house are treated to make them waterproof. The coop also has a sliding tray made of mesh. This makes it easy to maintain your hen house and keep it clean. You can pull the tray without harming your birds because the tray sits above a solid floor that stays in place while you clean. The asphalt roofs are sloped to let any precipitation or debris slip off.
This chicken coop is 75% open so it's ideal for temperate climates with lots of sunshine. But if your area gets a lot of rain or has prolonged winters, this may not be the best chicken coop.
Pros:
It has a uniquely boxy silhouette.
The coop has pretty wooden walls and green asphalt roofs.
The bulk of the walls are mesh so the coop is well-ventilated.
Con:
The covered space is small, so your chickens are probably over-exposed to the elements.
9. OverEZ Medium Chicken Coop
If anyone spots this in your yard, you can color them impressed. The compact coop stands 50.25 inches high and 52.5 inches by 62.25 inches. The sloping roof is hexagonal to match the six sides of your chicken tower. It comes off completely when you need to clean your chicken house, and it latches securely in place so it can't be blown off or wedged off by predatory wildlife.
The upper part of the chicken coop has a sliding wooden door that slides across a mesh window, allowing fresh air into the hen house. The lower section of the hen house has a wall that opens into a ramp and closes into a solid section. This structure means there are no gaps or crevices where wildlife can sneak in. The whole tower is raised off the ground for added safety.
The walls are painted a pretty reddish-brown with white trim while the roof is dark gray asphalt. Natural fir wood is used for the floor and walls. This wood resists rot and insects so it's a popular material for chicken coops. The back of the house holds a nesting box with perches and a hinged roof. But the house is smaller than it looks and can only accommodate 10 chickens.
You're often warned not to sacrifice style for substance. This chicken coop has a healthy dose of both. It's weatherproof, pest-proof, and looks great in your yard. It's on the smaller side though.
Pros:
The gazebo silhouette adds visual appeal to your yard.
Meshed windows with sliding wooden doors offer adequate ventilation.
The ramp slides up, keeping the hen house compact and safe from predators.
Con:
The tower layout is gorgeous but it has no room for a chicken run.
10.
POTBY 41" Chicken Coop
This chicken coop follows the traditional styling of hen houses, with fir wood walls and asphalt roofs. The house has three doors so it's easy for both you and your chicken to navigate the house. The sliding tray is easy to clean and reload while the nesting box has a hinged roof. It takes about half an hour to assemble this chicken coop. You'll probably need a video demo.
The house is about 52 inches tall and 40 inches wide. Its lower half is made of galvanized mesh in wooden frames. So your chickens have lots of fresh and air and free running room. The doors have beautiful dragon-fly-shaped locking latches. And the main living area has both wooden doors and mesh doors so the whole space has a free flow of clean air and no nasty smells.
The hen house has a ramp to let the chicken in or out, but it doesn't have any perches inside the sleeping area. You may have to jerry-rig some of you want to increase the comfort of your chickens. The interior is wide open though, so there's plenty of space for chicken feeders and watering troughs in case your hens prefer to dine indoors. Note that the '3rd door' is the nesting box roof.
Potby chicken coops look great and provide safety and comfort for your poultry. But without perching spots, the hen house can get exhausting, so consider putting some in.
Pros:
The hutch has three doors for easy access.
It has a pull-out tray to ease hygiene.
The Potby chicken coop is made of natural fir wood.
Con:
The house has no perches. But you can easily mount some in the wide-open interior.
What to Look for When Buying a Chicken Coop?
The best chicken coop for your needs will depend on the size of your yard, the number of chickens you're keeping, and your general living conditions. Let's take a closer look at the factor that should influence your search. Remember, the most important rule is to avoid overcrowding. Your chicken coop also needs lots of ventilation to diffuse potentially oppressive chicken smells.
Accessibility
This is both for you and your chickens. If you're keeping your chicken for eggs, you'll know every chicken lays an egg every day in optimum conditions. So you need an easy, quick, convenient way to collect your eggs. This might mean getting a coop that opens from the top so you can easily get your hands in and out. Or it may mean buying a hen house with a sliding tray.
This lets you slide out the box to collect eggs. (Some hen houses have sliding trays for chicken waste as well.) As for the chickens, giving them accessibility might mean setting up a ladder or stairs to let them climb into their covered sleeping area. Or it may mean having an open-air chicken run so they can get enough sunlight and exercise. Runs also reduce overcrowding.
Construction Materials
Most chicken coops are made of wood or plastic with felt roofing and rust-proof mesh netting. These materials may have to be treated for specific conditions. The wood should be pressure-treated or painted to make it waterproof. Otherwise, the wood may warp or rot when it rains. It may also develop fungi and termites, and attract pathogens that could infect your chicken.
At the same time, you need a sturdy but lightweight material that can withstand the weight of your chicken. It should be firm enough to support multiple stories because the best chicken coop is elevated to avoid pests and rising damp from the ground below. You might also want materials with UV coating or powder coated color to give your chicken coop a longer lifespan.
Style
The most important shopping feature is size because you don't want to squash your chicken. Overcrowding could lead to stress, aggression, and ill-health. But there are lots of ways to achieve sufficient spacing. You could use ladders and staircases, or you could get a stackable modular chicken coop. These practical requirements ill influence the coop's design and style.
Yes, the coop will be in your backyard, so passers-by won't see it. And as far as we know, chickens aren't affected by fashion. But you don't want an eyesore that will bug you every time you're in the back yard. Get a coop that suits your aesthetic tastes. But don't sacrifice practicality for style. Your fancy chicken coop should still be affordable, easy to install, and easier to clean.
Watch that Chicken Run!
Given all these factors, we believe the best chicken coop is Best Choice Products Chicken Coop. Here's why:
The whole thing is made of wood, even the roof.
The timber used is waterproofed fir wood.
Best Choice has a sliding litter tray that's easy to clean.
The large coop is 80 inches long and 51 inches high.
It can comfortably accommodate 4 chickens.
The roost has a sliding wooden window.
The nesting box has a hinged roof for easy egg collection.
The doors have a metal locking loop.
What kind of coop is in your yard? Show us a photo in the comments!