Humans bred chickens for their meat and eggs for centuries. And so is the heritage chicken breeds that have been around for a very long time too.
Suppose you're looking to keep chickens in your backyard. In that case, you may be surprised to find an incredible selection of varied chicken breeds. But, what is our reason to breed chickens?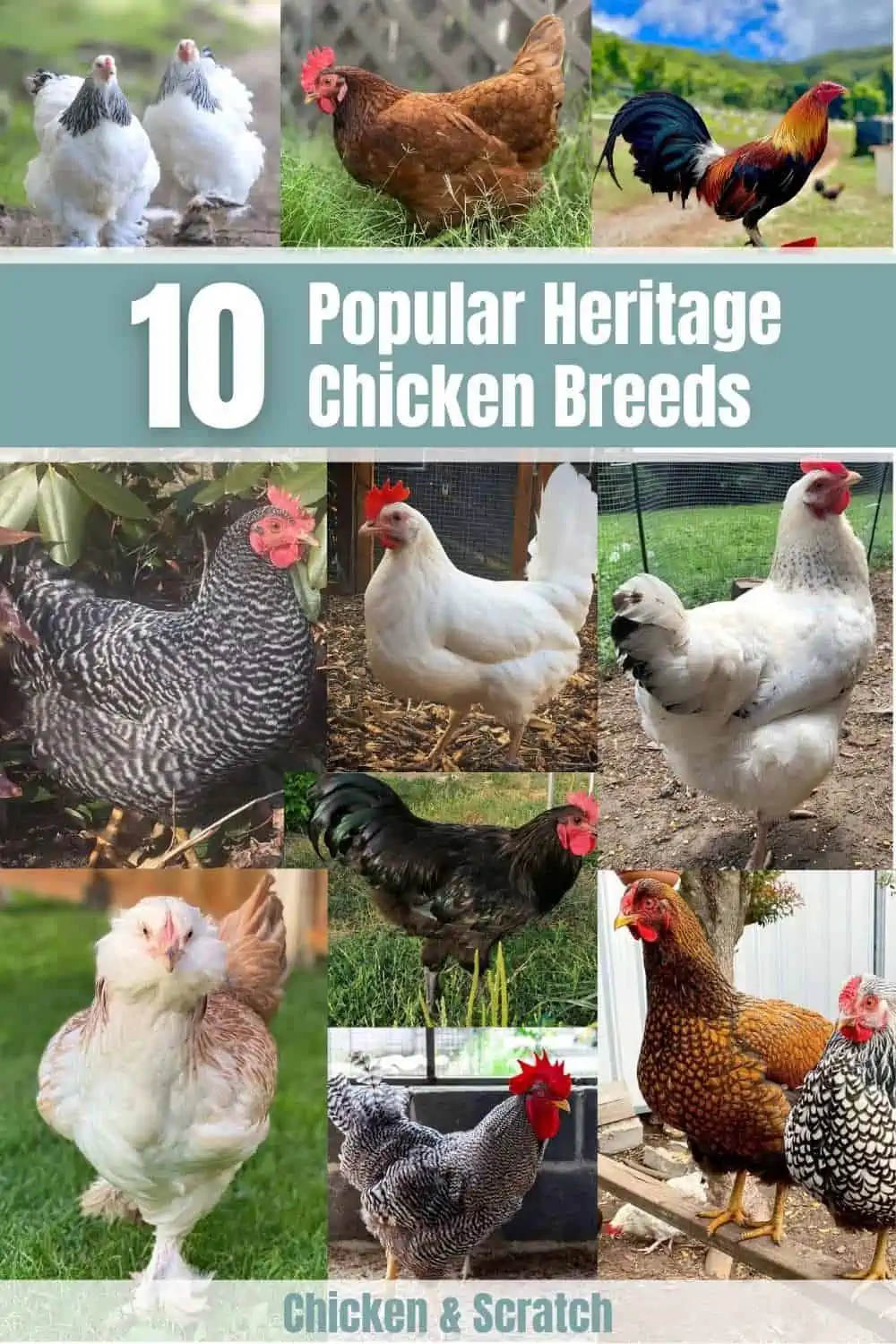 What Is A Heritage Chicken Breed?
Chicken raisers rely on several factors to breed fowls. Are you raising poultry for exhibition or show, or is it for egg or meat production? You need to be clear on the purpose of your intention to breed chickens. However, heritage chicken breeds are always the best choice for your coop.
Heritage breed means they are the variety that our ancestors raised. They exist even during our great grandparents' pen.
Fowl breeders recognize the value of heritage chicken breeds for generations. These breeds have been with the farmers, backyard raisers, or breeders for a long time to confirm these unique features of heritage fowl breeds.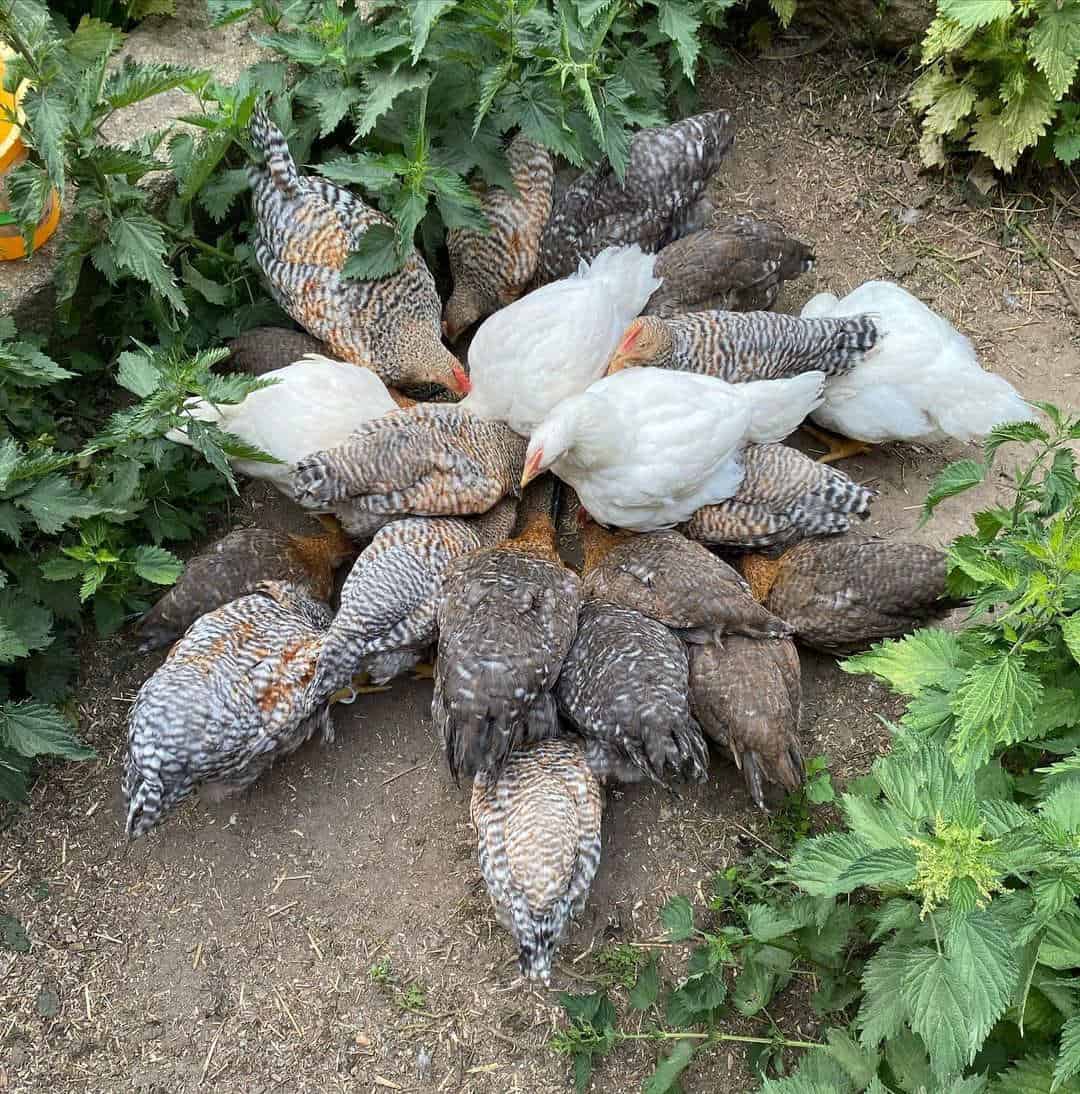 Genetically Stable
Heritage chickens can breed chicks true to the variety. They can produce naturally, so they're also inclined to broodiness. Broodiness is when a hen needs to incubate and hatch their fertile eggs.
Because they're genetically stable, they can't be hybrids. It's because hybrids don't produce true offspring.
Dual Purpose Breed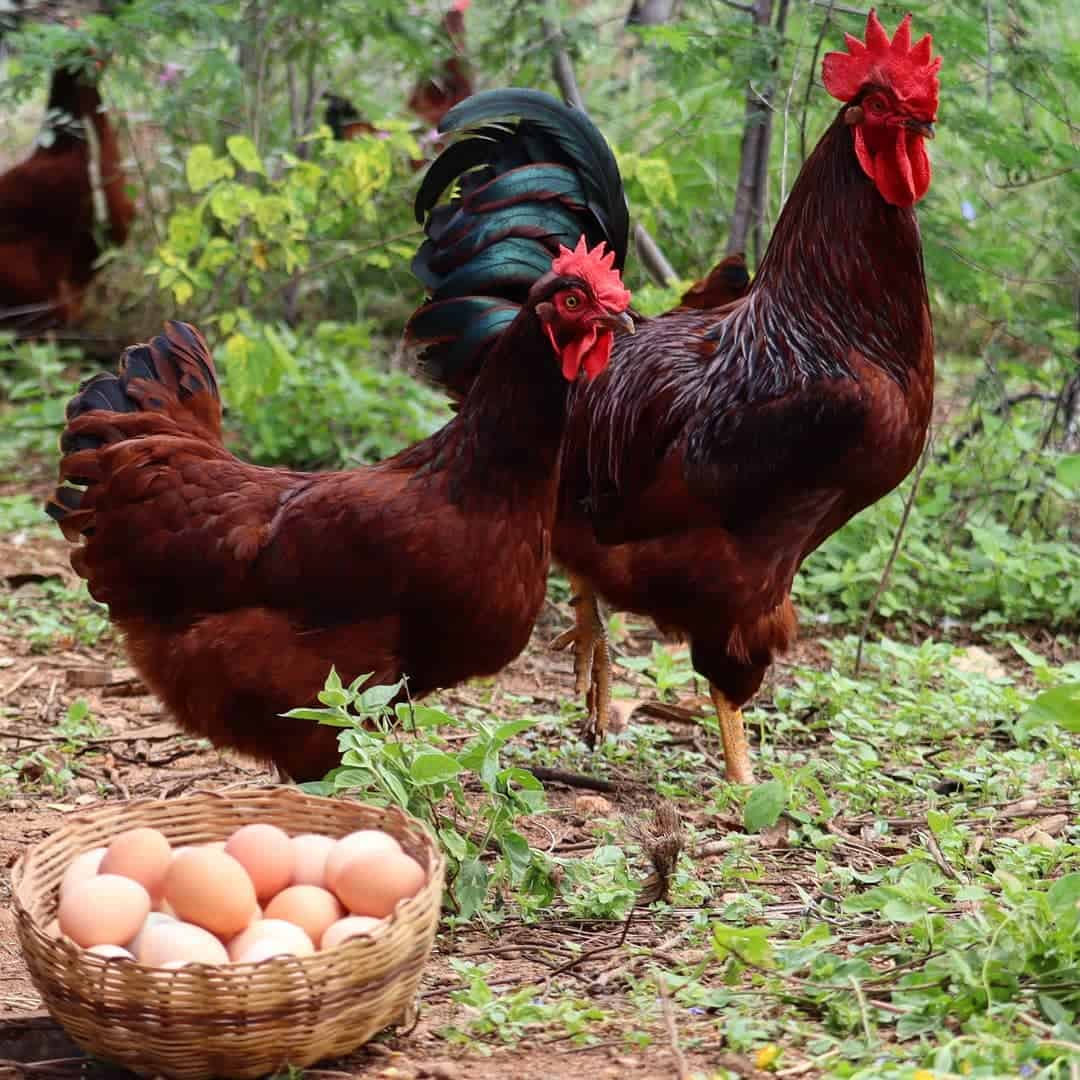 Fowls that are great in egg production don't usually have great-tasting meat. However, heritage chickens are both fantastic in egg production and sumptuous meat. It's because heritage birds are not genetically engineered. While these birds were bred for their eggs and meat, many breeders keep them at present for ornamental reasons.
Outdoor-hardy breeds
Heritage chickens can survive outdoors in standard climates because they are hard breeds. That's why for many generations, these birds have been favorable to farmers.
So, if you plan to breed a heritage breed of chickens, here is the complete list of poultry you might want to check out.
1. American Game Fowl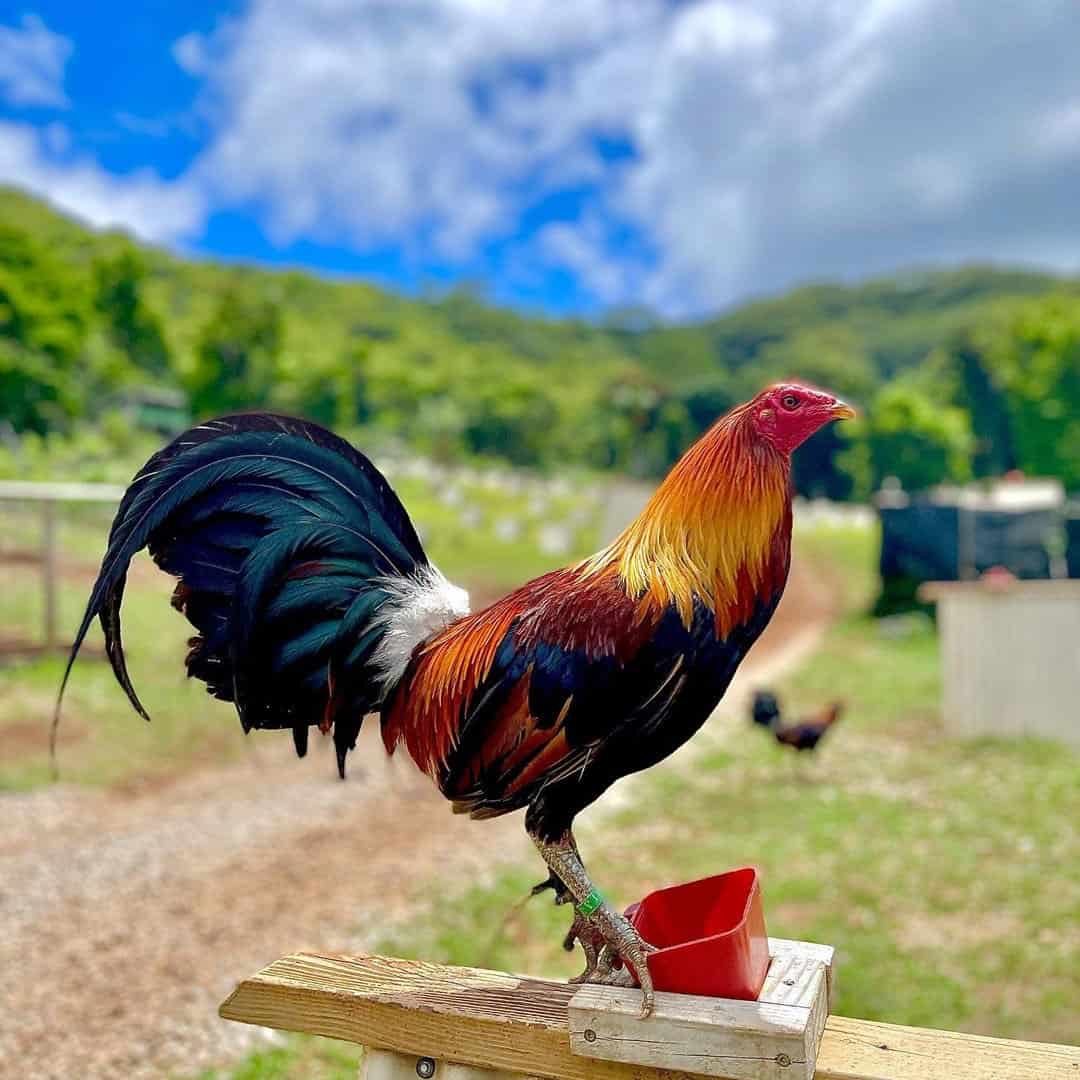 The American Game chickens originated from several European and Oriental game fowls but originated in the US. Their kinds or types contain Old English, Irish Game, and Oriental Gamefowl. At present, other game fowls have the Sumatra strain or Spanish breed.
Though it's once bred for cockfighting, it's also produced for other purposes. They are more popular as ornamental birds.
You can find the American Game in several different colors coming from several other breeds. That's why they are one of the most gorgeous fowl breeds. Some of the colors most commonly seen with these chickens are black, brown-red, black-breasted red, blue, white, gold, red quilt, pumpkin, golden duckwings, silver duckwings, etc. Most American Games have red-colored earlobes, wattles, and comb. The comb can be single and pea comb and with a mixture of each.
The hens can be broody because they are superb caring mothers. These hens have medium-sized white or cream-colored eggs.
A young American Game rooster that is less than a year old to one year is a stag. 13 to 18 months is a bull stag, and a fully grown rooster of 18 to 24 months and more senior is a cock. A young hen of less than a year is a pullet.
2. Leghorns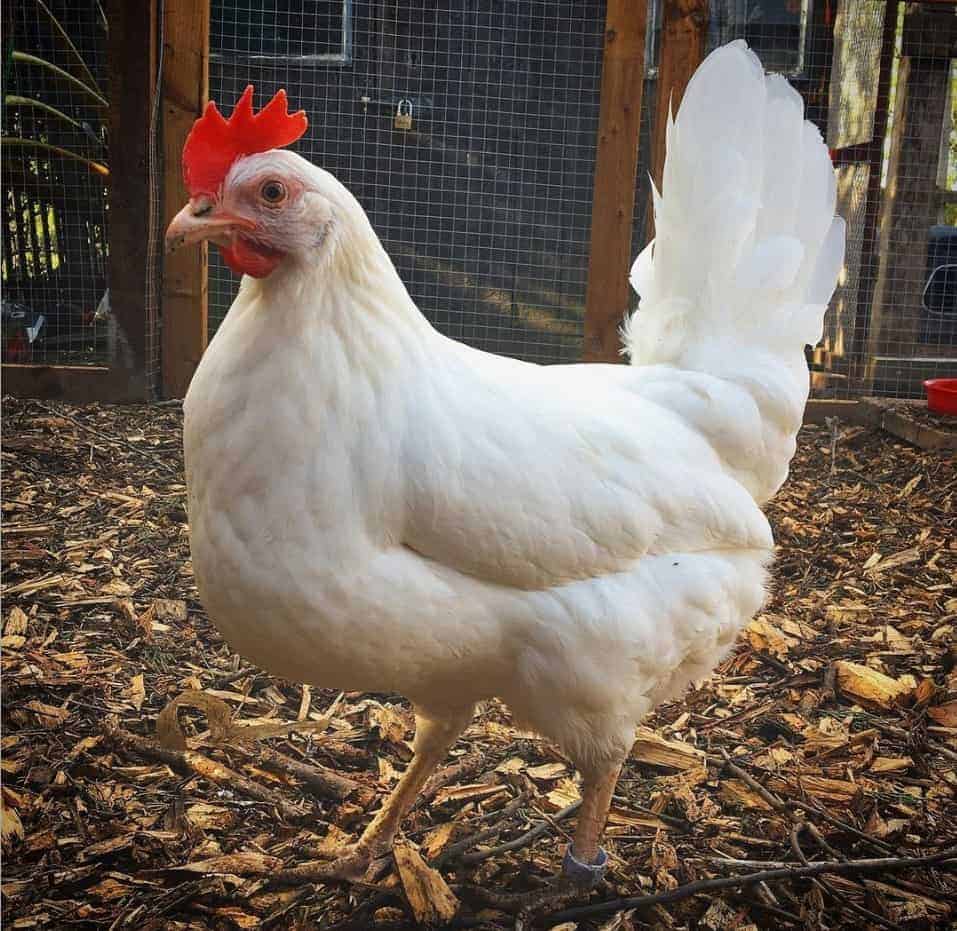 White is the color most people think when you say Leghorn. So, it would be a surprise to know that these fowls come in varied colors.
Leghorns have red wattles with a single or rose comb, which is also another shocking fact. The US purposely bred this breed of chickens with rose combs to manage the severe winter season as the single combs couldn't handle the cruel winters of the states in the north.
They have yellow skin, legs, and beaks. But their eyes are red or orange. In general, leghorns are glossy, long, sleek. It's their single comb that makes them look odd and funny.
This breed of chickens is excellent for white egg productions as well. They are great scavengers, so they're good at free-range environments and big spaces. These fowl are flighty around people they are unfamiliar with because they're independent birds. More so, the roosters are very protective of their hens.
These fowls are not suitable for pets and are not appropriate for kids to play with. Many people call them unfriendly, but they are purely independent and don't appreciate close contact with humans. Be careful on holding or picking them up. So, they're not a good recommendation for beginners.
3. Plymouth Rock
Plymouth Rock chickens are lovely for their eggs and meat production. Also called Barred Rocks or Rocks, Plymouth Rock originated in the US. But its development was in New England in the mid 19th century, and its first exhibition was in 1849 as a breed.
These fowls live long, have a larger size, and are hardy. A mature Rocks can weigh up to 8 lbs and the hen around 7.5 lbs. Breeders keep some of the strains of the Rocks for their meat while others for their eggs. The strain is one of the factors in egg production. But hens lay around four eggs in a week on average.
Barred Rocks chickens hold a long broad back, and they have an average deep whole breast. The deep and full abdomen of the hens is a good sign that it's a good egg later. Their skin and leg are yellow, and the latter has no feathers.
Plymouth Rock has several colors like the barred, black, blue, buff, Columbian, dark barred, light barred, partridge, silver penciled, white, and many more. They have short but a bit loose feathers that don't tangle easily.
This chicken strain has downy and soft bottom feathers like baby chicks. This fowl has a red face and ear lobes with bay-colored eyes and a bright yellow beak. They also have a single comb that is average in size.
4. Holland Chicken
White Leghorns, Lamonas, Rhode Island Reds, and New Hampshire crossed and created the White Holland Chicken that originated in the US. The Rutgers Breeding Farms, around the 1930s, developed the Holland Chicken in New Jersey. The Barred variety of Holland crosses Barred Plymouth Rocks, White Leghorns, Brown Leghorns, and Australops.
These medium-sized chickens are seriously a dual-purpose breed. Holland has two varieties recognized: Barred and White.
This strain is weighty with a meaty body. It has a bright red single comb, and the earlobes and wattles are red.
The skin color depends on the variety. The White type also has white skin, while the Barred has yellow skin and legs.
The standard size for this breed is 3.9 kg for roosters while 3 kg for hens. Bantam roosters are around 0.9 kg, and their hens are around 0.85 kg.
5. Rhode Island Red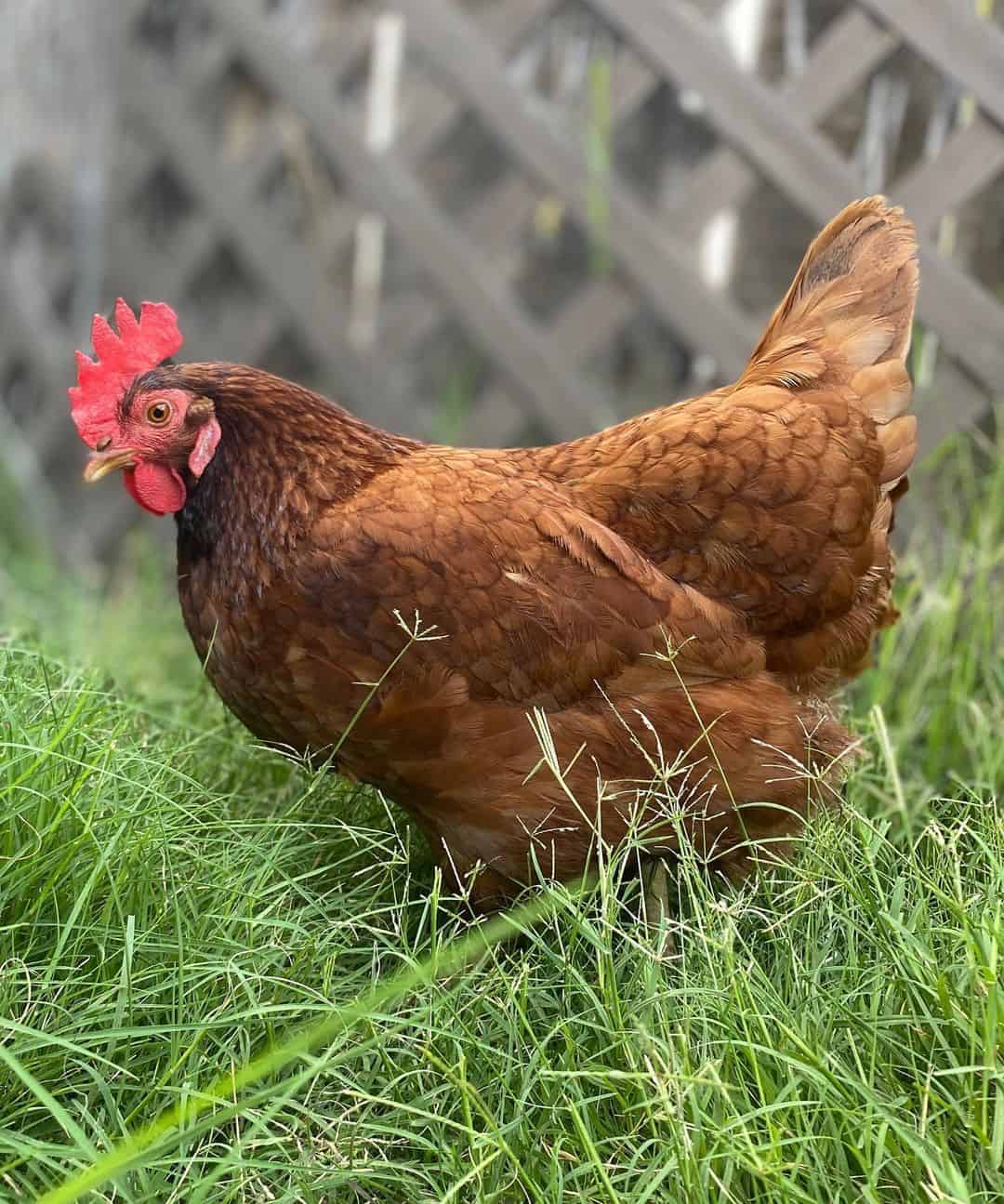 In the mid-1840s, Adamsville, Rhode Island, and Massachusetts developed this American dual-purpose fowl breed Rhode Island Red. But, the breed comes from Malay, so it has its deep color, hard feathers, and sturdy composition. The early group had both rose and single comb.
England imported a black-breasted red Malay cock that was one f the foundations of the Rhode Island Red fowl. At present, this breed is popular in the development of several modern hybrid breeds because of its fertile egg-laying abilities.
This strain is one of the most popular backyard coops. These chickens are excellent for their egg and meat but are also outstanding show birds. Their egg production is impressive, and they are most famous for their hardiness.
It's also the best recommendation for small breeders. They're one of the breeds that are excellent in egg production and as ornamental birds.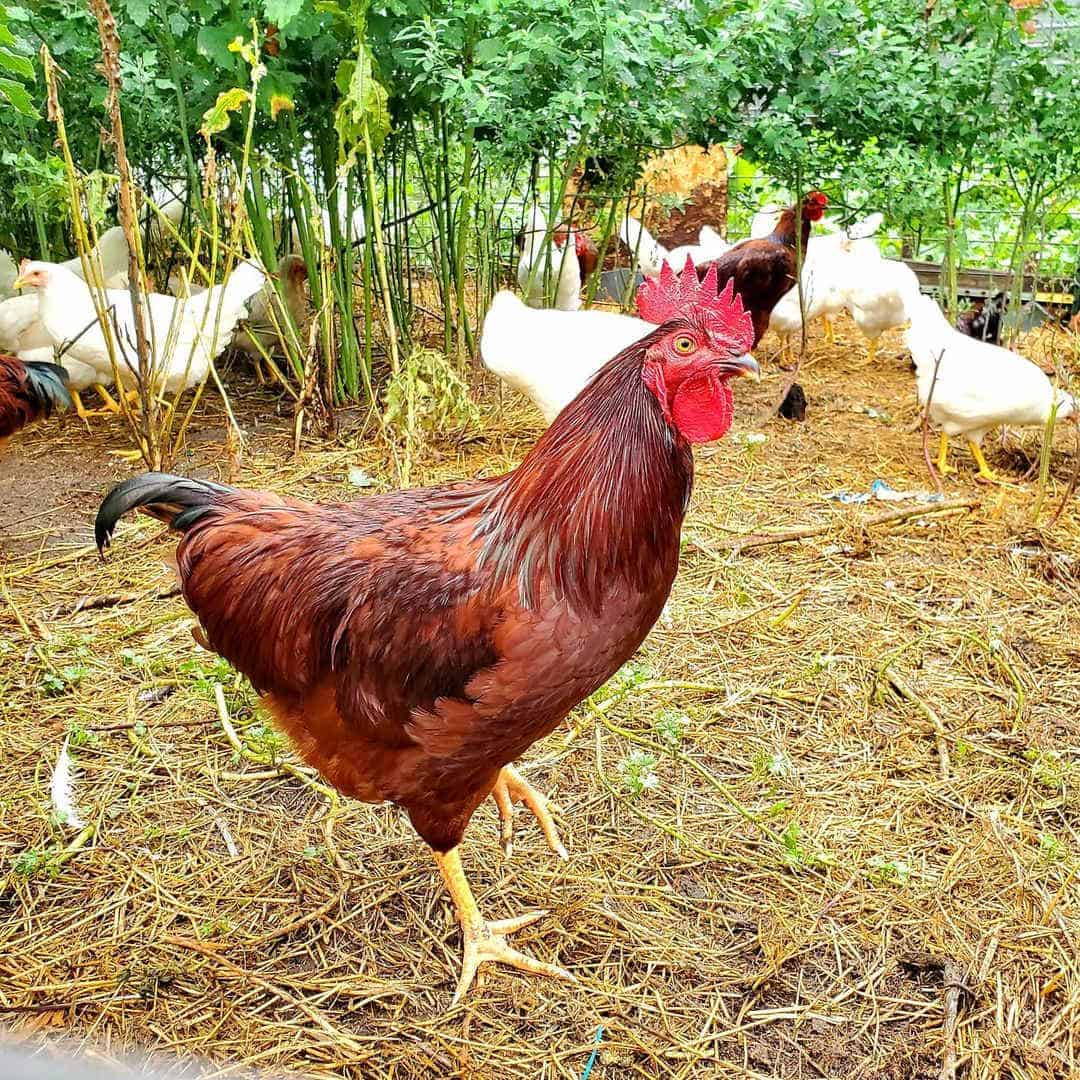 These fowls are also famous for being hardy and the best egg layers from the dual-purpose breeds. They can continue to lay a lot of eggs even in poor environments and deprived diets. These chickens can manage those conditions well.
Most of them are dark red in color, with red-orange eyes and reddish-brown beaks. Their feet and legs are both yellow with red on the toes and sides. They also have long rectangular bodies with yellow skin. These fowls' feathers can be rust-colored or bordering in black.
The chicks of this strain are tan to light red in color. The rooster weighs around 3.9 kg, while the female is about 2.9 kg.
6. Wyandotte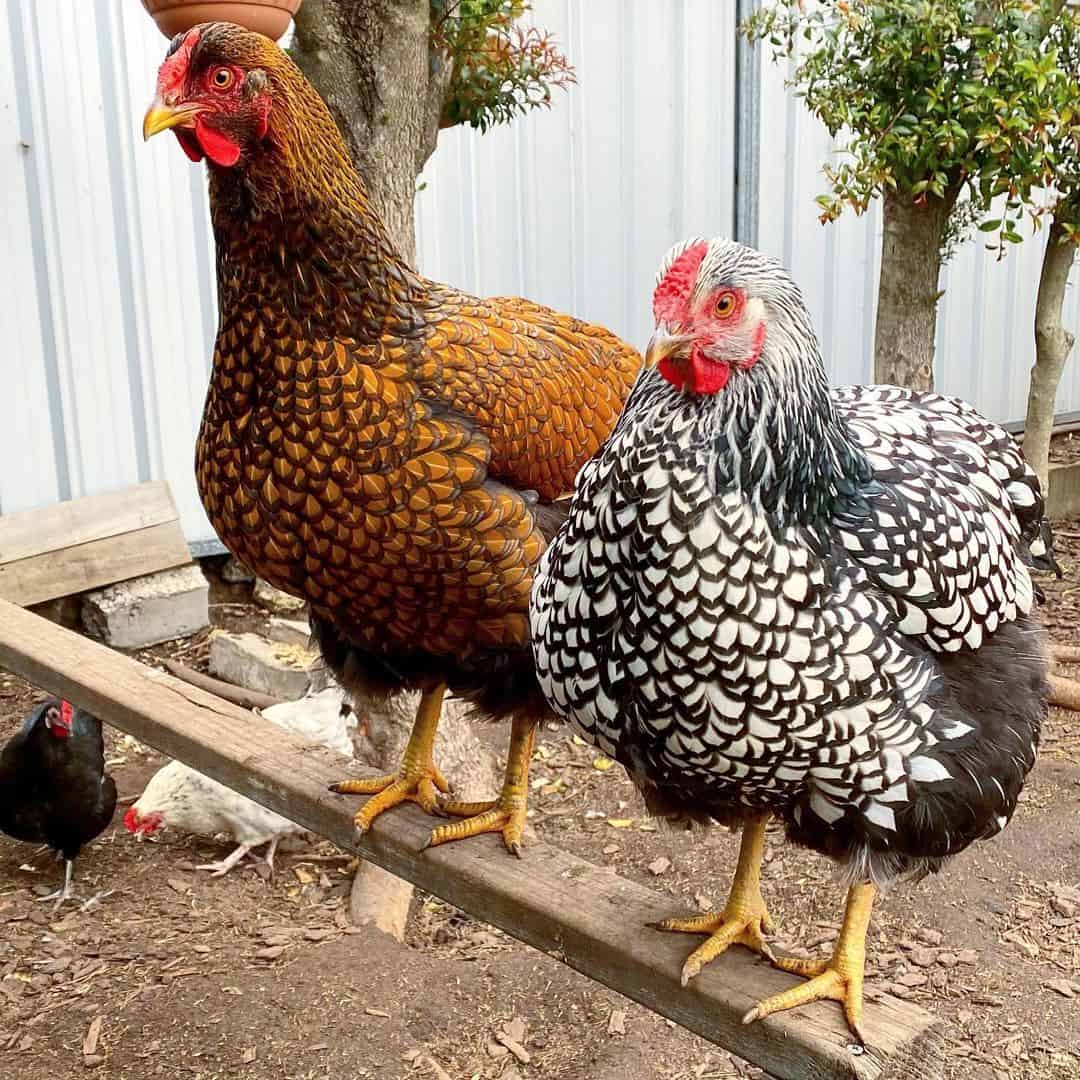 Wyandotte chicken breed is not a pure breed that originated in the 1870s in the US. This breed is a cross of Cochins and Sebrights. Still, experts also believe that Brahmas and Spangled Hamburgs are also contributors.
This strain is dual purpose and is also a notable egg layer. These chickens have different colors that make them one of the most attractive fowl breeds. It's their noticeable and distinct plumage that makes them stick out like a sore thumb.
The most famous and common color for Wyandotte is silver laced. It is also the original type of this breed. Around this chicken's neck is a white ring of feathers.
Wyandotte hens are dedicated mothers, and in general, these chickens are docile. They are very hardy that survive in winter because they can manage low temperatures very well.
The feathers of Wyandotte are loosely fitting, broad, and splendid. The bottom is very fluffy, and they have long legs and a rose comb. Their comb and wattles are deep red. The most popular colors from the 17 colors are golden laced, silver laced, black, buff, partridge, blue laced, lavender, pure white, silver penciled, etc. Wyandotte is medium-sized that weighs around 8.5 lbs for roosters and 6 lbs for hens.
7. Delaware
Delaware is one of the contemporary breeds developed around 1940 in Delaware, USA. They are also on the list as critical on the American Livestock Conservancy.
The purpose of developing this breed is to continue exceptional egg production plus superb meat. For a short time before, it was famous as one of the best dual-purpose breeds. Cornish replaced Delaware hastily in the 1950s as its popularity declined.
It is becoming popular again in small farms because of its great dual purpose with its great meat and around 280 eggs a year from its hens.
They are also winter hardy but not heat hardy. The hens are good setter and also broody. In general, Delaware chickens are calm and friendly that can manage confinement well.
8. Brahma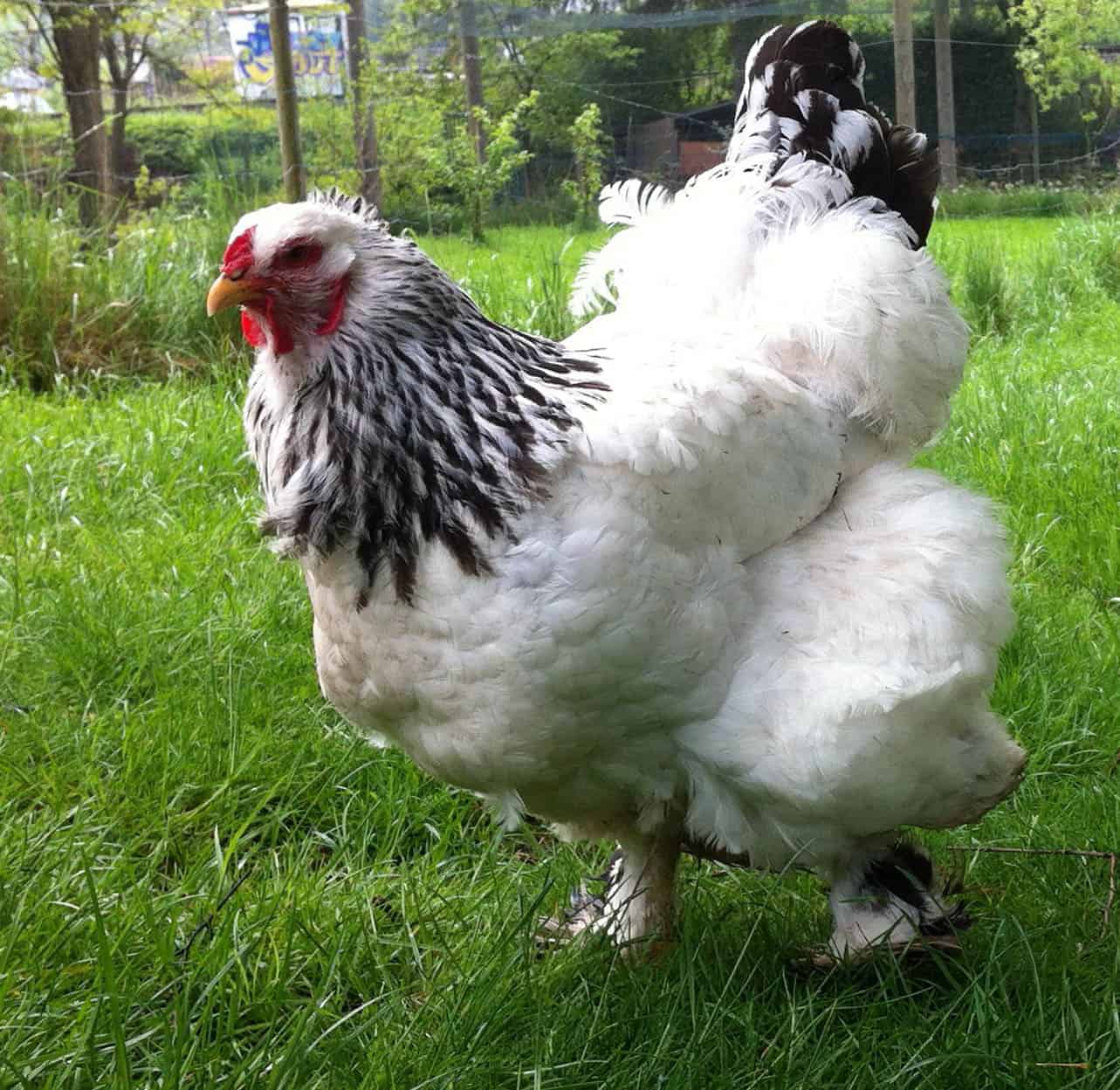 The United States developed Brahma chicken from the giant breeds in Shanghai, China. But, it has a substantial dispute on its origin. It is one of the large fowl strains made in the US.
This Asiatic chicken variety was the primary meat chicken breed from the 1850s to around 1930 in the US. At present, breeders raise Brahma for their meat and their egg-laying abilities and ornamental purposes.
The distinctive shape of its head and pea comb results from the cross-breeding of Chittagong chickens.
George Burnham gave Queen Victoria a gift of nine Gray Shanghai in December 1852. It is the first import of the Brahma chickens to England. Later the US imported the Dark Brahma developed by The English breeders.
There's also one consideration of the origin of Brahma chickens coming from India. The name Brahma comes from the river in India called the Brahmaputra in India.
Brahma birds are a dual purpose. More so, they're also hardy, large, but attractive chickens. These chickens look like they form a V when they're standing. This breed has very sturdy feet with a large head and an upright posture.
These chickens are hardy winter birds as they can get used to all types of climates themselves. They have a pea comb, and the plumage of this fowl is usually tight.
The Brahma eggs are brown in color and weigh around 55-60 grams. An adult male Brahma weighs approximately 5.5 kg, while then hen weights about 4.5 kg.
9. Black Australorp
The Black Australorp is a breed from English Black Orpington developed by Australian breeders in the early 1900s. The US imported this strain around the 1920s, and the American Poultry Association acknowledged it as a standard breed in 1929.
The Black Australorps are gorgeous, large, and heavy, with well-formed breasts and deep bodies. They have an upright body position and soft feathered that are close-fitting.
These chickens hold their packed in tails high and are broad from their shoulders to their saddles. What is more attractive to this type of chicken is its bright red face, black feathers with a gleam of green.
What's more, is that they have single combs that are always upright with their red wattles. Black Australorp doesn't have more than seven serations in its combs.
There are no feathers on these chickens' faces, so it's smooth. Their beaks are dark with black eyes, and their legs are either slate-blue grey colored or black. Australia's underside of its feet is white.
The male Australorp weighs around 8.5 to 10 pounds. And a large hen weighs approximately 6.5 to 8 pounds.
Australorps are heavy, docile, and productive in their egg-laying skills. So, they are a good recommendation for beginners, and many backyard fowl raisers like to breed them.
10. Faverolles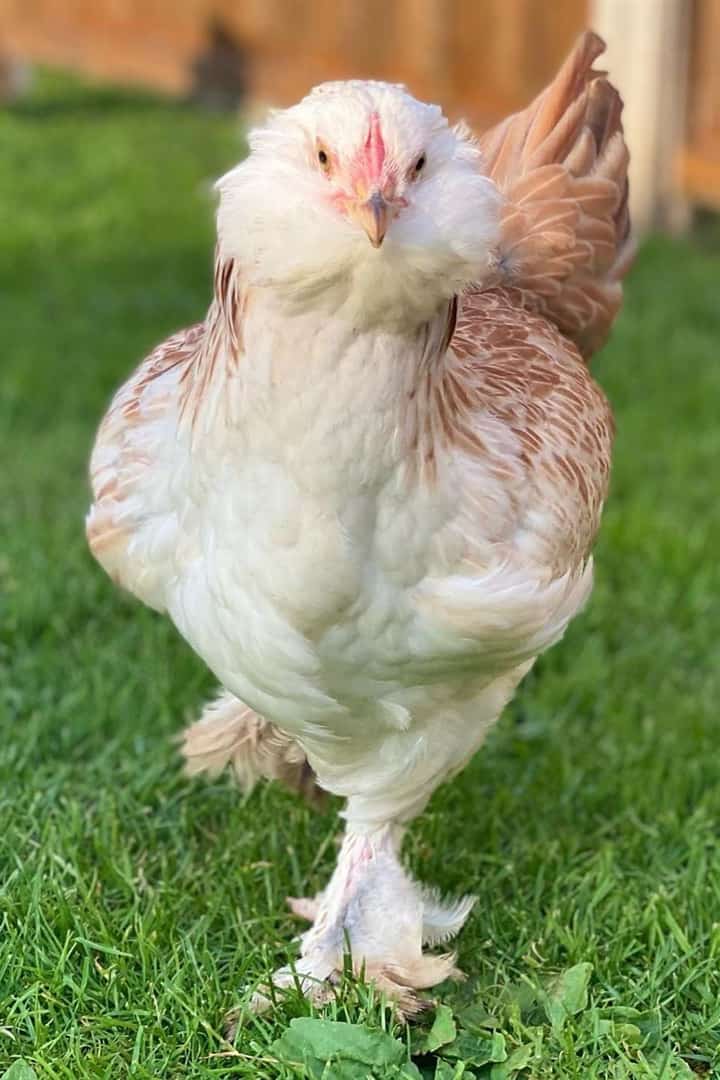 Faverolles is an adorable breed of chicken that comes from Houdan and Faverolles in France in the 1860s. Though breeders raise them for their uniqueness and ornamental purpose, this fowl breed is now also famous for its dual purpose. And to develop this strain, there were many chicken breeds used.
The UK imported Faverolles in 1886, and then it reached the US in the early 1900s. There might be a lot of different colors of this breed.
Still, the American Poultry Association's Standard of Perfection didn't recognize any of it. However, in 1914, they accepted the most common color, the Salmon variety, and the White variety in 1981.
The development of Faverolles from Brahma, Cochin, Coucou de Rennes, Crvecoeur, Dorking, and Houdan is or the main purpose of meat production. But, they are also exceptional in egg production.
This fowl has a beard, feathered shanks, muff, and rather than the usual chicken's 4 toes, Faverolles have a 5th toe. These chickens are large-sized as well. For the Salmon variety, its plumage is brown and creamy white.
Black, cuckoo, blue, splash, and ermine are the other color varieties of this breed of chicken. But the roosters have darker colored feathers such as black, brown, and straw.
This French chicken has tiny wings, and its single upright comb is medium-sized with five points and no serrations. Faverolles earlobes are red, skin is white, and eyes are reddish. Their neck is short and has no wattles, or if it's there, it's almost invisible.
Male chickens are grand and enormous, weighing approximately 5 kg and weigh about 4.3 kg. The chicks have muff, fuzzy legs, and creamy white in color. The eggs are pinkish or light brown.
Final Thoughts
When you want to start food production in your place, chickens are the easy way. More so, it's so good to have our very own organic eggs and meat.
It's your personal choice what breed works best for you. Set your priorities on the breed. Do you prefer a docile but friendly chicken that can be an excellent pet for your kids? Or do you want to raise these birds mainly for their meat or egg production or both?
You can also opt for dual-purpose strain from the heritage chicken breeds. More so, it is also crucial to take note if you can provide a free-range or a confined environment for your feathered friends. Even the feather colors down to the egg-laying abilities of the flock have a massive influence on your decision to raise a particular breed.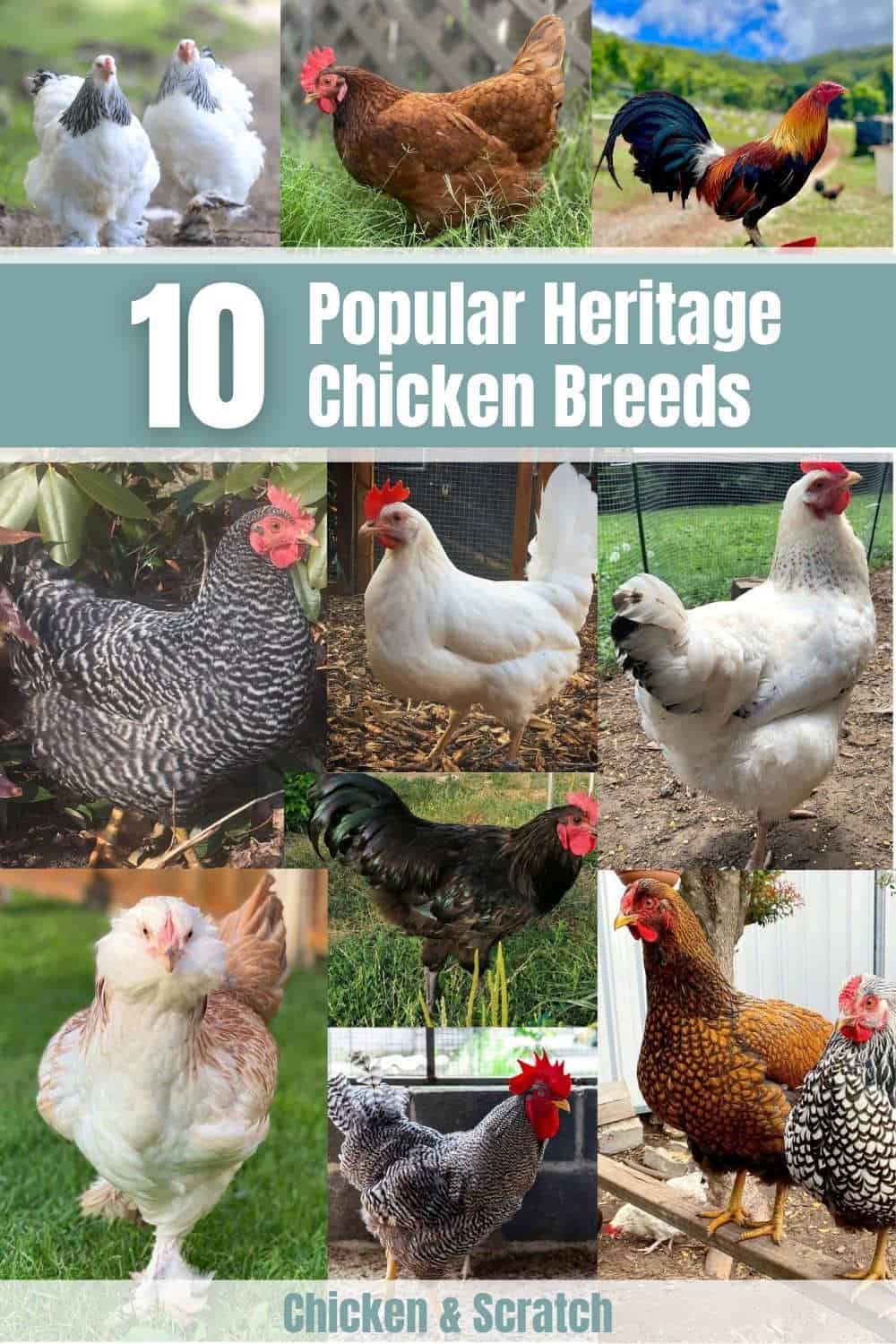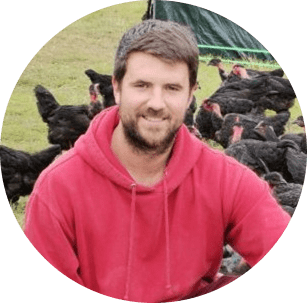 Joseph Hudson has been raising chickens for over 15 years. In 2018, he completed the Agriculture & Natural Resources program at Mt. San Antonio College. He currently raises over 1400 chickens on his 7.5-hectare farm. He keeps sharing his experience on raising healthy and happy chickens on Chicken Scratch.