Some domestic chicken breeders prefer to do things the old-fashioned way. They keep free-range chickens and toss birdseed in the yard by hand. But if you'd like to rear your chicken more efficiently and ensure they get enough nutrients, you need an effective chicken feeder.
In many cases, chicken feed spills onto the floor. It can attract pests and pathogens. But it's also a waste of resources. So what's the best chicken feeder to prevent waste? Let's look at some top feeder styles and brands, then we can help you decide on the best selection for your yard.
1. Harris Farms Free Range Chicken Feeder to Prevent Waste
If you're a fan of suspended feeders, this model is the best chicken feeder to prevent waste. It comes with a thin metal handle that makes it easy to shift your feeder around, whether you're filling it, cleaning it, or moving it to a more convenient location. The handle is also a good anchor for hanging your chicken feeder. Its base is nearly 11 inches in diameter.
It has a pretty white reservoir and a green base that twist-locks into position. The top of the reservoir is open, allowing food to flow faster and more conveniently. But it also lets pests and pathogens into your chicken feed, so that can cause problems. But it does make the feeder easy to maintain, so that's a plus. The base is wide to let many chickens feed at the same time.
That broad base can feed between 5 and 15 hens. It also has a feeder ring on it. This ring prevents chickens from scratching at the food and splashing it out, causing mess and wastage. The feeder weighs 12.6 ounces when it's empty and stands about 10 inches high. You can keep it on the floor, but it works best when it's hung because of the open-top and potential tipping.
Harris Farms have designed a simple feeder that fills quickly, cleans easily, and holds a good amount of chicken feed. Keep it suspended for best results, and clean it regularly.
Pros:
The feeder has a convenient handle for carrying and hanging.
It holds 10 pounds of chicken feed.
It can feed 5 to 15 chicken.
Con:
The open-top might let pests and contaminants get into the feeder.
2. Grandpa's Feeders Automatic Chicken Feeder
Metal feeders generally last longer than plastic ones. Especially if it's a treadle feeder because your chickens constantly step on it as they eat. This model has a textured treadle to prevent slipping. The lid is weatherproof. It only opens while the chicken is eating, so it won't spill or waste any food. It also won't let any dirt or pathogens in, so it's healthier for your chicken.
The steel is galvanized to resists rust and corrosion, and the feeder is extra-large, holding up to 20 pounds of birdfeed. The trough section is covered by a metal grid to prevent your chickens from scratching and spilling food while they eat. This simple design tweak drastically lowers wastage. And because of its treadle feeder, chickens can feed on demand, cutting waste even more.
The manufacturer offers a 24-month warranty and 100% money back during that period so, in case of flaws or challenges, you can reach out to them. This model has been on the market for over 20 years and it's still a firm favorite, so it's a good buying choice. This version has been updated by adding side plates and a bigger opening. This helps prevent spillage from the sides.
Grandpa's chicken feeder is sleek and shiny, with lots of useful features packed into it. The side guards prevent accidental opening because your hens have to stand directly on the treadle.
Pros:
It's made of durable galvanized steel.
The feeder can hold 20 pounds of food.
The lid is waterproof and spill-proof.
Con:
The lid is flat when it's shut so chickens sometimes perch on it and prevent their chicken siblings from eating. You may need a no-roost cone to avoid this.
3. Miller Galvanized Chicken Feeder
You may assume hanging feeders must be plastic because of the weight factor. Metal is way heavier than plastic, so if it's going to float above your chicken pen, it needs reinforced construction. And Miller has done this well. Their chicken feeder weighs a bit over two pounds while empty, but its handle is strong enough to support its mass. It has a base diameter of 12".
It only stands 10 inches high though, so if you choose to leave it on the ground, it's less likely to tip. The base has wire grills to prevent your chickens from scratching at the food and tossing it out on the floor. But the grills are far apart so they're not as effective as other brands when it comes to cutting down waste. It can hold 12 pounds of food though, which is a decent volume.
This feeder is US-made. And while some backyard farmers like to interchange their waterers and their feeders, it's not a good idea to load this one with water. It has an open lid and while the metal is water-proof, the reservoir and base aren't leak-proof. And while this feeder can be used outdoors, it may let in moisture that can make your chicken feed damp and moldy.
This Miller feeder is designed for suspended installation by its handle. But chickens might still jump on it if it's hung. And the open lid sometimes makes your chicken feed wet and clumpy.
Pros:
The feeder is made of galvanized steel.
It has a convenient metal handle for suspension and mobility.
It's a US-made model.
Con:
The top is open, allowing potential contamination. You can buy a lid, but it's needlessly expensive, so if you want a lid, jury-rig a DIY version using household items.
4. RentACoop Rainproof Metallic Chicken Feeder
Different breeders use different types of chicken feed. So when you're looking for the best chicken feeder to prevent waste, your choice of birdfeed. This RentACoop feeder resolves many common challenges that come up when feeding chicken. Some of the feeders we've looked at so far had open covers, but this one has a secure metal lid to keep your birdfeed dry.
The cover is rainproof and weatherproof, and it has a convenient handle so you can lift it off as needed. This makes it easier to clean and refill your chicken feeder. And with a capacity of 50 pounds, you won't have to refill it that often. The feeder can be hoisted on a pedestal or mounted on a wall. The feeding section has a hood over it to allow your chickens access to their food.
The hood also keeps away wind and rain. It's slanted at an angle that only lets your chickens' heads fit, meaning they can't step into the food trough and scratch at it, which reduces wastage. But it has to be positioned off the ground. Otherwise, the chickens can't get at the food because the hood will hang too low. The feeder accepts chicken crumble, birdseed, and chicken pellets.
RentACoop is known for its quality bird products, and this metallic chicken feeder ranks high on our list of favorites. And if you prefer, you can buy the smaller 25-lb version.
Pros:
The feeder has a rainproof cover to keep your chicken feed dry.
It has a massive capacity of 50 pounds.
You can mount it on the wall if you like.
Con:
The seams and edges are folded rather than rolled, so they sometimes dent in transit.
5. Roosty's Chick Feeder and Waterer Kit
As kids, we're often told we have to work for our food, and the Roosty plays on that idea. It's an on-demand feeder, so your chickens have to figure out how to persuade it to release their food. This gives them something to do and could help keep your chickens stimulated. It's especially suitable for free-range chickens because they're used to foraging and 'hunting'.
It doesn't come ready-to-use though. You have to put it together. The assembly process is a little tricky, so you'll have to read the instructions a few times and maybe find a demo video. Plus it has many small components so be sure not to lose any of them. The feeder has to be attached to the bottom of a bucket or reservoir, so you need a jar that can be hung from an anchor.
This feeder attached to any plastic bucket, preferably one with a lid. The plastic has to be waterproof and be soft enough to cut through but durable enough for extended use. You'll cut a 40-inch hole dead center and attach the gravity feeder to it. Then when your chickens peck the 'parasol' it releases just enough food for their meal, so there's zero wastage.
Pros:
The feeder releases food on demand so there's less waste.
It has a unique design invented and patented in the US.
You get free shipping within the lower 48 (terms and conditions apply).
Con:
The bucket isn't included in the shipping box. You have to buy one separately.
6. Roamwild PestOff Rat Proof Chicken Feeder Kit
This chicken feeder may look weird, but once you get used to it, you'll love it! All those weird techno tweaks help it conserve birdfeed while keeping pests and wild birds away. The chicken feeder is weatherproof, with a metal roof and a secondary baffle which both keep rain and snow out of your chicken feed. The reservoir is funnel-shaped to ease the flow of food.
Roamwild feeders are meant to be hung. This one has a strong metal handle made of stainless steel wire. The box also contains a hanging chain made of stainless steel and a metal hook to attach the chain to the roof, along with a metal bracket and screws. These mounting materials are essential because this feeder is on the heavier side at 2.2 pounds. It has an 8-pound capacity.
The feeder has feeding ports that prevent access to pests, moisture, and contaminants. These ports are spring-loaded, so if a possum or squirrel tries to jump on it, the weight of the rodent will pull the feeding port shut. You don't have to lock or adjust anything because the ports respond automatically. When you want to refill or clean your feeder, lift the lid and slide it to the side.
If your area is heavy on pesky rodents, this vermin-proof feeder could be the best chicken feeder to prevent waste. It keeps possums out while providing your chicken dry mold-free food.
Pros:
This waterproof feeder deters possums and other rodents.
It can hold 8 pounds of chicken feed.
The convenient handle facilities suspension.
Con:
You can't use layers' mash in this feeder.
7. Ware Manufacturing Chicken Feeder Trough
In life, there are upsides and downsides. And in the case of this chicken feeder, these sides sometimes overlap. The feeder is designed as a trough. It has right-angled grids suspended above it to prevent roosting and scratching. This is a helpful feature because chickens often jump on their feeders and poop inside their food. Other times, they step into the feeding dish.
They might reflexively scratch at the food in the same way they scratch the ground for worms. It's instinct. But this makes the food slip out of the feeder and causes wastage. In the case of the Ware Feeder, the grills prevent the chicken from stepping into the trough and scratching at their food, so it reduces the amount of wasted food. But it doesn't keep the birdfeed dry.
The feeding trough is 5.12 inches wide and 3.94 inches deep. Its length is nearly 16 inches, so multiple birds can feed without crowding or infighting. Put the trough in a sheltered spot though, to prevent outside debris from mixing with your chicken feed. It has wire braces that slightly lift the trough off the ground. It weighs a bit over a pound while empty.
Ware Manufacturing can hold all types of chicken feed, from pellets to crumbles and mash. But because it has no lid, you chicken feed may get damp or moldy. Consider erecting a shed for it.
Pros:
It's 15.75 inches wide so lots of chickens can feed at once.
The feeder has a guard rail to prevent scratching and spilling.
The galvanized steel construction is fully weatherproof.
Con:
The metal may not corrode but without a lid, your chicken feed might get moldy.
8. Royal Rooster Chicken Poultry Feeder with Rain Cover
Royal Rooster feeders will have your chickens feeling like monarchs at every meal. The feeder has a rain hood to keep your chicken feed dry. The hood also covers your chicken's head while it dines, so it's protected from wind and dust at mealtimes. But the hood is small so your chickens may fight to get at it – only one of them can slip in at a time. That said, the tower is 20 inches.
The height provides increased surface area and pressure for gravity feeding so the food flows easier. Also, because the feeder has a solid lid, the food stays dry and doesn't clump. The 'food bowl' has plastic grids to prevent spillage and scratching, but if you mount it high enough, the grids become redundant. And because the tower is made of white plastic.
This means you can easily spot when it's time to refill your feeding tower. The tower is made of durable plastic and it comes with sturdy aluminum brackets for secure installation. The feeder can hold about 6.5 pounds of food, and it pairs well with Royal Rooster waterers. It can sustain 4 to 6 chickens, but at 50inches diameter, it's smaller than you might think.
Royal Rooster chicken feeders look good and work well with zero clogs or clumps. You can easily check food levels so you know when to clean and refill, and its mounting brackets are included.
Pros:
The feeder has an attractive cylindrical silhouette.
Its rainproof hood keeps your chicken feed dry.
It can be conveniently mounted on walls or chicken mesh.
Con:
The hood is narrow so only one chicken can eat at a time.
9. Little Giant Hanging Chicken Feeder
When you first glance at this bird feeder, you may think it has a cover. After all, it has that wing nut at the top with a suspension loop. But once you take the feeder out of its shipping box, you'll notice the nut is attached to a grid that lies across the open top. Meaning this feeder – like many other plastic chicken feeders – has an open-top. The design decision is intended to be helpful.
The idea is open feeders load faster, have fewer clogs, and are easier to clean and maintain. Plus, as long as the feeder is hung, unwanted items can't find their way into your birdfeed, right? Wrong. Moisture can get in and clump your food, causing mold and mildew. Bugs, spores, and other germs can get in there too. And chicken can perch on the wing nut grid.
But enough about its flaws. This chicken feeder can hold 11 pounds of food. The base has anti-scratch grids to stop your chickens from scratching and wasting their food. The feeder has a 12-inch diameter at its base, stands 11.5 inches tall, and weighs 1.33 pounds when empty. It's an HDPE model (high-density polyethylene) so it has a decent lifespan and is weather-friendly.
Little Giant feeders aren't designed for commercial use, so they're not heavy-duty pieces. But they can resist weather damage if you keep them covered to prevent rain, snow, and sleet.
Pros:
The feeder has a convenient loop for hanging.
It holds 11 lbs of chicken feed.
The food-grade plastic is strong and durable.
Con:
If you a no-perch dome, you'll have to buy it separately.
10. Little Giant Round Jar Galvanized Chicken Feeder
If this feeder looks strange to you, it's because you've never raised chicks. The feeder is specifically designed for pint-sized birds, so your hens and roosters may have a hard time eating out of it. But it can be handy for chicks and potentially useful for bantams. The feeder is made of galvanized steel so it won't rust, corrode, or dent. It has a 6-inch base and is 2.5 inches deep.
The multiple portholes allow many chickens to eat at once, and its shape makes it less likely to tip even though it only weighs a few ounces when it's empty. The seams are rounded and folded to avoid harming you or your birds. It holds 1 quart of food, which is plenty for chicks but barely enough to feed adults. That said, grown chicken can't easily eat out of this tiny feeder.
This shipping box contains two pieces – the top and bottom of the chick feeder. Alternatively, you can attach a mason jar to the top to act as a food reservoir. The top section is usually plastic, so if you opt for a jerry-rigged mason jar you risk fragility. The top is often sold separately. Some users prefer to use this fix for wild birds and visiting wildlife, but it does work for small hens too.
Pros:
It has 8 feeding holes for simultaneous dining.
The sides are rounded to avoid injury.
The feeder is galvanized to keep it weatherproof.
Con:
Full-grown hens may struggle to eat out of this.
What to Look for When Buying a Chicken Feeder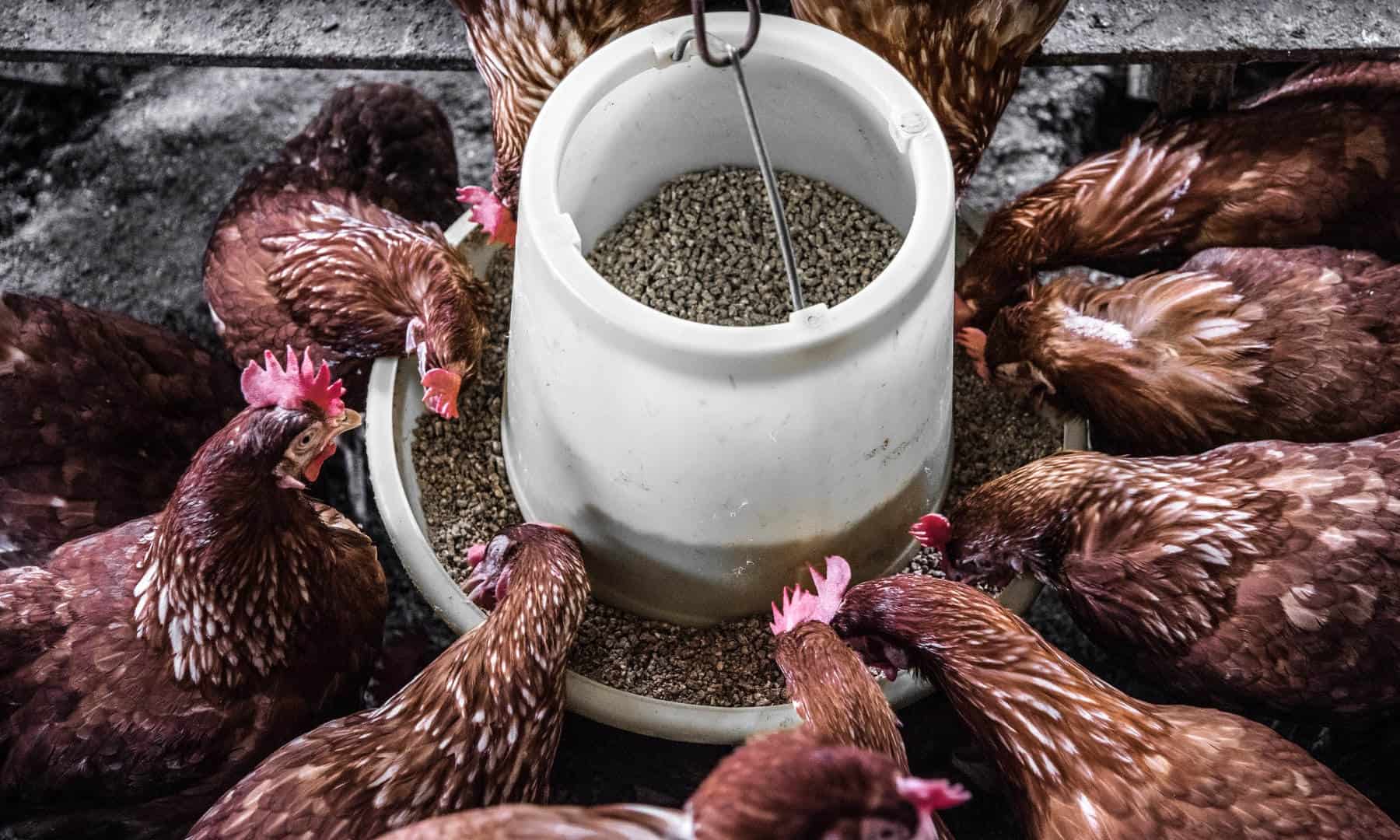 Deciding on the best chicken feeder to prevent waste can be a challenge. We've already looked at some top contenders. Now let's explore shopping criteria so we can narrow it down to one.
Type of Feeder
Chicken feeders come in three main styles. Hanging feeders are suspended and are useful because they reduce wastage. Chickens have to raise their heads to reach the food so they're less likely to scatter it everywhere. But suspended feeders need a strong attachment mechanism because the feeder may sag or break once it's full. The second type is a treadle feeder.
Treadles have metal lids. When your chickens step on the treadle, the lid opens to let them access the food. Chickens figure it out pretty quickly – they're smarter than we give them credit for. But rats can figure it out too, so wild rodents are likely to deprive your chickens of food. Automated feeders have treadles too, but they're often set on a timer when you're away.
Construction Materials
Plastic and metal are the two common materials for chicken feeders. Plastic is lightweight and non-toxic. It's easy to clean and doesn't retain the smell or flavor of your chicken feed. They also come in attractive styles and colors. But that's more for your benefit than the chickens – they don't care too much about style. Plastic feeders are also easier to hang because they're lighter.
Metal feeders are generally constructed from galvanized steel. You can put them in the open air because they won't rust, and they have longer lifespans than plastic chicken feeders. Metal chicken waterers are a bad idea because they warm the water, but this problem doesn't apply to chicken feeders. The food is solid so it won't be affected by the conductivity of metal feeders.
Feeding Style
Some chickens prefer to eat out of a trough while others would rather dip into a communal bowl. If you have friends and family who keep chicken, you can borrow some from them and try out different styles to see what your flock prefers. You can try out bell feeders as well, which often have a conical dome to prevent birds from perching on the feeder and potentially damaging it.
For free-range chicken, you may opt for troughs that you can place at the sides of your yard. Or you can get a large central trough to place in their designated feeding spot. You can also by twin feeding kits that have both a chicken feeder and a chicken waterer. The trick is to get samples from friends so you can try them out before you spend unnecessarily on bird supplies.
Well-fed Chicken!
Based on the information we've gathered, we recommend the Harris Farms Free Range Chicken Feeder. Here's why:
This plastic feeder has a chicken feed capacity of 7 pounds.
It fills up quickly and is easy to maintain.
The green and white styling are visually appealing.
The feeder has a twist-and-lock mechanism to open and close it.
The handle makes it easy to move, mount, and hang.
You can easily see the food level so you know when to refill.
It has a feeding ring to reduce wastage.
What kind of chicken feeder are you using? Show us a photo in the comments!