With its vast spaces and regions with cold climates, raising animals at home or on a farm in Alaska can require considerable effort and energy. But as with many things in life, people will always find ways. If you are planning to keep or raise poultry, here are the six best chicken hatcheries in Alaska.
Quest To Find The Best Chicken Hatcheries In Alaska
Consider finding the best hatcheries in the Last Frontier an adventure! If you are up to it, you will come across hatcheries that can help you a lot. Whether you are raising chickens as pets or building a backyard poultry coop, these hatcheries will provide you with top-quality birds. So what are you waiting for? Discover the different hatcheries across the state and take your pick!
If you're a chicken enthusiast in Alaska, you have probably heard of Polaris Poultry. This place first opened its doors in 2010. Polaris Poultry has stood by its mission – Food Independence for Alaskans – for over a decade.
It's easy to figure out what kinds they have available since they are categorized according to:
Mature Chickens
Egg Layer Chickens
Meat Broiler Chickens
Male Chicks – Cockerels/Roosters
You can get a chick for as low as $2.25 each. They carry so many different breeds – from Barred Rock to Sagitta. You can order various chicks from Polaris Poultry!
Silkie Co. was founded to provide employment opportunities for Nicole, a local girl with Down Syndrome, who had a passion for working with animals. She wanted to work with horses. However, when that opportunity did not come, the people supporting her thought she could work with her other favorites – Silkie Chicken and Art.
If you are looking for beautiful Silkie chickens to raise, then you should contact Silkie Co. as soon as possible! You can get a half-dozen fertilized Silkie hatching eggs for only $30.00! If you want some accessories for your beautiful Silkie chickens, you can get that from this place too!
If you are all about supporting local Alaskan farmers, you will love what Karluk Acres is doing. This farm is all about sustainability. They focus on breeding and raising heritage breeds, including various types of chickens. Karluk Acres is a member of the Livestock Breed Conservatory.
If you are looking for Buckeye chickens, then you should check out Karluk Acres. This type of chicken can withstand the Alaskan cold! The chickens are free-ranging and naturally raised birds as part of their sustainable practices.
Freshness and sustainability are at the core of Blood Sweat and Food Farms. The group that founded this place believes in using sustainable methods in agriculture and farming.
At first glance, it might not be evident, but Blood Sweat and Food Farms also sell chickens. They have pullets that are ready to lay as many eggs as they can.
The chickens are also pasture-raised like the other animals on this farm. If you are picking up your pullets, ensure you have the proper shelter for their safe transport.
Frosty Meadow Farm and Poultry Processing is a family-owned and operated farm. The family behind this farm might be best known for their products and processing services. However, they also offer live poultry and eggs to their customers.
If you want any live poultry from this place, you can reach out to them via their website. You can also check their Facebook page from time to time. They post about the various poultry they have on sale like Cornish chickens.
They sell eggs, chicks, pullets, older laying hens, and others. You have to be quick because they run out fast! You don't have to worry about bird flu because their chickens have been quarantined.
If you are in the Anchorage area, Alaska Mill and Feed will help you with the acquisition of the chickens of your dreams! Alaska Mill and Feed has "Chick Days" from February to June.
They have partnered with another hatchery to help you bring your chickens home easier. There are detailed instructions on the website about choosing and paying for the chicks you want. Alaska Mill and Feed have a scheduled pick up every week. And to make your experience even better, they give you a bag of Alaska Mill and Feed Chick Starter!
Everything You Need To Know Before Buying Chickens In Alaska
There might be only a couple of hatcheries in the state of Alaska. However, this shouldn't stop you from pursuing your goal of raising chickens. Consider this as one of the state's charms! It certainly has not stopped the increase in backyard poultry sales in Alaska, especially during the pandemic!
There's a sense of excitement when you are about to take new chickens home. However, you might want to go through a checklist before doing anything. Here's a simple buying guide that you should take a peek at:
Legality Of Raising Chickens
If you live in an urban area, you might want to learn about the laws before heading to a hatchery. There are regulations in some places in Alaska regarding raising or keeping livestock or poultry, including chickens. The ordinances differ from place to place. You can check with your city or municipality.
If you live in Fairbanks, it's better to check with the Fairbanks North Star Borough zoning. In Anchorage, you are allowed to keep animals like chickens outdoors. However, the size of your flock depends on the size of your property. If you live in a 6,000 square feet or less property, you are allowed to keep up to five chickens.
Chicken Breeds For You
There are so many chicken breeds out there. And choosing which one is for you might be overwhelming, especially if it's your first time.
Researching which chicken breeds are best for you might help. If, for example, you are looking for a pet chicken to raise, you can look into the friendliest breeds. However, if you are planning to raise poultry, then consider other varieties. You might make a mistake and take home chickens that don't really fit what you are looking for.
Since it can get quite cold in this part of the United States, you might want to consider breeds that do well in such a climate. Here are some suggestions for you:
Australorp
Buckeye
Dominique
Welsumer
Plymouth Rocks
Finding The Right Hatchery
The right hatchery can lead you to the right chickens. That's why you have to look into the different hatcheries near you as much as possible. There are some that only sell a specific breed of chicken. There are also hatcheries with an endless array of chicken varieties.
If you know a fellow chicken enthusiast, you can ask them about their experiences with different hatcheries. It also helps to refer to reviews. It would give you an idea about a particular hatchery and its products.
You should also check if the hatchery is a member of the NPIP. It's a cooperative for poultry raisers and enthusiasts. It centers on improving, maintaining, and safeguarding poultry and poultry products.
Top-Quality Chicks Only
If you are buying egg laying hens or baby chicks, you have to be committed to caring for them in the best possible ways. However, you have to be 100% sure you are taking home healthy chicks. If you have managed to take home unhealthy chicks, you have to give them extra care. If you don't want to run into this predicament, check out for physical disorders and other characteristics.
A healthy chick is a proactive chick. If the chicks are not moving as they normally do, then something might be wrong. They should be able to stand or walk without any problem.
If the chicks huddle together, they might be cold or hungry. However, if they stay that way even after being exposed to warmth and food, they might be going through something like injuries.
You should also observe their chicks' eyes. Their eyes should be bright, clear, and open. If they fail to open their eyes, then also a sign that something is wrong. You should also check the nostrils. There should be no discharges coming out of it. The beak is also an important part of the chick that you should inspect. The chicks should be able to open and close their beaks with no problems.
The legs and feet of the chicks should also be smooth and clean. If there's any crookedness or discoloration, then something is up. These parts should be free from any wounds or cuts. Any markings could be a sign of infection.
A chick's feathers can also tell you about its health status. The feathers should not be disheveled. A young chicken should not be missing feathers at all.
Scouting For Alaskan Hatcheries
Finding the best chickens to raise in this state should be a fun challenge! If you know what you want and what you are getting into, you might just find them at the six best chicken hatcheries in Alaska in no time!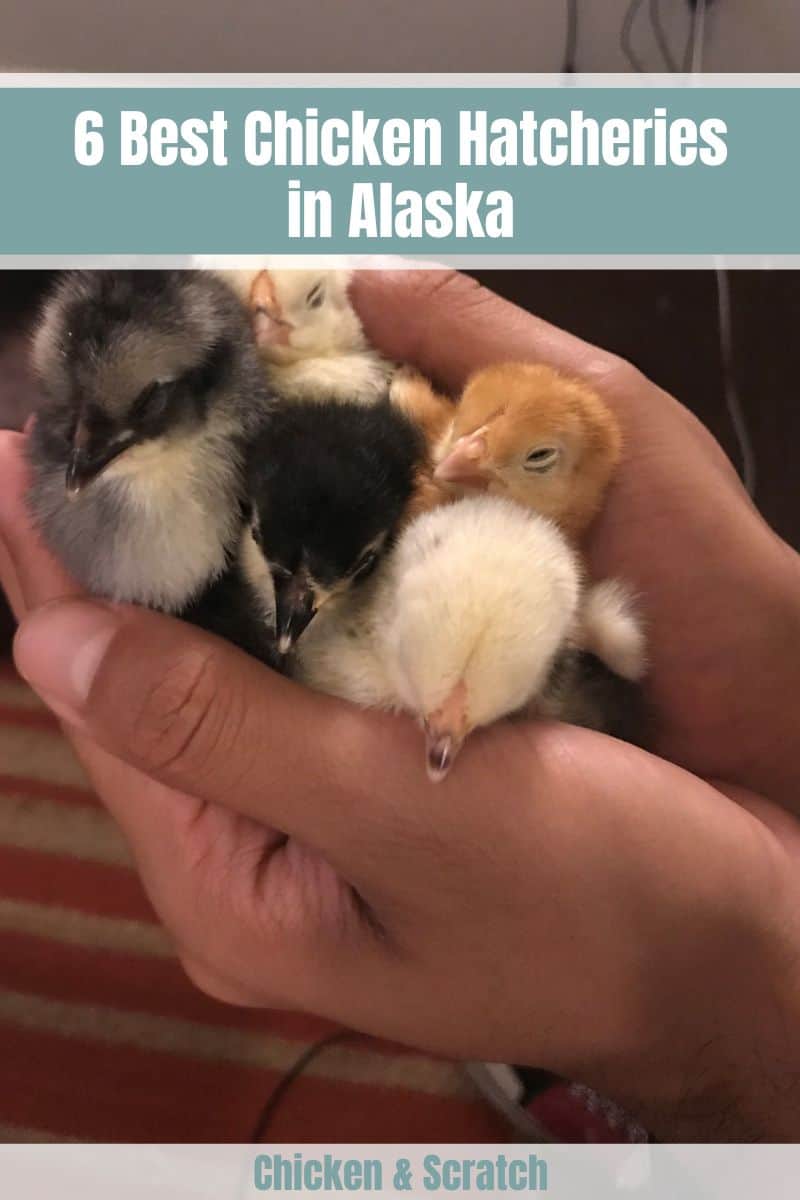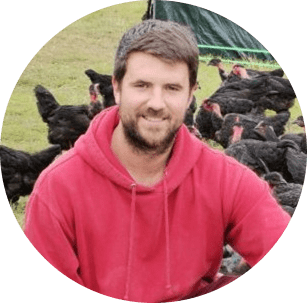 Joseph Hudson has been raising chickens for over 15 years. In 2018, he completed the Agriculture & Natural Resources program at Mt. San Antonio College. He currently raises over 1400 chickens on his 7.5-hectare farm. He keeps sharing his experience on raising healthy and happy chickens on Chicken Scratch The Foundry.