Do you want the reassurance of knowing your chickens will be free to roam at the right time every day? That you can indulge in the occasional lie-in without your feathered friends clucking frantically to get outside? If so, you need an automatic chicken door!
But you may be surprised to discover just how many different models are available. How do you go about choosing one that's best for your circumstances?
Well, that's where we come in. We're going to review the ten best automatic chicken doors on the market right now. And we'll help you match them to your needs.
So let's get started!
1. ChickenGuard Automatic Chicken Coop Door Openers
ChickenGuard offers three different models of the automatic chicken coop door opener. All can be used with vertical sliding coop doors, or reversed for doors with cords that pull up to close.
All three models – Standard, Premium and Extreme – can be powered by either four AA batteries or mains power. The batteries are included as standard with all models. Each set will last for around six months of use.
All three can be programmed to open and close at set times of the day. They can be operated manually too. The Premium and Extreme models also include a light sensor. If you prefer to set your door to open at dawn and close at dusk, choose one of these.
The standard and premium models will lift a door up to 2.2 pounds in weight. If you need something stronger, the Extreme model will handle up to 8.8 pounds.
The Extreme model will also cope with harsh weather. All its electronic components are fully enclosed in epoxy resin to stop any moisture from getting in.
Whichever model you choose, it will come with an indicator to show the door is closed. That's visible up to 100 yards away. The door is operated by a cord and opens and closes slowly. We haven't heard of any issues with injured chickens with this product.
But be warned – there are reports of the timers failing after a few months of use. The good news is that all three openers come with three-year warranties.
Pros
Range of different models for different weight doors
Option of timer-only or timer and light sensor
Choose the Extreme model for reliable operation in harsh temperatures
Cons
Not suitable for swinging doors
Some issues with reliability – although there is a three-year warranty.
2. ChickenGuard Self Locking Chicken Coop Door
If you already have an automatic opener, this door-only option from ChickenGuard could be the right choice. It's compatible with any of the ChickenGuard openers. And if you prefer to use a manual pulley system, it will work with that too.
It's cleverly designed to be self-locking, so your chickens will be kept safe from predators. As soon as the door is lowered into place, two "wings" on either side slide into position. These prevent little paws getting underneath and raising the door back up.
The door is 10 inches wide and 12 inches tall, and the runners extend to 23½ inches. It's made of aluminum, so it's lightweight yet strong, and you won't have to worry about it rusting.
The door runners are made of plastic that's 100 percent recycled, so it's kinder to the planet too. Nothing here will warp or twist, even when exposed to rain or hot sunshine.
There are just a couple of things to watch out for here.
The first is that there's a ½-inch gap between the door and your coop wall after mounting. It's not big enough to admit predators, but it will let in a draft. You'll need to add some weatherstripping to keep your brood warm in cold weather.
Installation is an easy job, though. Just make sure the runners are correctly aligned. Adding a drop of lubricant will help the door to slide smoothly.
Pros
Excellent self-locking mechanism effectively keeps out predators
Strong aluminum door
Door runners are made of 100 percent recycled plastic
Cons
You'll need to add some weatherstripping to keep out drafts
Make sure the runners are correctly aligned during installation, or the door may stick.
3. JVR Automatic Chicken Door Coop Opener Kit
With this kit from JVR, you'll get both the coop door and the automatic opener.
The door is a generous size that will allow most chickens and ducks to get in and out. It measures 12 9/16 inches high and 11 13/16 inches wide.
The door is made from heavyweight aluminum. It comes in two pieces with a hinge in the middle. It closes with a linear actuator. Once it's shut, it's shut – the manufacturers say that not even a black bear will open it.
The door opener comes in a waterproof box to avoid damage from the elements. The instructions are nice and clear, and the programming is simple.
Installation can take a couple of hours. Note that in some cases, customers have adapted the set-up to avoid the hinge obstructing the actuator.
The major advantage with this door is its power and strength – and that's also the major problem.
The door closes slowly, but it's virtually silent. And unlike doors on a pulley, it keeps moving if it encounters an obstacle. Without a safety sensor, that makes it potentially lethal. A chicken sleeping beneath the door will be crushed if it doesn't wake up in time.
Tragically, we've heard of a number of cases where exactly that has happened. If you're able to install your own safety sensor, this is a good buy. Without one, leaving it unattended on an automatic setting risks your chickens' lives.
Pros
Generous door, large enough for most chickens and even ducks
Door opener is easy to install and program
Very secure – can't be opened by even the strongest predators
Cons
Without a safety sensor added to the mix, this can be lethal to your chickens
May need minor modifications during installation to keep the door opening smoothly.
4. Rural365 Automatic Chicken Coop Door
If you're looking for an effective and economical coop door kit, this one from Rural365 deserves to make your shortlist.
At first glance, it doesn't look like the sturdiest of doors. It's a relatively thin sliding panel of aluminum, and the mechanism is a string between the motor and door.
But don't be put off. This is a very effective door at half the price of others on our list. The lighter mechanism means you won't have to worry about your chickens being crushed by accident. And that thin string is actually Dyneema fiber, which is waterproof and UV-resistant.
You can set the door to open or close by either the time or light levels. And there's no wiring required. The system operates using four AA batteries, which you'll need to buy yourself.
The door opening measures 12½ inches tall by 8 inches wide. With the runners and opener, you'll need a space 9½ inches wide by 34 inches tall to fix it in place. Installation is easy and takes about half an hour.
We've heard varying reports, however, of how predator-proof the door is. There is a metal cover to go over the bottom rim, designed to prevent paws pushing the door up. But some people have added an extra strip of wood for greater security.
Overall, this is a simple but effective kit – and it's a great option for anyone watching their budget.
Pros:
Simple installation, with no wiring required
Easily programmable for either time or light levels
Secure door, but the lighter closing mechanism won't put chickens at risk
Cons:
You may want to add a strip to the base of the door for extra protection from predators
You'll need to buy the batteries separately.
5. JVR Chicken Coop Door Automatic Opener Kit
The second model from JVR to make our list, this one operates with a light sensor. This opens the door at dawn and closes it at dusk, allowing your chickens to catch the early worms.
The large door is 11 13/16 inches wide and 12 9/16 inches tall. As with the other JVR model featured, it's in two pieces with a central hinge. The outside light sensor is 39 3/8 inches long.
The door is made of solid aluminum and is very robust. It's raised and lowered with an actuator rather than a string, so once it's closed, predators won't get in.
It suffers from the same major drawback as the other JVR model: the silent and potentially deadly closing mechanism. It's only too easy for chickens to get trapped and killed.
We've heard of some people who've installed the door sideways in a bid to prevent that. But it still feels a risky option for your precious brood.
The installation instructions do say that it's important to leave the door mounting bolts loose. They actually need to be loosened all the way or the door can become a guillotine.
We've also heard of some issues with the photocell eye used in the light sensor. It seems to be affected by rain, which can mean the door not closing at night. Shield the eye, and the problem is solved.
Pros
Larger door is great for ducks and bigger chickens
Operates with a light sensor
Robust aluminum door
Cons
Potentially lethal – once closed, it will keep closing, even if there's a bird in the way
The operation of the light sensor can be affected by rain.
6. Ghost Controls Automatic Coop Door Opener Kit
If you've already got your coop door and just want an opener, check out this one from Coop Controls. It will work with any swinging doors between 16 and 30 inches wide that open outwards. That makes it a great choice if you have a larger, custom-built coop.
You will need to add a couple of things to the kit for installation. One is a piece of 2×4 wood to reinforce the door and the coop. The other is a 12-volt battery. This can be wired up either to a solar panel or an AC transformer, whichever you prefer.
There's a video and clear instructions to help with installation. Expect the whole process to take about an hour.
It works with a light sensor to open and close your door at dawn and dusk respectively. We've heard of some issues with the reliability of this, though. It sometimes opens the coop later than ideal. If you prefer to set it to a specific time, it's possible to buy a separate timer and connect it up.
There's a beep alert that lets your chickens know when the door is going to close. They'll get the hang of it quickly, and you won't have to worry about any injuries.
Pros
Comes with a light sensor, but compatible with a timer if you prefer to buy one separately
Audible alarm lets your chickens know when the door is about to close
Great option for automatic opening of larger swing doors
Cons
The light sensor isn't always perfectly reliable
You'll need to add some wood and your own 12-volt battery to the kit.
7. Brinsea Products Chick Safe Premium Automatic Chicken Coop Door
With this door kit from Brinsea Products you'll get both the door and the automatic opener.
The door is made of aluminum and is 12 inches high by 9 inches wide. It's strong, yet light. The runners are made of aluminum too, and they're 24 inches high.
The door is operated by an opener which can be set either by time or light levels. Programming is easy, thanks to the digital display and straightforward menu options.
The opener is a cord attached to the door. Some may find that flimsy, but it won't keep closing if your chickens are in the way. And we haven't heard of any issues with predators managing to find their way inside.
It will operate reliably in temperatures between 5 and 120 degrees Fahrenheit. A useful indicator light lets you know when the battery is running low. There's also a closed door indicator, visible from up to 100 yards away. And if you need to, the door can be operated in manual mode too.
It can be powered by four AA batteries if you prefer to avoid wiring. You'll need to buy those separately. Alternatively, you can use a USB cable to connect the opener to an electrical supply. Note that the cable will need to be purchased separately too.
The kit comes with installation instructions, but no hardware. Make sure you read them through first and ensure you've got the necessary screws and bolts. You'll also need a drill and drill bit capable of drilling through aluminum.
Pros
Easy and reliable programming by either time or light levels
Lightweight but strong door with cord opening mechanism to prevent injuries
Can be powered either by batteries or wiring into an electrical supply
Cons
No hardware is included for installation …
There's no battery or USB cable included either.
8. Brinsea Products Automatic Chicken Coop Door Opener
If you already have your coop door, Brinsea also offer an opener-only option. As with the version included in the kit, this includes both a light sensor and timer. Choose between letting your chickens roam from dawn to dusk, or letting them out at specific times.
The opener will work with doors up to 2.5 pounds in weight that slide on vertical runners. The opening mechanism is a cord that works like a drawbridge. Lower the cord and the door slides shut. Raise it, and it pulls it open.
The buttons are nice and big, but we have heard some complaints that they're hard to press. Programming is, however, very easy.
You can choose to power it with either four AA batteries or connect it to your electricity using a USB cord. Unlike the kit, with the opener-only option the batteries are included. If you want to connect it to the mains, though, you'll need to buy your own cord.
There's an indicator to tell you when the batteries are low. Another shows you when the door is closed and is visible up to 100 yards away.
It will work between temperatures of 5 and 120 degrees Fahrenheit. But Brinsea also makes an Extreme model designed for harsher climates. That will work better if you live somewhere that experiences very cold winters.
Pros
Choose between the timer and light sensor operation
Choice of battery or AC power via a USB cord
Low-battery and door-closed indicators
Cons
We've heard some complaints that the buttons are tough to press
Not the best model for use in very cold climates.
9. Titan Incubators Automatic Chicken Coop Door Opener
This kit from Titan Incubators is another one that includes both the coop door and an automatic opener.
Here, you have the option of setting it to open either at pre-set times or according to light levels. There's a clear LCD screen to make programming simple.
The metal door is operated using a strong cord. Replacement versions are available separately if you need them over time. The metal is coated, so it won't rust or stick on the runners.
The door is 11.4 inches wide. It's curved at the top, with a maximum height of 13.6 inches and a minimum of 10 inches. The runners are 23.4 inches long, and the whole assembly weighs 12.35 ounces.
It's easy to set up, and all the hardware needed is included in the package. You won't need to wire anything in either. Power is supplied by four AA batteries, and in this case they're also included as standard.
One thing to watch out for is that there isn't a base piece at the bottom of the door. That means determined predators may be able to push it back up. It's easily fixed, though – just add a piece of wood to cover the place where the door touches the ground.
Pros
Kit includes both door and automatic opener
Easy to program to open either at pre-set times or according to light levels
All hardware and batteries are included in the package
Cons
Not suitable for coops with swinging doors
Vulnerable to determined predators – though that problem is easily fixed.
10. Titan Incubators Automatic Chicken Coop Door Opener with Timer
If you're looking for a timer to work with your sliding vertical coop door, consider this option from Titan Incubators.
It's designed to open and close your door at the times you choose. It takes four AA batteries, which are included in the package. That means there's nothing to wire in – great for those of us who aren't confident with electrics!
Set-up is very easy. Just pop in the batteries, set the current time, and program the opening and closing times. The LCD screen makes it easy to see what you're doing.
Then fix the opener to the coop by screwing it in place. Even the screws are included in the pack. Connect the cord from the opener to your coop door, and you're ready to go.
The opener doesn't need lots of space for mounting. It's 4.7 inches wide and 5.3 inches tall. It's designed to be weatherproof too, so you won't have to worry about it stopping working after rain.
One thing to note is that the cord doesn't last that long. Aim to replace it once a year, and you'll pre-empt any problems. The cords are available separately and aren't expensive.
Pros
Effective timer for vertical sliding coop doors
No wiring required – just use the batteries included in the package
Installation is very simple
Cons
Not suitable for swinging doors
The cord operating the door will need to be replaced roughly once a year.
How To Choose A Automatic Chicken Door: A Buyer's Guide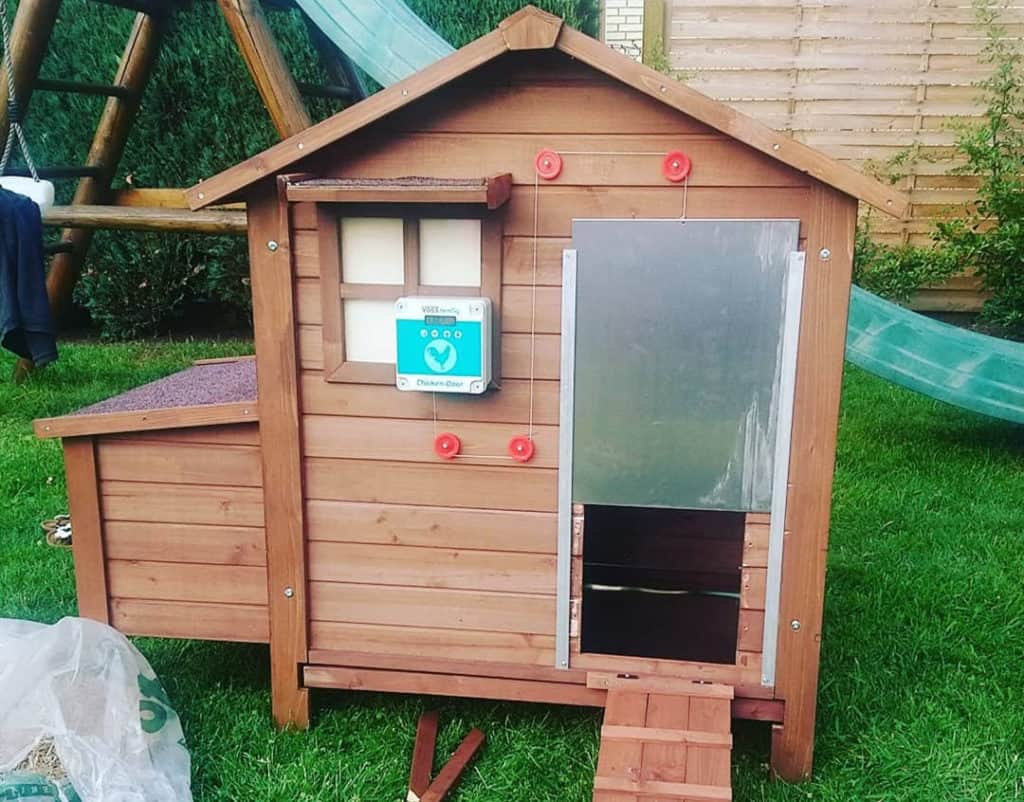 Still not sure which is the best automatic chicken door for your brood? Check out some factors that will help you decide.
What set-up do you have?
The first thing to establish is what you actually need.
If you already have a coop, you may just want to buy an automatic opener for your door. If you've made your own coop and it isn't a standard size, this can be a good option.
Just make sure you pick an opener that will work with the kind of door you have. Broadly speaking, you can choose between openers for swinging doors or sliding doors. Check the weight they'll safely lift too.
If you already have an opener but need to replace your door, there are door-only options too. In this case, you'll need to make sure the door is compatible with your opener.
And if you're starting from scratch, a kit with both a door and an opener can be ideal. Just check what it includes. Some will require you to buy your own hardware for installation.
[18 DIY Chicken Coop Door Ideas]
Timer or light sensor?
Next, consider how you want to decide on your chickens' free time. The choice here is between a timer or a light sensor.
Timers are often less expensive. They're also generally more reliable. But they won't adjust to daily conditions. If it gets dark earlier on a stormy day, your coop will still stay open to the regular time.
Models with light sensors allow your chickens to roam from dusk to dawn. But they can be temperamental. And if your coop is in a shady spot, it may not get bright enough to open the door.
Make sure you keep any light sensor away from motion-activated lights too. If the lights are triggered, you may find your coop opening in the middle of the night.
Battery, solar or AC electricity?
Finally, decide how you want your door to be powered. Batteries are reliable, but look for options with low-battery indicators. You don't want to leave your chickens unprotected because the battery has died.
If you live in a reliably sunny area, consider a version that can be wired up to a solar panel. Others can be connected to a mains AC supply. But remember: if there's a power cut, your chicken coop will stay open at night.
Ready to choose your new door?
We hope you've enjoyed our round-up of the ten best automatic chicken doors we've found. Whether you're looking for a door, an opener, or a whole kit, there are some great options out there.
Our top pick is ChickenGuard's range of openers. There's an option for every weight of door, and we love the choice of programming by time or light level.
But if you have a swinging, rather than a sliding, coop door, check out the CKSP-Standard opener from Coop Controls. It's great for larger doors. And the audible alarm means there's no danger of your birds getting caught as the door closes.
Whichever option we choose, we hope your chickens enjoy their luxurious new door – and you enjoy your lie-in!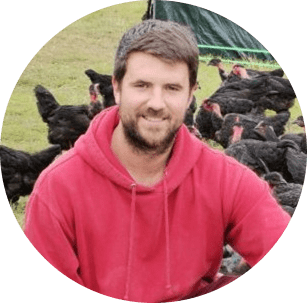 Joseph Hudson has been raising chickens for over 15 years. In 2018, he completed the Agriculture & Natural Resources program at Mt. San Antonio College. He currently raises over 1400 chickens on his 7.5-hectare farm. He keeps sharing his experience on raising healthy and happy chickens on Chicken Scratch.